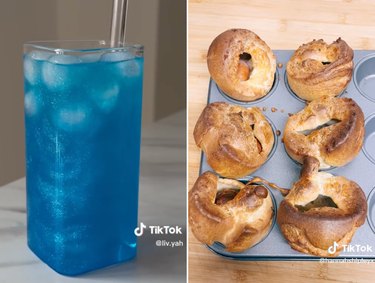 You don't have to be a movie buff to love the Academy Awards. After all, Oscars night is loaded with glitz, glamour, fashion and—if you're enjoying the show from the privacy of your own home—plenty of snacks. The iconic awards program typically runs for three and a half hours (usually a bit more once those inspiring yet long acceptance speeches are factored in), which means there's ample time to dig into delicious food.
Whether you're throwing a full-blown Oscars viewing party or gathering 'round the television with family members for a low-key evening, we've got menu inspiration fit for a star. Roll out the red carpet and get ready to dig in with our roundup of social media–sourced appetizers, drinks and desserts inspired by eight of this year's most well-known Oscar nominees—from ‌Top Gun‌ aviator sunglasses cookies to a blue mocktail inspired by (what else?) ‌Avatar‌!
1. "The Banshees of Inisherin": Chocolate Guinness Loaf
In addition to Colm and Pádraic, beer might as well be a third leading character in ‌The Banshees of Inisherin‌. After all, many of the film's most memorable scenes take place in the local Irish pub or over a pint—and we thought we'd nod to this central theme by highlighting a dessert made with Guinness. TikTok baker @chef_masha shows us her recipe for a chocolate Guinness loaf that's decidedly simple while packing a major punch. Serve this treat at your Oscar-viewing party and you might just convince your estranged best friend to come back around.
Elvis Presley was known for his famous (and somewhat controversial) sandwich combo preference: peanut butter, bacon and banana. Don't knock it 'til you try it! If you're hoping to see Austin Butler take home gold on Oscar night, make a batch of these ‌Elvis‌-inspired peanut butter, bacon and banana cookies dreamed up by @jingustingus on TikTok. This is unlike any cookie recipe you've tasted—and your Oscar party guests will be "All Shook Up" when they take a delicious bite during the big show.
3. "Avatar: The Way of Water": Glittery Blue Mocktail
No great Oscar-viewing party is complete without a few beverages. Champagne might seem like an obvious drink option, but we love this ‌Avatar‌-inspired mocktail from @liv.yah on TikTok. The sparkly blue drink truly looks like something from Pandora, featuring nonalcoholic blue curaçao, Red Bull White Edition, Sprite and some eye-catching edible glitter.
4. "Everything Everywhere All At Once": Everything Bagel Pigs in a Blanket
Did you really think we could include ‌Everything Everywhere All At Once‌ without paying homage to its now-classic "hot dog hands"? For a double nod to the movie, make these pigs in a blanket with everything bagel seasoning from TikToker @inalexaskitchen. These tasty bites bring a whole new meaning to "finger food"!
5. "The Fabelmans": Apple Pie Challah French Toast Bites
Steven Spielberg's ‌The Fabelmans‌ offers a fictionalized look at the iconic director's childhood in a Jewish family and his journey to filmmaking in post–World War II America. To celebrate Spielberg's Jewish American upbringing, serve up @nomastehungry's rich apple pie challah french toast bites, a recipe she initially created using leftover challah from Rosh Hashanah. There's nothing like a brunch-inspired bite after dark!
You don't need expert-level decorating skills to whip up these ‌Top Gun‌-inspired sugar cookies. Check out Etsy for aviator sunglasses-shaped cookie cutters, then use the simple icing techniques demonstrated by @lady.d11 on TikTok. While this particular batch seems to have been whipped up for a birthday party, these sweet treats are the perfect Oscar party delights for all the ‌Maverick‌ fans on your guest list.
7. "Mrs. Harris Goes to Paris": Mini Toads-in-the-Hole
The title character in ‌Mrs. Harris Goes to Paris‌ demonstrates both kindness and generosity throughout the film—and those traits are especially evident when she introduces two other characters to toad-in-the-hole, a classic recipe from her English homeland. If you're not familiar with the dish, don't worry: There are no actual toads involved! Instead, as Mrs. Harris demonstrates so beautifully, the dish expertly combines sausages baked in flavorful batter. TikToker @hannahshipleyx offers a party-friendly version of toad-in-the-hole with her mini creations. Mrs. Harris would be proud!
8. "Glass Onion: A Knives Out Mystery": Caramelized Onion Dip
‌Glass Onion‌ is in the running for Best Adapted Screenplay—so it definitely deserves a place on our delicious list. Of course, we had to select a dish that incorporated onions to honor the glass atrium at the heart of the film. Check out this incredible caramelized onion dip from @mydelicioustiktok, who walks us through creating one of the tastiest apps imaginable. All it takes is soy sauce, plenty of spices, cream cheese, sour cream and—you guessed it—caramelized onions. Benoit Blanc himself might even be stumped by how a dip turned out this darn great!
As you make plans to celebrate Hollywood's biggest night, keep these DIY delights in mind. Of course, these Oscars night eats only scratch the surface—we fully encourage you to fill out the party spread with canapés, cupcakes and garnishes galore. After all, the Oscars are akin to the Super Bowl for those of us who appreciate the magic of movies. Let your taste buds help you celebrate your favorite flicks of the year!