National Croissant Day rolls around every January 30—but we think croissants deserve to be celebrated all year long! Croissants are certainly having their moment on TikTok, with viral recipes and fresh takes on the classic baked good filling foodie feeds everywhere.
Before we highlight our favorite social-media-famous croissants, a little backstory: While they're traditionally considered French pastries, croissants originally came from Austria and were called ‌kipferl‌. It wasn't until someone in France made the desserts with puff pastry that they became the flaky, buttery delicacies so many of us know and love today. Now that our mouths are watering, let's continue the party with a roundup of some of the most creative (and delicious!) croissants of TikTok.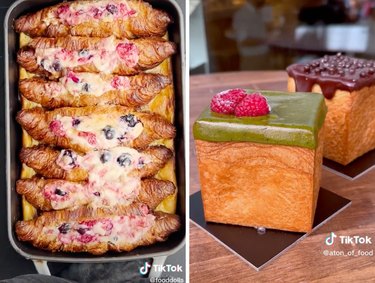 We'll start with viral cube croissants, highlighted by @aton_of_food. The shape is incredible, and these particular treats, made daily at Le Deli Robuchon in London, are available in three tantalizing varieties: chocolate, matcha and vanilla. We can almost taste those creamy flavors mixing perfectly with the light, airy outer crust.
Cube croissants are popping up in trendy bakeries across the globe, but home bakers can certainly whip up their own. If you're dying to give them a try, you're in luck: TikToker @alexandre___boulanger offers a straightforward how-to video with the steps you'll need to create your very own croissant cubes. Alexandre starts with traditionally rolled croissant dough before popping it into square baking molds to achieve that fun shape. The best part is deciding which filling (or fillings!) to use.
Next on our list are wheel croissants, aka round croissants, made with careful attention to detail by @mostlyfoodandtravel. The creator references viral "supreme croissants" and shows us how to make the circular delights at home. Neha simply cuts croissant dough into long, rectangular strips; rolls them into a spiral; bakes twice (once using ramekins to maintain shape) and rounds out the completed pastries with creamy filling, melted chocolate and chopped nuts. Yum!
3. French Toast Croissants
Last but certainly not least, we have berry-stuffed croissant French toast. Yes, you read that correctly: These croissants combine all three delectable elements in one luscious dish. You can thank @fooddolls for the idea! This creative baking duo makes berry filling (using blueberries, raspberries and strawberries) and stuffs it into premade croissants. Store-bought are great, but we think homemade croissants would only elevate this incredible recipe. Finally, the croissant and berry combo is soaked in custard overnight and baked the next day. The results are unreal.
Well, we're off to combine our two great loves: French toast and croissants. Au revoir!