In the past, we've shown you how to whip up adorable Pokemon-themed desserts, like our Jigglypuff Macarons and Ube Ditto Marshmallows. Today, we're entering the super-cute world of Sanrio with this Pompompurin cookie recipe!
You might be familiar with kawaii Sanrio characters from Japan, like Hello Kitty, My Melody, Kuromi, Gudetama and Cinnamoroll. Growing up, I had loads of Hello Kitty and Cinnamoroll merchandise in my room. As an adult, I've discovered and fallen in love with Pompompurin! He's a friendly golden retriever sporting the cutest brown beret and is known to love purin (Japanese custard pudding), hence his name. What's not to adore?
And since we're all about accessibility in baking at eHow, this recipe is doable for bakers of many skill levels. These lemon cookies can be made in one bowl with a hand whisk, so no fancy equipment is necessary. Plus, the cookies are decorated with melted chocolate, so you don't have to worry about making royal icing!
If you're looking for a fun weekend DIY project or a tasty activity to try with your kids, this is the recipe for you—and it might just result in the cutest batch of cookies you've ever whipped up.
Things You'll Need
2 baking trays

Parchment paper or silicone mats

Large mixing bowl

Small bowl

Hand whisk, electric mixer or stand mixer fitted with paddle attachment

Rubber spatula

Small cookie scoop

Toothpick or cookie scribe

1 1/2 cup all-purpose flour

1/2 tsp. cornstarch

1/2 tsp. baking powder

1/2 tsp. baking soda

1/2 tsp. salt

1/2 cup butter, melted and cooled

1/2 cup granulated sugar

1/2 tsp. lemon extract

1 egg

Zest of one medium lemon

Juice of one medium lemon

Food coloring (yellow, brown)

1 Tbsp. melted chocolate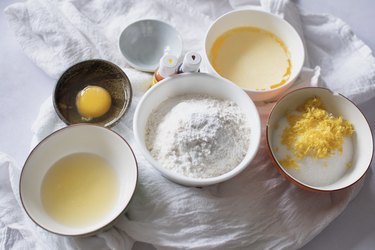 Measure all ingredients into separate bowls. Line two baking sheets with parchment paper or silicone mats.
2. Mix butter, sugar and lemon zest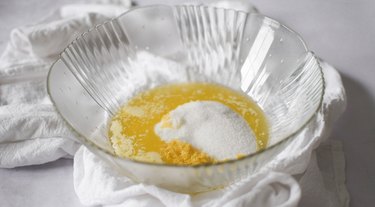 In a large mixing bowl, mix melted butter, lemon zest and granulated sugar until smooth.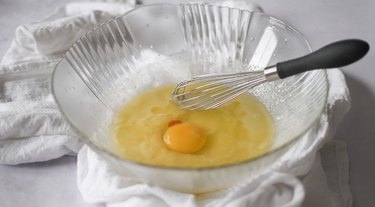 Add in lemon juice, lemon extract, egg and yellow food coloring. Whisk until smooth.
4. Stir in dry ingredients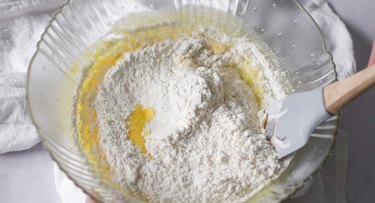 Mix in flour, cornstarch, baking powder, baking soda and salt until no dry spots remain.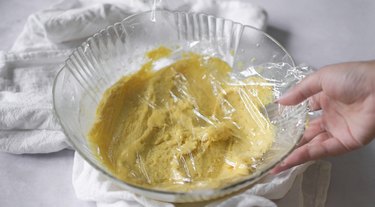 Cover the dough with plastic wrap and store it in the fridge for 30 minutes.
Tip
Chilling the dough will add firmness, making it easier to shape later on. Cooler temperatures also solidify fat, yielding chewier cookies that hold their shape when baked.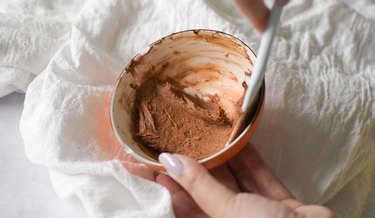 Set aside 3 Tbsp. of cookie dough and mix in brown food coloring. This will make Pompompurin's beret!
7. Shape Pompompurin heads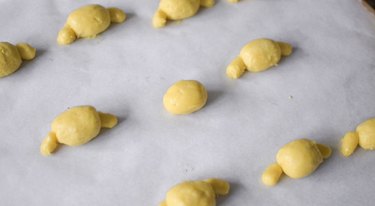 Use a small cookie scoop or gather about 1.5 Tbsp. of yellow cookie dough. Shape it into a ball and then roll it into a slight cylinder and place it on a lined baking tray.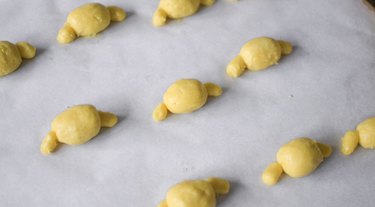 Take about 1 tsp. of yellow cookie dough and split it into two equally sized balls. Shape it into cylinders and place it on the sides of Pompompurin's head.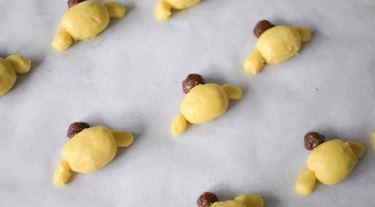 Roll about 1/2 tsp. of brown cookie dough into a ball and place it on Pompompurin's head.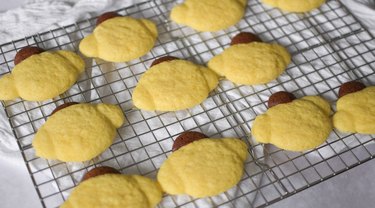 Bake the cookies at 325°F/162°C for 10 to 12 minutes or until the edges of the cookies are set. Let them cool on a baking sheet for 5 minutes and then transfer to a wire rack to fully cool.
11. Decorate with melted chocolate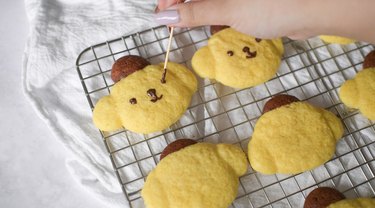 Use a toothpick or cookie scribe to draw on Pompompurin's eyes, nose and mouth.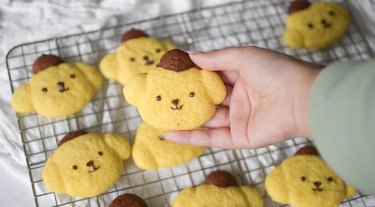 Store the completed Pompompurin lemon cookies in an airtight container at room temperature for up to one week—though you probably won't have many leftovers after these cute creations are set out for loved ones to enjoy!