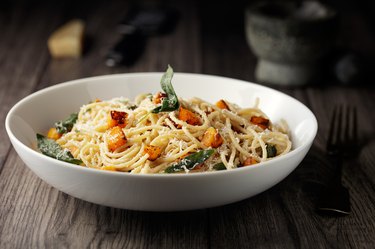 Eating pasta is great. But eating pasta out of a pasta bowl is just a little bit greater. These dishes are basically a hybrid of bowls and plates—hence the silly "blates" nickname, a portmanteau of those two vessels. See what they did there?
But there's nothing silly about adding these pieces to your assortment of tableware. With a flat bottom and wide, shallow sides, they're perfect for serving pasta with an attractive presentation and enough room to maneuver your silverware while eating. Much better than everything oozing out flat on a plate, with sauce potentially running off the sides. And much better than a tight pile in a standard bowl.
Pasta bowls are also perfect for much more than pasta. Never use soup bowls for stew again, and certainly never use one—or a plate—for salad again. Use a pasta bowl for your oatmeal or yogurt parfait instead of a cereal bowl. So much better than a dinner plate for any meal over rice or other grains. You just might find you eat from your blates more than any of your other dishes.
What to Consider When Purchasing Pasta Bowls
‌Material:‌ Like other dishware, pasta bowls are made from various materials. Ceramic, porcelain and stoneware are popular options with an elegant appearance. Glass, plastic, china, melamine, wood and bamboo are some other possibilities. The latter two are prone to staining with red sauces, though, so aren't a great pick for pasta. Consider the fragility and care requirements of the material you choose, and whether the dishes are for everyday use or just special occasions. Also, the material affects the price, which can range widely for this type of kitchenware.
‌Size:‌ Pasta bowls typically have a slightly larger capacity than other bowls, with about 30 to 32 ounces being standard. Of course, they're available in smaller and larger sizes—and extra-large models make great serving bowls with lots of functionality, particularly if you want to put out pasta on the table and have people serve themselves. Think about your storage space too, as pasta bowls can have an especially wide diameter, and note whether the bowls nest compactly.
‌Shape:‌ Look for pasta bowls with a broad, flat bottom providing ample surface area and low, wide sides. It's the best design to accommodate the universal basics of countless varieties of pasta dishes: noodles and sauce. Whichever type of noodles you're making, this shape makes it easier to mix them with the sauce, present them attractively and eat them without difficulty. Also, thicker bowls retain their content's heat better.
‌Color:‌ Because so many dishware sets don't include pasta bowls, there's a good chance you're shopping for pieces that will be set out with other tableware you already own. Plain white often does the trick, but you can find blates in many colors and patterns. Remember, you don't necessarily need an exact match. The key is to find something to ‌complement‌ your dinnerware set. Just be careful about ending up with slightly different whites.
These considerations will help you pick out the best pasta bowls for your table.
1. Y YHY Pasta Bowls, Set of 4
At 32 ounces, these amply-sized, high-quality ceramic pasta bowls are sold at a great price per piece. And, if you need oversized versions to use as serving bowls, they also come in a 50-ounce capacity. They have a wide flat bottom and sleek, gently curving sides, and they're thick to help keep your food hotter longer. Choose from white, gray, navy or black to complement your other dinnerware. The bowls are made with an anti-scratch finish, and they're shock-resistant as well as microwave- and dishwasher-safe.
2. Sweese Pasta Bowls, Set of 6
Looking for a set of six neatly stackable pasta bowls in a variety of fun colors for everyday use or for dinner parties? Look no further. But if you'd prefer these lead-free porcelain tableware pieces in a set of white, navy or light blue, those are options too. You can also downsize from the 30-ounce model to the 22-ounce bowls if you want something smaller. These perfectly wide and shallow pasta bowls can go in the dishwasher, microwave, freezer and oven, so cleanup and reheating are easy, and you can keep your food warm or your ice cream frozen right up until it's ready to hit the table.
3. Made In Cookware Entrée Bowls, Set of 4
These elegant 10-inch porcelain pasta bowls are available with a navy or dark red trim, akin to a classic dinnerware look found in bistros across Italy and elsewhere in Europe. They're also available in plain white too, though. As is the tradition with this brand, the pieces are crafted using clay from Stoke-on-Trent, England. They're scratch- and chip-resistant, plus they're glazed to protect your tabletop against scratches. And they're also microwave-, dishwasher-, freezer- and oven-safe.
4. Villeroy & Boch Vapiano Pasta Bowls, Set of 2
If you want something a little different from a typical round pasta bowl, this set of two artfully curving bowls is sure to please. The bowls are simultaneously whimsical and elegant, suitable for casual and formal use, and able to elevate anything you serve in them. Made by a highly reputed German manufacturing company that's been at it for nearly three centuries, these are of guaranteed high quality. They have a generous 31-ounce capacity, and they do nest neatly for as compact storage as possible given their unusual shape. However, they take up a lot of space in the dishwasher, so you may prefer to hand-wash them even though they're dishwasher-safe.
5. Denby Square Pasta Bowl, Single
Not shopping for a pasta bowl set? If you're willing to splurge a bit on an individual pasta bowl with a unique look, consider this product. (Although you can also purchase the bowl in a set of 2, 4 or 8 if you order from Denby rather than Wayfair). It's a chic square piece—another different-looking option like the previous entry—made from lead-free, BPA-free ceramic. Put it in the dishwasher, microwave and oven, plus it's scratch- and chip-resistant. With a slightly above-average capacity of 37 ounces, you can use it for individual portions or as a serving dish. Also, these bowls are stackable if you do end up buying more than one.
6. Casafina Pasta Bowl, Single
This shallow bowl made from glazed Portuguese stoneware is a gorgeous piece to serve as a pasta bowl, salad bowl, soup bowl and more. It's dishwasher- and microwave-safe, though hand-washing is recommended to help protect it against damage. The 33-ounce piece is available in seven different colors with a matte finish and lightly speckled pattern, pulling off a classic yet modern look, so you shouldn't have trouble finding one to complement your other tableware.
7. STAR MOON Pasta Bowls, Set of 2
Here's another recommended option if you want stoneware pasta bowls. The two 30-ounce pieces come in beige or jade with a speckled pattern, offering an earthy but classy aesthetic. You can put them in the microwave for a quick meal reheating and then in the dishwasher for convenient cleanup. With an eco-friendly high-density glaze, they're also easy to wash by hand and won't pick up stains from dark sauces. These are durable bowls too, unlikely to crack or chip with reasonable handling and care.
8. LE TAUCI Large Pasta Bowls, Set of 2 or 4
If you want some big pasta bowls to use as serving bowls—or for individual dinner bowls for some seriously hungry mouths—this is a great buy. They do come in a standard 32-ounce model as a set of four, but you can also get a set of four 45-ounce bowls or a set of two 85-ounce bowls. The chip- and crack-resistant porcelain pasta bowls are well-shaped and thick. They retain heat well, which is nice if you set out something like a large bowl of pasta with a sauce that will start to congeal once it gets cool. Just note that these are somewhat heavy, though they don't have a bulky appearance, and they're stackable for compact storage.