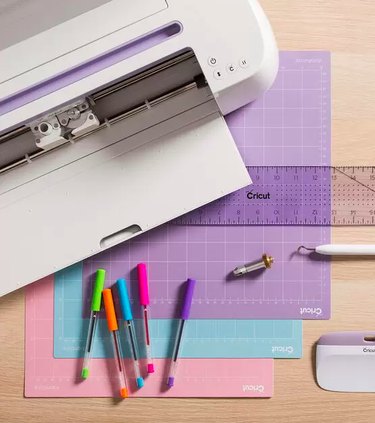 Cricut is one of the most impressive craft companies around. More specifically, Cricut machines are an absolute game-changer for beginners and experts alike. Whether you have a Cricut Joy, Cricut Explore Air, or Cricut Maker, you can make a variety of impressive creations using the machines' precise cutting technology. But, here's the thing: The machines are nothing without the supplies. Whether it's a replacement blade, a piece of vinyl, weeding tools, or TikTok's beloved weeding tool ring, Cricut supplies can make or break a DIY craft project.
Since we're all about ‌making,‌ we thought it was about time we let you in on our most coveted Cricut supply recommendations for adhesive vinyl, iron-on, cardstock and more. Up ahead, find our top picks for the best Cricut accessories and supplies, plus a few important things to consider when shopping for cutting machine supplies.
What to Consider When Purchasing Cricut Supplies
‌Cricut Project Type:‌ Before you begin the search for Cricut craft supplies, it helps to have an understanding of how you plan to use the Cricut machine and what supplies you may need. While iron-on designs, vinyl stickers, decals and paper crafts constructed from precisely cut cardstock tend to be the most popular amongst Cricut crafters, there are so many additional ways to use the machines, including cutting out fabric, leather, wood and even metal. You can also use the Cricut to engrave, foil and deboss materials. With so many different materials, understanding the project type and the kinds of Cricut supplies that best suit the needs of the said project can make a big impact.
‌Cricut Machine Type:‌ When shopping for Cricut supplies, first consider the Cricut machine type you have—or plan to invest in—and whether or not it's compatible with the supplies you need for your project. While many supplies like weeding tools, vinyl and adhesive mats are compatible with most machines, some items such as cutting blades for engraving are only compatible with the Cricut Maker machines. Additionally, if you have a Cricut Joy (which is the smaller Cricut machine), you'll need specific tools like a 4.5- by 12-inch grip mat instead of the 12-by-12-inch. Understanding the Cricut machine needed for your project type and the compatible Cricut tools will make using the technology so much easier and more enjoyable.
‌Inexpensive Cricut Supplies:‌ For the most part, Cricut makes everything needed to complete a craft project. However, some of these supplies can rack up a steep bill and it's not entirely necessary to purchase Cricut-branded supplies. For example, many Cricut users on TikTok use dollar store vinyl or prefer to purchase vinyl on Amazon from third-party retailers. You can also purchase cheap Cricut cutting mats for a fraction of the price (and virtually the same benefits) on Amazon.
‌Cricut Machine Discounts:‌ If you don't own a Cricut machine yet and are looking for the best Cricut machine discounts, you're in luck. Cricut machines—including the Cricut Joy, Cricut Explore Air 2 and the Cricut Maker—go on sale various times throughout the year (not just during Black Friday sales) at JOANN, Target, Walmart, Michaels and Amazon. Even Cricut itself hosts sales on its machines periodically. In addition to the machines, other Cricut accessories such as the Cricut BrightPad, Cricut EasyPress, Cricut Autopress, and Cricut Mug Press.
If you're brand new to Cricut and looking for the best Cricut machine, we recommend the Explore Air 2. This mid-range Cricut machine can be much more cost-effective compared to the Cricut Maker and has the ability to complete many similar projects, with the exception of wood and metal cutting, engraving, and slicing through some thicker fabric materials. You can cut cardstock and create custom cards (including professional-looking wedding invitations), cut heat transfer vinyl and make your own graphic t-shirts and totes using a heat press, get all the pre-cut work done on a quilting project by cutting intricate designs on cotton fabric, and so much more. It's an excellent machine for beginner crafters but also supports plenty more advanced makers in their crafty creations, too.
Sales are often the best time to buy a Cricut machine—and luckily they happen often. That being said, you can also save big (be it on sale or not) when you purchase a Cricut bundle. This typically includes the machine and several essential supplies to get you started. For the best Cricut bundle, we love the Cricut Maker Everything Materials Bundle. This gets you the top-of-the-line Cricut machine, plus dozens of supplies such as the Cutting Mat Variety Pack, rotary blade, Basic Tool Set, Portable Trimmer, transfer tape, Scoring Stylus, pen set, and a bunch of vinyl and cardstock samples, including vinyl chalkboard, dry erase vinyl and foil poster board so you can test out a variety of projects.
The Best Inexpensive Vinyl for Cricut
Some Cricut supplies don't have to come with a high price tag and vinyl is one of the easiest ways to save on your next Cricut project. For the best cheap vinyl for Cricut projects, we recommend the EZ Craft USA Permanent Adhesive Backed Vinyl Sheets, which come in a pack of 40. The 12-by-12-inch sheets fit perfectly on a 12-by-12-inch cutting mat and are perfect for small vinyl projects as well as projects that require multiple colors. With 4.7 stars from over 33,000 Amazon customers, the vinyl comes highly recommended for how well it cuts and how easy it is to weed.
The Best Inexpensive Cricut Machine
Cricut machines are an investment and, while there isn't really a cheap option, the Cricut Joy Machine comes close. For under $200, you can dip your toes into the world of Cricut crafts and create custom vinyl stickers, iron-on designs, and cardstock crafts. The machine isn't compatible with as many materials as the Explore and Maker, but it still works with over 50 materials, offering good value for money.
The Best Cricut Iron-On Vinyl
If you're planning to make your own t-shirts, totes and other apparel items with iron-on vinyl, you'll want to grab the Cricut Everyday Iron-On Sampler Bundle. This vinyl bundle for Cricut includes samples of eight different color schemes so you can mix and match hues while designing your project. With so many different colors to choose from, this bundle allows you to start your vinyl collection off with a little bit of everything so you can mix and match. Plus, the Everyday Iron-On is a durable and high-quality vinyl material that can outstand over 50 washes, be layered together for more intricate designs, and boasts lots of flexibility, giving it a screen-printed look.
Cricut tools might not seem necessary but they can be a project saver and are always worth investing in. If you didn't purchase a Cricut machine bundle with the Basic Tool Set, we recommend buying them separately. For less than $10, you get sharp scissors, a weeding tool, a spatula, a scraper and a pair of precise tweezers to help you cut, weed and apply vinyl to virtually any surface. Plus, many of the tools can be used with other crafts, including jewelry making, paper crafts and more.
The Best Cricut Mat for Cardstock
One of the biggest reasons to invest in a Cricut machine is its cardstock-cutting abilities. Whether you plan on making custom wedding invitations, greeting cards, place settings or even gift wrap toppers, you need a strong cutting mat to secure the paper in place before cutting. The best Cricut mat for cardstock is the StandardGrip Cutting Mat, which you can buy in a two-pack. These mats are incredibly versatile and ideal for medium-weight materials like vinyl, cardstock, iron-on and patterned paper. And, it boasts plenty of stick to keep all the materials in place for easy cutting and weeding.
The Best Cricut Replacement Blades
Experienced Cricut crafters know how frustrating it can be when a blade goes dull. And, while the replacement blades the actual Cricut brand sells are always excellent, the Standard Replacement Fine-Point Cutting Blades from Acirell on Amazon are a much more cost-effective option that comes highly recommended by over 2,500 customers. These fine-point blades come in a pack of two and are praised for being just as good as the Cricut blades, and the low price is a major bonus.
The Best Cricut Cutting Mat Bundle
If you use your Cricut for lots of different materials, a Cricut cutting mat bundle is a must-have. The AOOIIN Cutting Mats for Cricut are the best of the best and include a light grip mat, as well as a strong and standard grip mat. Not only do they have an excellent price point but they are also comparable to the Cricut cutting mats in size, design, stickiness and quality. With 4.7 stars from over 4,000 Amazon customers, the mats are most praised for their value and how long they last. Some Cricut crafters even claim they're better than the branded cutting mats.
The Best Cricut Weeding Tool
Those who work with a lot of vinyl know how ‌essential‌ weeding tools can be. Whether you're just getting started or looking to level up, the Cricut Weeding Tool Kit is a must-have as it comes with five different weeding tools for precise removal, no matter how intricate the design may be. In addition to weeding, you can also use the tool to pierce vinyl and paper and work with trickier materials like thicker glitter vinyl.
The Best Weeding Scrap Collector
If you've ever watched a Cricut tutorial on TikTok, chances are you've seen the Cricut weeding tool ring—it's one of the most beloved Cricut supplies you can get. This ring is designed to slide onto your finger and acts as a very convenient mini trash can when weeding vinyl. It's a must-have item because no matter how big or small a piece of extra vinyl may be, it can be a pain to clean up and often ends up littering your workspace like confetti. With the Craft Vinyl Scrap Collector Ring, you can clean up as you weed, making for a more efficient crafting experience.