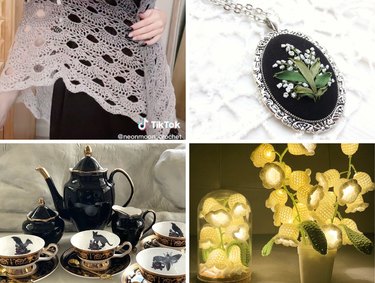 She's sweet. She's snarky. She's...Goth Granny!
You've probably heard of cottagecore, but there's another aesthetic on the scene that blends cozy cottage vibes with darker themes. Goth Granny (or Goth Grandma, if you want to get a bit more formal) is all about mixing moodiness and dark humor with warmth and hospitality. Think: Wednesday Addams with twice the number of cardigans! Whether you're an aspiring Goth Granny yourself or you're simply curious about what makes this trend so fun, we'll give you a crash course.
Read on to check out some of our favorite Goth Granny inspiration from TikTok and Etsy. When you're ready to embrace your inner "elder emo," these finds will get you started.
1. Ghoulish Crochet Shawl
What's grandma's house without a few crocheted pieces? Whether it's a retro, multicolored blanket or a pile of handmade sweaters just waiting to be gifted to the grandchildren, crochet items and grandmas are a match made in heaven. For crochet with a Goth Granny twist, though, check out this ghoulish shawl from TikTok crafter @neonmoon_crochet, who proves that goth-inspired clothing and accessories can still be totally cozy.
Goth Granny could just as easily be called dark cottagecore—and this DIY moss mirror from @necropackrat on TikTok provides the perfect example. To make your own version, all you'll need is a vintage (or vintage-esque) mirror, some preserved moss and a hot glue gun. Can't you just imagine the finished product gracing the walls at (Goth) Grandma's house?
3. Goth-Inspired Cross Stitch
Few crafts have more grannyish vibes than cross-stitching, but the art form has grown increasingly trendy in recent years, and we love coming across modern twists on seemingly antiquated crafting methods. TikToker and online business owner @TheGloomyGremlin brands herself as a "goth cross-stitcher," offering patterns and completed pieces with decidedly dark (and funny) vibes.
4. Lily of the Valley Crochet Glow Lamp
There's something hauntingly beautiful about this crochet lily of the valley lamp, which is handmade using tiny string lights and lace cotton yarn. It certainly has grandmother vibes, but its warm and eerie glow makes the perfect addition to any gothic aesthetic. Etsy maker PollyArtDesignCo has created a totally unique piece.
What does every grandma's kitchen counter need? A plate of homemade cookies, of course! For a Goth Granny twist, check out these sweet and scary cemetery cookies from @_mystic_moon_witch on TikTok. With dough formed into coffins, gravestones and bats, they're the perfect treat for anyone who loves their desserts with a side of quirk.
6. Vintage Photo Scrapbook
TikTok crafter @rebeccajanejournal offers a slightly eerie twist on another craft often embraced by grandmothers: scrapbooking! In her video, she demonstrates how vintage or Victorian photos (whether thrifted or passed down through the generations) can be incorporated into more modern scrapbooks or "junk journals." You can even seek out vintage photo bundles on Etsy to get started on your own Goth Granny scrapbook.
Fancy a cup of tea with granny? The "dark hospitality" vibes of Goth Granny are alive and well in this handmade tea set from AngiolettiDesigns on Etsy. With dark flowers and gold accents alongside black cats, bats, crows and moths, these stunning porcelain pieces make a perfect gift for any aspiring Goth Grandma. AngiolettiDesigns has a whole inventory of crockery with similar vibes, so get browsing!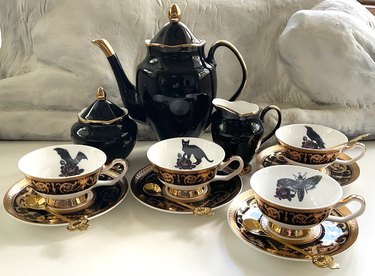 8. Victorian Lampshade DIY
For a more elegant take on the Goth Granny aesthetic, check out this handmade Victorian lampshade from @elegance.lamps on TikTok. With tassels, pearls, metallic accents and a stunning floral design, it provides a dreamy combination of moody Victorian vibes and artisan beauty. We think Goth Grandma would also dig the crochet place mat it's resting on!
9. Gothic Flower Necklace
Goth Granny certainly has Victorian undertones. This pretty flower necklace from BeadSplendour on Etsy melds nature in the form of embroidered flowers with goth-inspired black fabric and metal. Each pendant is handmade with love (and a bit of goth girl energy), so it's a great gift choice for the fashion-forward Goth Granny in your life—or yourself!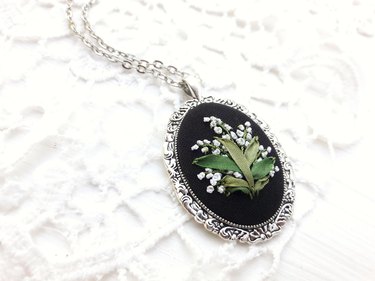 Whether you're a proud lifelong "grandma type" or a newcomer to the vibe, we hope this Goth Granny roundup leaves you feeling crafty, inspired and ready to get creative—melancholic grandma style!