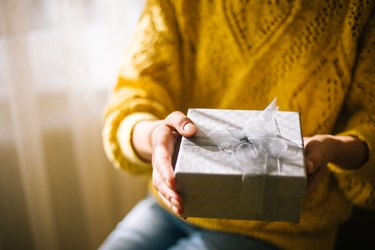 Buying a home is a big deal. If your friends or family members are in the homebuying stage of life (congratulations to them!), they've probably been through a few headaches recently. Not only is the buying process stressful, but moving is a total pain and chances are they've lived out of boxes—"Which box did we pack the shower curtain in?"—for longer than they would have liked.
Once they've settled into their new home and are ready to host visitors, you don't want to show up to a housewarming party empty-handed. Instead, bring a housewarming gift that shows you know your loved ones well. The gift should fit the home's style and your budget too. Finding a gift that checks all of those boxes can be tricky, but we narrowed down our favorite housewarming gift ideas that will make your friends' lives easier and their new space prettier.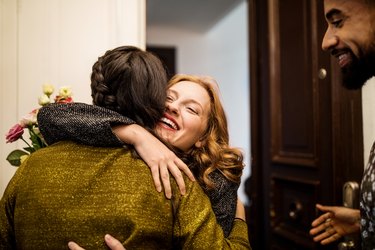 What to Consider When Buying a Housewarming Gift
‌Personalization:‌ Forget giving a gift card. Nothing says "I was thinking of you" better than a one-of-a-kind gift just for your friends. For an extra thoughtful housewarming gift, no DIY-ing necessary, opt to personalize something that they're bound to get a lot of use out of. Think: A custom-made doormat, an elegant return address stamp or monogrammed coasters. (All of which are below.)
‌Size:‌ Even if the gift is for your best friend who you know better than anyone in the world, don't burden the new homeowners with an oversized gift they may not have room for. They may still be unpacking, so make your gift small but special.
‌Budget:‌ There's no need to go overboard price-wise with a housewarming gift. Most of the options below are under $100, although we've thrown in a couple of splurge-worthy items if you're shopping for a best friend or close family member. There are plenty of gifts in the $20 to $40 range that anyone would be grateful to receive, while you'll be grateful not to have blown your budget.
Read on for the best housewarming gifts that'll surely help make their new house a home.
1. Homesick New Home Candle
New homes need new scented candles to set the tone for their fresh start. One named "New Home" should do the trick. This Homesick candle smells like new beginnings, with top notes of jasmine and cedarwood, along with hints of lime, sandalwood, oakmoss and musk. It has a long burn time, too—60 to 80 hours—so your friends will think of you every time they light it.
2. HamlinRowShop Personalized Doormat
Your new home-owning friends will feel right at, well, home, if you give them this personalized doormat. HamlinRowShop offers four different design options, all with minimalist charm. Some include a last name, some include a year, and some include a welcome message. There are four sizes to choose from, ranging from 16 by 24 inches to 24 by 60 inches. These coir doormats will last for years and come with slip-resistant backing, so guests can comfortably wipe their shoes without wiping out.
3. Fellow Stagg Stovetop Pour-Over Coffee and Tea Kettle
Whether your gift recipients are coffee drinkers or tea aficionados, this electric kettle from Fellow would make for an outstanding "Oh, you shouldn't have!" gift. It heats water in what feels like an instant, and the gooseneck design is incredibly easy to use. It would also look beautiful in their new kitchen. Now, the tough part: choosing a color. This tea kettle comes in matte black and matte white, or for your flashier friends, polished steel or ultra-shiny copper.
4. Stampmyworld Personalized Return Address Stamp
Mail can often feel like bills, junk and more bills. Maybe you'll receive something a little more fun in your mailbox if you give your friends a personalized return address stamp. Choose from one of six elegant designs, then wait patiently for your first holiday card from the giftees. It's practical and pretty, and demonstrates you were thinking specifically of them. Your loved ones will doubly appreciate how little room your thoughtful gift requires.
5. Aesop Resurrection Aromatique Hand Wash
Luxe hand soap is both an underrated housewarming gift and a great housewarming gift. Everyone needs it, but not everyone will routinely spend serious cash on the fancy stuff, like this Aesop Resurrection Aromatique Hand Wash. That makes it an equally special and useful gift—our favorite combination of traits. Any Aesop soap is a winner, but we especially love this heavenly-smelling formula, which contains orange, rosemary and lavender oils.
6. Brightland The Duo Extra Virgin Olive Oils
Olive oil—the really good stuff, like Brightland—is a foolproof housewarming gift. (Or anytime gift!) This duo of Brightland extra virgin olive oils packs serious punch flavor-wise, so it's especially ideal as a salad dressing or as a finishing oil. Bonus: Brightland looks cool on countertops too, which is not something you can say about all olive oil bottles. To go above and beyond with your housewarming gift, stop by a local bakery for a fresh baguette to pair with the olive oils.
7. RenderGoods Colorblock Trio Towel Set
You may not think of dish towels as the most exciting gift, but when your friends have been living out of boxes for weeks and still haven't found their ratty old ones, they'll be so grateful for a new set. This pack of three with coordinating (but not matching) geometric designs will surely brighten their kitchen. Not only are they charming to look at, but they're absorbent, fast-drying and made from recycled water bottles, too. So yes, dish towels are an exciting gift—at least for new homeowners.
8. Monogram Leather Coaster Set
Never, ever be the house guest who leaves rings on a coffee table. One way to get ahead of the problem is by gifting your new home-owning friends a set of these oh-so-chic leather coasters. They're simple, they're sturdy, they'll beautifully patina over time, and they would look right at home on any tabletop or bar cart. For a personalized touch, these can be monogrammed with two initials. If you're buying for a couple, perhaps buy one set for each of them so there are always enough to go around.
9. ThermoAsh Wood Cutting Board
A new cutting board is the perfect, subtle way of saying, "Invite me over for dinner!" This stunning ash wood design—which is made in Italy—is both pretty and practical, since it has received a high-heat treatment that makes it more resistant to water and wear. (Your friends' seen-better-days cutting boards can retire now.) A cutting board this beautiful can double as a serving tray or cheese board, making it all the more useful.
10. LSA International Metropolitan Wine Glasses
A new house requires a toast—and new wine glasses. This set of four from LSA International is worthy of the finest bottle from your friends' wine rack, with their nearly square bowls, fine rims and delicate (but not ‌too‌ delicate) stems. Best of all, they're dishwasher-safe, which makes cleaning up after a housewarming party that much easier.
11. JOOJA Knit Throw Blanket
After all the stress of moving, here's betting your friends are looking forward to quiet, cozy nights on the couch in their new home. The perfect housewarming gift to encourage that is a comfy throw blanket that begs for cuddling up with a movie. This machine-washable soft knit blanket is our top pick, since it feels like your favorite sweater and is light enough to be used all four seasons. No matter their home decor style, this goes-with-everything throw blanket is bound to blend in seamlessly. Choose from 13 colors and patterns, and two sizes, 50 by 60 inches or 60 by 80 inches.
Repeat after us: No more kitchen gadgets, no more kitchen gadgets, no more kitchen gadgets. The last thing your pals need is another kitchen tool that'll collect dust. Instead, invest in a piece of multi-purpose cookware for them, like the best-selling Always Pan, which prides itself on the ability to replace eight pieces of cookware with just this one. The Always Pan can sear, steam, braise, strain, sauté, fry, boil and more. Though it's the priciest item on this list, chances are, it'll get the most use, too.