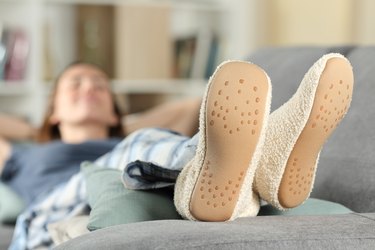 When you're at home, your feet deserve comfort—whether it's after a long day at work or first thing in the morning. The best way to achieve maximum foot comfort is by gifting yourself the absolute coziest pair of slippers you can find. The right slippers, or indoor house shoes, should be easy to slip on and off and provide cushion and support for your feet while walking around indoors. You might think of slippers as a luxury item, but they can significantly help foot pain that gets worse by walking barefoot on hard surfaces. So, slippers aren't just cute and cozy, they're good for your health.
Slippers come in a variety of designs, shapes and materials. We rounded up the best ones that'll give your feet the comfort and support they need.
What to Consider When Purchasing Slippers
‌Material:‌ The materials that slippers are made with make a big difference. Of course, you'll want to choose materials that feel good against your skin, but also ones that won't cause your feet to overheat if that tends to be an issue for you. To prevent sweaty feet, try going for slippers made of breathable, natural materials like cotton, linen or wool.
‌Sole:‌ Slippers with a rubber, synthetic or natural cork sole offer the best shock absorption and support for your feet. If the slippers you like don't have a sole, you might want to consider ones with an anti-slip backing to help prevent falls.
‌Back Versus No Back:‌ Backless slippers are typically easier to put on than booties or fully-enclosed slippers, and they're generally better for those who tend to have sweaty feet or prefer to quickly hop in and out of slippers. Slippers with backs, however, stay on feet better, providing comfort and support without the worry of them slipping off.
Scroll on to check out our top picks for the coziest slippers on the internet.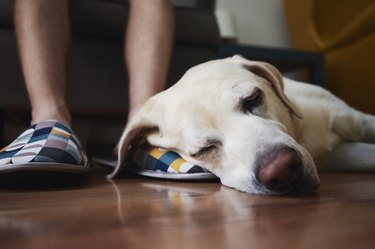 The Best Overall Slippers
For an easy-to-put-on and super comfortable pair of slippers, check out these unisex house shoes. The clog-style slippers are made of soft shearling and have a plush faux wool lining for extra warmth and comfort on those tootsies this winter. They have a memory foam insole for even more comfort along with a rubber sole with anti-skid traction. They're also machine-washable, which is a major bonus. The slippers are available in both men's and women's sizes and come in eight color options.
You don't have to spend an arm and a leg on a great pair of slippers. These Dearfoam booties are so incredibly soft, you're never going to want to leave your house. The booties are lined with teddy sherpa with a fleece footbed, and they also have a memory foam insole to make all your slipper dreams come true. Plus, you won't have to worry about slipping and sliding around your house as these slippers have a rubber sole. The booties come in four colors: black, white, gray and brown, and range in size from 5 to 12.
The Best Indoor/Outdoor Slippers
Allbirds is known for making some of the most comfortable shoes ever, and these slip-on lounger fluffs are no exception. They can be worn indoors or outdoors and are designed to keep your feet just as warm as they are comfortable. These machine-washable slippers are made with premium Merino wool, which is ideal for sweat-prone feet, and they come in two colors: white and purple. Fortunately, Allbirds makes the Wool Lounger Fluff slip-ons in women's sizes, too.
If you want a pair of cozy slippers but don't want your feet to get too hot while wearing them around the house, these extra furry crossband slippers are a great option. They come in 10 chic colors and have an elegant look. Made of soft faux rabbit fur and breathable plush fleece, the coziness is next level. They have a memory foam footbed and a rubber sole with anti-skid traction.
The Best Slippers for Warmth
You can't go wrong with UGG slippers. These Koolaburra slippers are supportive enough to wear around the house all day, and the rubber sole can support outdoor wear as well—you know, like a quick run to the mailbox, grabbing something from the garage or pulling the trash cans in. Unlike other slippers, these will actually stay on your feet while using the stairs. These slippers for men come in five color options and are also available in women's sizes.
The Best Supportive Slippers
Wear these Wicked Good slippers from L.L. Bean with or without socks—but if you want to feel the softness of the genuine lamb's wool, you should probably ditch the socks. These slippers are made for comfort as they feature an EVA foam lining midsole and a supportive rubber outsole with traction. They come in six colors and the company recommends sizing up if you're in between sizes. There isn't an exact match when it comes to men's slippers, but the Men's Wicked Good Scuffs are pretty close.
These Gripper Slippers will keep your feet feeling warm and looking festive this winter. The ankle-height slipper socks feature a fluffy sherpa lining and a wool-blend exterior. Anthropologie sells two Fair Isle-inspired patterns, but for an even greater selection (including men's sizes), turn to the Bombas website for three additional options. The soles of the slipper socks are lightly cushioned for comfort and feature non-slip grippers so you don't take any tumbles—at least not due to the slippers being slippery. They come in four sizes: extra-small, small, medium and large.
The Best Design-Forward Slippers
The spa-like waffle slippers might be the ultimate loungewear for your feet. They come in two sizes—small for women's 8 to 10 or men's 5 to 9 and large for women's 11+ and men's 10 to 14. They have a grippy, non-slip outsole plus they have the perfect amount of cushion for your feet. No worries if they get dirty as these slippers can be tossed in the washing machine with like colors. The slippers come in 10 non-offensive colors, so you can be cool and casual in your waffle slippers without drawing all the attention to your feet.
The Best Slippers for Teens
When your teenager isn't sleeping all day, they probably spend a good amount of time lounging around the house. If that's the case, they might as well have the most comfortable slippers possible to support their lounging hobby. These nontoxic, plush sherpa slippers are so soft, you're going to want a matching pair for yourself, which your teen will probably roll their eyes at but maybe secretly love? You can buy these unisex slippers in three neutral colors: ivory, gray or camel. The sizes range from small to medium.
The Best Slippers for Kids
When it comes to slipper socks, Bombas are arguably the best for toddlers and kids because they're incredibly soft and warm, and they actually stay on their feet and have efficient gripper soles to prevent tumbles. They're "festive on the outside and cloud-like on the inside," according to the company. In other words, they're definitely kid-approved. While Bombas sells slippers for the whole family, these are for toddlers and kids specifically in sizes 11 to 5.
The Best Slippers for Babies
As far as slippers for babies that stay on their feet longer than 7 seconds go, Hudson's Sherpa Booties are clear winners. Their velcro closure helps you slide them on and off easily, as does the loop at the top of the bootie. They have grips on the bottom for the safety of your little walkers and they come in a wide variety of colors and styles. The sizing ranges from 0-6 months all the way to 4T.