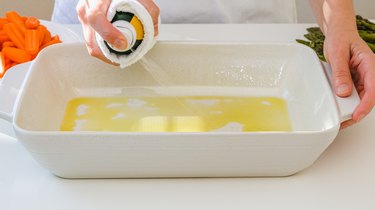 High-quality oil sprayers offer lots of benefits in the kitchen. By dispensing oil through a spray nozzle in a mist, droplets, and/or stream (depending on the product), you get much better control over the amount of oil you use and how it's distributed. This comes in handy whether you're baking, sautéing, grilling, air frying, dressing a salad and more.
As compared to pouring from an oil container or a bottle with a pour spout, you'll cut down on calories, prep and cooking time, and how much you spend on cooking oils. And you'll have an easier time coating pans, baking trays, other dishes and food without the hassle of accidentally overpouring and dousing them with too much oil.
Of course, you can use the best oil sprayers for plenty more than olive oil, canola oil, vegetable oil, peanut oil and other types of oil. Fill these versatile kitchen gadgets with vinegar, lemon juice, lime juice, salad dressing, soy sauce, wine, water and other liquids you cook or dress food with. They're a real convenience item for active cooks, and most are compact enough to easily keep a few on hand.
What to Consider When Purchasing an Oil Sprayer
‌Material:‌ Most oil sprayers are made of plastic, glass or metal (typically stainless steel or aluminum). Plastic products are generally the cheapest and most lightweight, but they're also the least durable and prone to absorbing flavors and odors from their contents. Also, they don't shield oil from light, which accelerates its degradation. Glass also has the latter issue, but it's an eco-friendly choice that's more durable and won't retain flavors and smells. Metal oil dispensers block out light and don't pick up flavors and odors, and they're the most durable option (not prone to cracking or breaking like glass) and also usually the highest priced.
‌Capacity:‌ Think about how quickly you go through cooking oil and how much you want your sprayer to hold. Capacities of 4 to 7 ounces are standard, while you can get larger oil spray bottles that hold 18 or more ounces. And on a related note, look at the size and shape of the container, considering where you'll keep it and how much space you have.
‌Pump Mechanism:‌ Oil sprayers have different types of spouts and mechanisms for dispensing their contents. Non-aerosol oil sprayers are preferred, as they don't depend on potentially harmful chemical propellants. Many alternatives are pressurized sprayers that you pump a few times to build up pressure, while others have triggers. The pump style and design also affect how the oil comes out. Do you only want a fine mist? Do you prefer a spray of droplets? Do you want the ability to squirt out a stream of oil?
These are the main considerations when choosing an oil sprayer, and they'll help ensure you end up with a product you're happy with.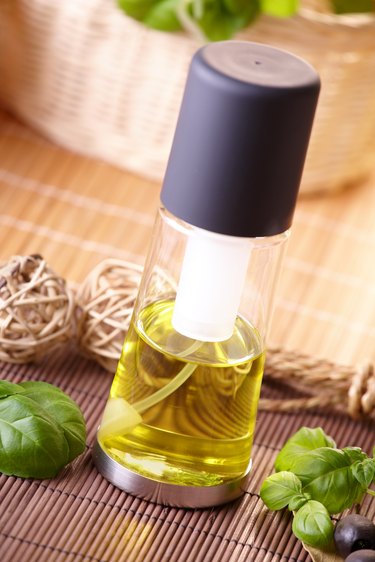 The Best Overall Oil Sprayer
This lightweight, budget-friendly oil sprayer is a superb kitchen tool to have on hand. Simply pump the cap and spritz a fine, even mist by depressing the spray valve. This pressurized sprayer performs as well as an aerosol product without the propellants and health concerns. The brushed aluminum is aesthetic—this item is attractive enough to put out on the table for company—but it also protects oils from the light. This makes it an especially good choice if you intend to keep it out on the counter, rather than storing it in a cabinet or pantry. It's also easy to disassemble for cleaning in soapy water, which you should do regularly with any oil sprayer to prevent cross-contamination between different contents and clogs in the nozzle.
The Best Glass Oil Sprayer
From the same brand as our top pick, this aesthetic oil sprayer has substance as well as style. The frosted food-grade glass helps reduce the damage that light inflicts on your oil—a thoughtful and attractive way to improve on a standard problem with this type of glass product. As with the previous entry, you just pump the cap and then depress the spray valve to emit a fine mist from this BPA-free pressure mister that's every bit as good as any aerosol sprayer. It's a generous size, too, holding up to 7 ounces of liquid. Plus, it comes apart for cleaning and is just as easy to put back together again.
The Best Budget Oil Sprayer
If you're looking for one of the lowest-priced oil sprayers—but one you can count on to produce a consistent mist and to hold up over time—look no further. This is a well-made model with a stainless steel head, food-grade glass bottle and perfectly performing spritzer nozzle. It's a highly effective product for using less oil, operated simply by pressing gently down on the large, comfortable, ergonomic button on top; no pumping necessary. It holds 4 ounces of liquid, and the sleek piece is easy to hold and store. It comes with two handy large and small cleaning brushes, and you can quickly disassemble it to wash with hot water and soap. As an added bonus, even at this affordable price, it comes with an extra tube to make it last longer.
The Best Trigger Oil Sprayer
This trigger oil sprayer gives you the option of spritzing a fine mist or spraying a solid stream of oil. You control the output with how quickly you pull the trigger, eliminating both the aerosol and pressure-pumping methods. It's a versatile piece of cookware that's well suited to a variety of applications, and that lets you handle certain greasing, grilling, coating and other tasks more efficiently than a model that only produces a mist. And there's the convenience of built-in measuring, as each spray dispenses 1.4 teaspoons of liquid. The bottle is made of glass and the head is made of sturdy BPA-free plastic, and the whole thing is easy to take apart and clean.
The Best Oil Sprayer for Air Fryers
Air frying is a great cooking method for preparing healthier food with less oil. Evenly covering your food with a very light coating of oil is one of the most important factors in producing the best, crispiest results. This oil sprayer gives you the performance and control you need. Easily build pressure by pumping this non-aerosol mister, which has a stainless steel head and a scratch-resistant glass bottle. The special anti-clog filter is highly effective too—even if you add fresh herbs to infuse the oil. Also, the product has an elegant appearance, helped by the fact that the spray nozzle is hidden inside the head.
The Best Oil Sprayer for Salads
If you want oil sprayers that come in handy for dressing salads, it's always nice to have two on hand. Here are a pair of durable BPA-free sprayers priced well for even a single one, and they reliably emit a fine mist using air pressure—not undesirable propellants. Use one for oil and one for vinegar or lemon juice, or prepare two different dressings to give your family or guests a couple of options. Convenient measurement markings on the glass bottle facilitate the process of making dressing inside. The sprayers have a nonslip design and are highly unlikely to clog, plus the stainless steel head attaches securely enough to prevent any leaks. Even at this budget-friendly price, you also get a food brush, cleaning brush and funnel for easier filling.
The Best Large-Capacity Oil Sprayer
For those who go through a lot of oil in a relatively short time—for example, those who frequently grill or barbecue large cuts—a large-capacity oil sprayer makes life a lot easier. This one holds a generous 18 ounces. It's a plastic bottle, but that's a comfort when using it for things like grilling, as you don't have to worry about broken glass when carrying it around and keeping it on the patio or deck. And rest easy; it's recyclable, latex-free, BPA-free and DEHP-free plastic. The ergonomic trigger is easy to use and provides excellent control, and like other EVO sprayers, it provides superior coverage by dispensing in horizontal and vertical fan patterns.