The holiday season is right around the corner, so it's quickly turning into that time of year when we think about what to buy those on our gifting list. Nothing brings a bright and cheery appeal to your holiday decor during the dark and dreary winter months like the gift of Christmas houseplants. Even if your loved ones aren't considered savvy gardeners, most holiday plants can be enjoyed as hardy, year-round houseplants. They'll help you celebrate your new year with their lush greenery.
There's a wealth of choices in plants you can purchase at Christmas time that are sure to please and add to the holiday spirit. You can easily find amaryllis, Christmas cactus, cyclamen, orchids, and of course, that poster child for the holiday season, poinsettias, to name a few. Most you can easily find at your local garden centers in late fall but you can also locate Christmas houseplants online.
Below, we've outlined some considerations when purchasing plants online for the holiday season. Additionally, we've noted some top picks in lush and colorful Christmas houseplants that will delight everyone on your list.
What to Consider When Purchasing a Christmas Houseplant Online
‌The Person Receiving the Plant:‌ When buying a Christmas houseplant as a gift, you'll want to consider first the person you're gifting it to. If that person is a plant-lover you'll probably want to give a plant that will continue living long after the holiday has passed. Many plants grow well as houseplants while a few tolerate living indoors for a time. These need to eventually reside outdoors in a pot or even be planted in the yard. On the other hand, if the receiver is probably going to toss the plant once the holidays have passed, you won't need to worry about whether the plant is easy to care for or requires more care.
‌Care Instructions:‌ When purchasing a holiday houseplant online, make sure it arrives with some instructions on its care. The receiver should know a little bit about the specific plant's light and water needs so it will thrive over the season. There should also be a bit of information about the plant itself and any tips to promote good growth.
‌Households With Children or Pets:‌ Although many plants have toxic qualities, if you're gifting your holiday houseplant to a home with curious children or pets, you'll want to make sure everyone knows whether parts are toxic. You don't want to injure the cat because it couldn't keep its paws off the new plant or cause the children to fall ill after playing with the flowers or leaves.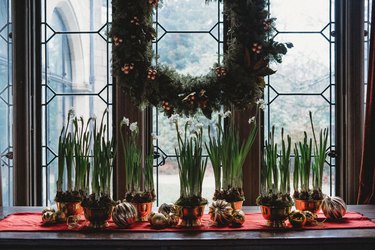 1. Costa Farms Norfolk Island Pine
If you desire something that looks like a miniature Christmas tree and will grow into a massive 200-foot Christmas-like tree if planted outdoors, then you won't be disappointed in a Norfolk Island pine (‌Araucaria heterophylla).‌ This 18-inch tree comes in a 6-inch pot and is decorated in red Christmas gift wrap with ornaments and a star-shaped topper. It's the perfect size to decorate a tabletop and add to the holiday spirit. Indoors, situate it in full sun or bright light to thrive along with weekly water applications. Although it will do fine growing indoors, if you live in USDA zones 9 through 11, you can plant it outdoors. Once it outgrows its original pot, repot into the next size larger with a fertile potting mix.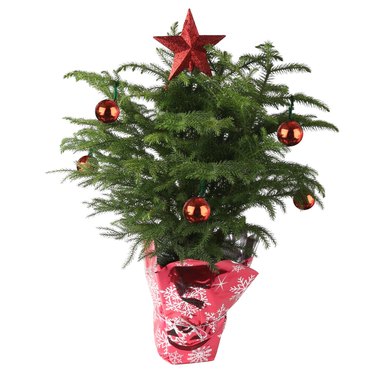 If you know someone interested in learning the art of bonsai or has the experience, this azalea (‌Rhododendron‌ spp‌.‌) bonsai is sure to delight you. It blooms from May to June, filling with pink flowers that look striking against the small green foliage. The azalea comes already pruned into its bonsai form in a ceramic container with all the instructions to assist you in future pruning to keep its shape. Just situate it where it gets bright indirect light for at least two hours daily and not next to radiators or air vents that will rob it of humidity and keep it too dry. With its cheery pink flowers, the azalea is sure to brighten up even the darkest winter day.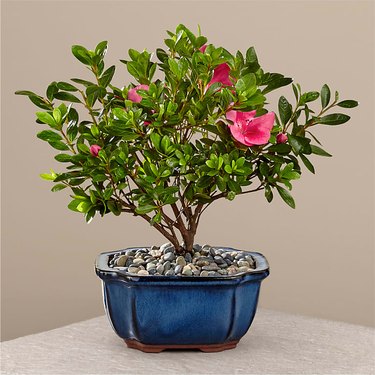 3. Daylily Nursery Black Pearl Amaryllis Gift Kit
With its regal and elegant blooms in deep maroon with hints of black, the Black Pearl amaryllis (‌Hippeastrum‌ 'Black Pearl') is sure to grab everyone's eye who visits over the holidays. The showy 8-inch, trumpet-shaped flowers grow on sturdy 20-inch stems with three stems forming on a single bulb. Once the warmth of spring arrives, you can even plant it outdoors. These bulbs are perennials so they come back year after year. This grow kit includes everything you need to grow this dramatic flower, and once planted, it takes around six weeks for the first flower buds to appear. With its unique appearance, it's sure to be a hit for anyone on that holiday list.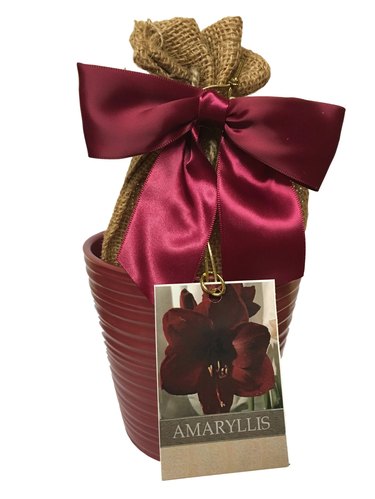 4. Paperwhite Bulbs in Decorative Holiday Pot
A pot full of blooming paperwhites (‌Narcissus‌ ‌papyraceus '‌Zivia') with their breezy and cheerful white blooms is sure to look appealing to any holiday decor. It also makes a delightful gift. The red metallic pot is embossed with snowflakes and contains nine pre-planted, healthy bulbs. All you need to do is water them and place them in a location with bright light or an area that receives full sun. Within three to four weeks, these dainty flowers will be bursting into bloom. The stems grow to be 18 inches tall, on average, and the white blooms are wonderfully fragrant.
5. Shop Succulents Mini Succulents Variety Pack
If you have a succulent lover in your life, they'll surely be pleased with this gift pack of 20 various succulents. All the varieties are different and come fully rooted in 2-inch pots so they're ready for display. They make the perfect gift for plant addicts or even kids to get their growing addiction on during the holidays. You can leave them in their pots or create a succulent garden or terrarium to display indoors. Best of all, they're a breeze to care for. During winter, you'll only need to water every couple of weeks and place them in a location with bright indirect light and they'll thrive. Shop Succulents will replace any if they arrive damaged and will also give you a 30-day health guarantee.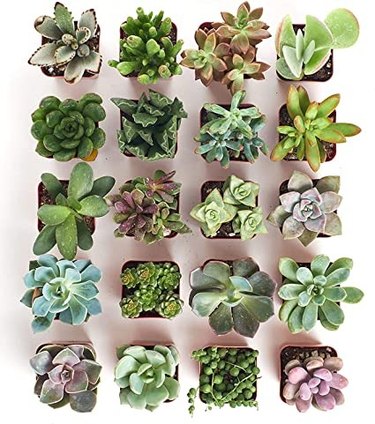 6. Expert Gardener Red Poinsettia, 3-Count
Nothing symbolizes the Christmas season quite like the red, robust blooms of poinsettia (‌Euphorbia pulcherrima‌). This package from Expert Gardener gives you more to brighten your indoor spaces because you get three of these blooming beauties. Each one comes potted in a 1.5-quart container wrapped in holiday paper to add to their festiveness. You just need to give them a drink once you unpack them and place them in an area with bright indirect light. Just be sure to keep them away from drafty locations and air vents. This colorful package is sure to put a smile on anyone's face and zhuzh up their holiday decor just in time for Christmas.
7. JM Bamboo Red Christmas Cactus in Hanging Basket
When it comes to popular Christmas houseplants that make beautiful, long-lasting gifts that thrive indoors, you can't forget the Christmas cactus (‌Schlumbergera‌ ‌× buckleyi‌). This one from JM Bamboo comes pre-potted and thriving in an 8-inch hanging basket and starts putting on a flower show with its red hanging blooms right in time for the holiday. Christmas cacti are a breeze to care for and only require water when the soil dries. Typically, bright indirect light promotes the best flowering. If you desire, you can also remove the hangers so the flowers can dress up a table and add a bit of Christmas color. Even novice plant lovers will have success growing this holiday cactus.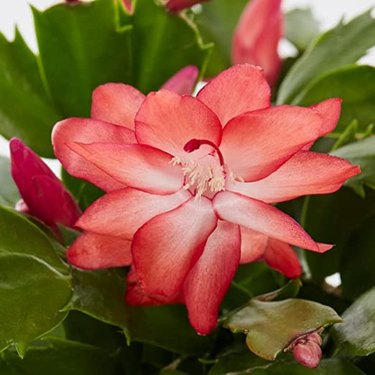 8. Better Homes and Gardens Red Winterberry
If you're looking for a holiday gift that works as a seasonal centerpiece and adds a blast of red and green, you won't be disappointed with this coconut and mahogany-scented red winterberry (‌Ilex verticillata‌). It comes in a decorative 10-inch pot and is filled with sprigs of small, long-lasting red berries that look stunning against the greenery. It will give the feeling of Christmas and brighten a winter day. It's easy to take care of over the winter season by situating it in an area with full sun and watering when the soil becomes dry. Although it won't live forever indoors, you can either repot the red winterberry into a larger container or plant it outdoors in your yard come spring.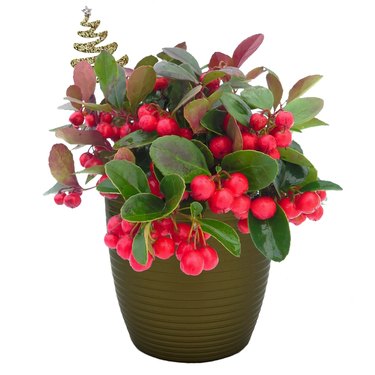 You can easily sweeten someone's holiday season with this candy wonderland tree. It's an 18- to 24-inch Alberta spruce (‌Picea glauca‌) that's dressed for Christmas with glittery candy cluster ornaments, red and silver jingle bell garland and LED string lights—all potted in a red decorative pot with white polka dots. It's sure to add a cheery Christmas spirit to any home and makes an attractive holiday gift. Those living in USDA zones 3 through 6 can even plant it in the yard once spring arrives and have a long-lived Christmas tree they can enjoy year-round. Just keep the soil moist but not soggy and place it where the tree receives full sun, such as a windowsill.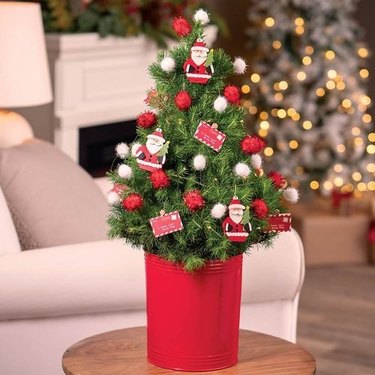 10. Costa Farms Peace Lily
For an easy-to-grow holiday gift that will brighten indoor decor for ages, you can't go wrong with a peace lily (‌Spathiphyllum‌ spp.). The tall white spathes look striking against the large evergreen foliage and will definitely dress up your holiday spaces with its good looks. It comes in a decorative pot and the peace lily is around 15 inches tall and ready to thrill. Best of all, this is one of the easiest houseplants to care for as it thrives in lower light conditions and you'll only need to water it once weekly. It's also considered one of the top 10 clean air plants by NASA, so it does double-duty of adding to your holiday decor while helping clean your indoor air of impurities.