If you love sugar and spice and everything nice, then we have a fun (and low-calorie) way to connect to a festive holiday tradition of the past. We've drawn up plans for you and your family to celebrate the season and create a classic gingerbread house with a twist: It's actually a kid-sized puppet theater dressed as a gingerbread house.
Children love the magic of a gingerbread house—even more when creating their own. When they are on vacation from school and the weather keeps them inside, let them help you make and use this gingerbread house that doubles as a playhouse and puppet theater. From creating paper candy decorations to crafting ornament puppets to performing for the family, it's a wonderful way to pass the time and keep their imaginations fresh.
So let's grab a cup of hot cocoa and make this cardboard puppet theater together.
Things You'll Need
Extra large cardboard moving box, plus more cardboard for roof

Box cutter

Packing tape

Piece of fabric for a curtain

Iron

Hot glue gun

Two skeins of thick white yarn

Red and green felt or paper circles

Two red pool noodles

White duct tape

Candy canes

A variety of ornaments

Wooden dowels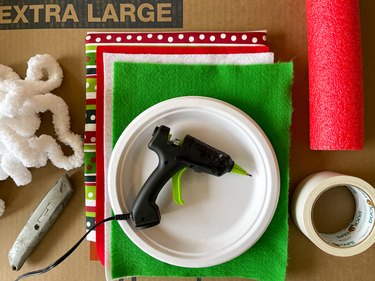 How to Make a Holiday Puppet Theater:
1. Create the house frame
Find a large cardboard box from your local appliance store, or purchase a large moving box. We used an extra large moving box from Home Depot for our puppet theater. No worries if the box of your dreams has already been flattened—you can tape it all back together.
To start, cut one side of the box so the entire box will lie flat. Since most boxes have some sort of printing on the outside, you'll be turning your box inside out and upside down. That way, you'll have a nice clean surface to use when decorating your gingerbread house.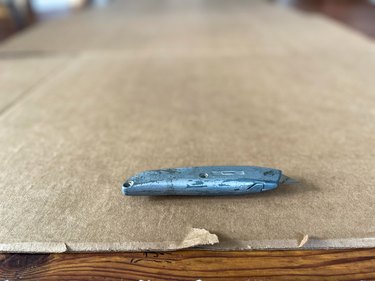 Cut out a window in the side you'd like to use for the puppet stage. Cut the top flap on that side of the box into a triangle shape.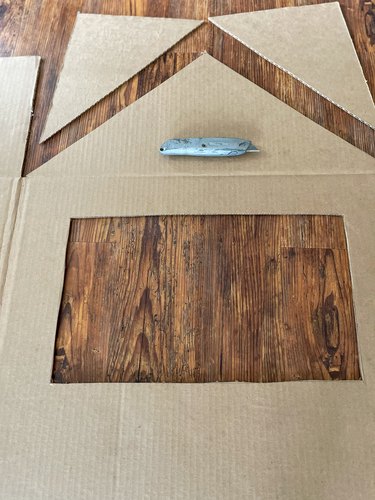 On the opposite side of the box, create a door by making two cuts, one on the top and one along the side. Fold out the third side of the door so it will open and close. Cut a triangle shape in the flap above the door.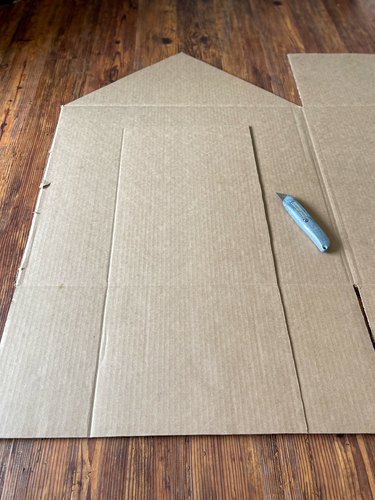 Flip over the box so the writing on the box faces up. Use packing tape to tape the bottom flaps of the box together so it will be one solid piece.
2. Prepare and attach curtains
Cut some fun holiday fabric that is three times the width of the window and 6 in. longer than the window. Use an iron to press 1- to 2-in. pleats across the top of the curtain.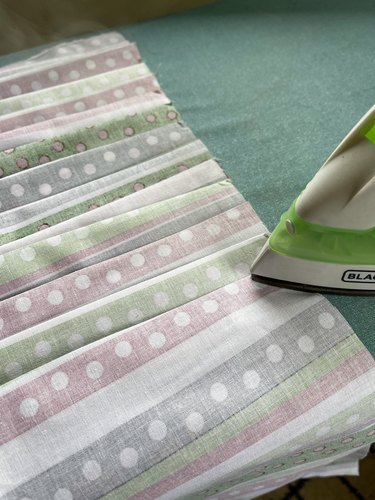 On the printed side of the box, adhere the pleated edge of the curtain 3 in. above the window with a hot glue gun. For extra strength, run a piece of packing tape along the top edge of the curtain.
Put the box back together by standing it up and, with the printed side on the inside now, reconnect the side you cut with packing tape.
Fold the side flaps onto the triangular-shaped flaps you cut earlier and attach them with packing tape. You will end up with a hole in the top of your roof. Next, using a hot glue gun, attach two larger pieces of cardboard to form a roof that hangs over on each side.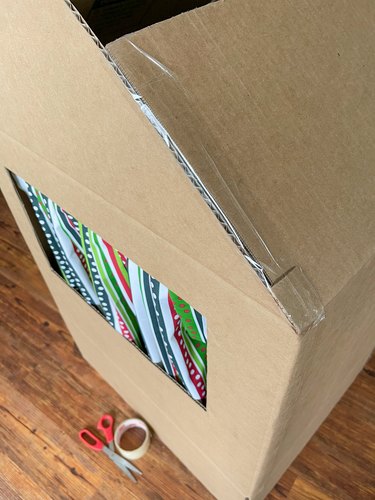 4. Decorate the house with "candy" and "frosting"
No gingerbread house is complete without candy and frosting. And the only rule when decorating a gingerbread house is to have fun. Create snow-covered "frosting" shingles by hot-gluing thick white yarn in a scallop shape on the roof. Continue to adhere the yarn around all the edges of the roof. Then add red and white felt or paper circles inside each scallop to look like candy.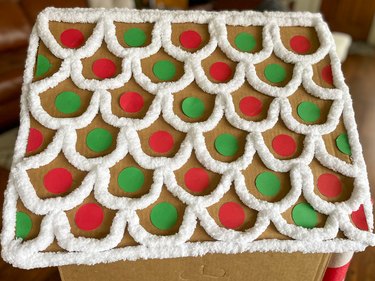 Wrap a red pool noodle with white duct tape to create giant candy canes for the front of the gingerbread house. Cut the pool noodles to fit, and use a hot glue gun to attach them to the sides and under the roof line on the front of your theater.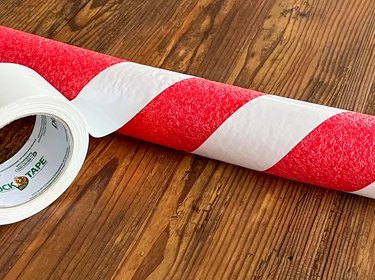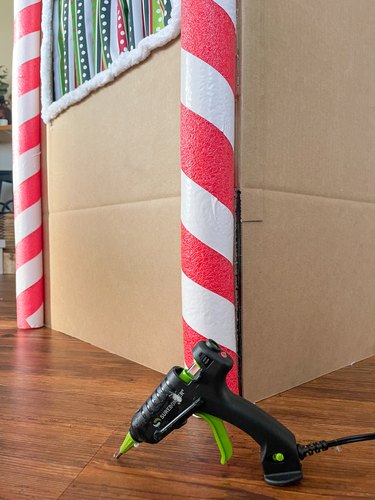 Attach real candy canes with a hot glue gun above the window in a fan shape. Add a snowflake ornament.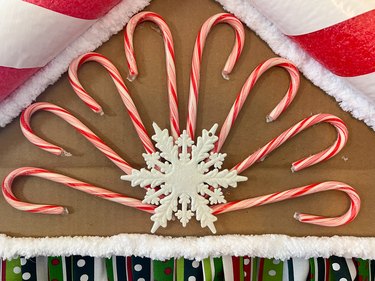 Continue to add the thick white yarn around all the corners, windows and doors to make it look as if your gingerbread house was put together with frosting. Add as many fun decorations as you wish to embellish it.
Tip
This would be a great time to involve your little ones in making the gingerbread puppet stage. You could teach them some DIY crafts by cutting out paper snowflakes, or they could make paper candy to attach to the house. They could even add Christmas stickers to the outside walls!
Out of paper, cut out holiday shapes, such as a snowman, elves, Santa Claus, Mrs. Claus, reindeer or gingerbread people. Then have kids decorate with paper, glue and stickers. You can also use ornaments for another fun, inexpensive and easy DIY puppet. For example, we made our puppets by pushing a wooden dowel into the bottom of snowmen ornaments (below). If the ornaments you choose to use for puppets are made from plastic, glass or wood, you can attach the sticks using a hot glue gun.