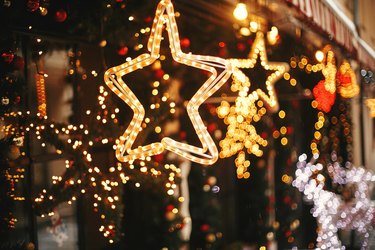 One of the most tell-tale signs of the Christmas and holiday season approaching is the growing number of homes in the neighborhood that are decked out with Christmas lights. We've all seen those houses that really get into the Christmas spirit, or even entire streets or neighborhoods that go all-out. Some homeowner associations even award annual prizes for the most elaborate outdoor Christmas decorations, or to the streets with the highest number of participating houses. No doubt about it, Christmas lights are one of the best and most beautiful things about the holiday season, and if you enjoy being festive, it's worth the effort putting them up. Plus, it'll make it easier for Santa to see where to land his sleigh.
Surprisingly, there's a lot of thought that goes into both making and purchasing Christmas lights. If you're getting into the holiday spirit and are in the market for new Christmas lights—and want a better overall experience with them—we've laid out some things to consider so you can get the lights that suit your needs best.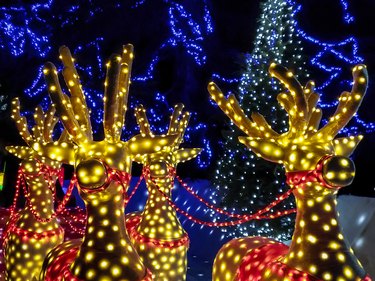 What to Consider When Purchasing Outdoor Christmas Lights
‌Length:‌ One of the first things you'll want to consider when purchasing string lights is their length and your needs. Different manufacturers offer varying lengths, with some strings measuring just 16 feet long, while others measure over 100 feet long. If you plan to string lights across your roof, you'll definitely want to measure the total roof length you'll be covering, as well as the distance from the roofline to the nearest power outlet—don't forget this! In general, it's better to have a bit of extra length, which you can make less conspicuous by getting a little creative, than to come up short.
‌Colors:‌ The colors most associated with Christmas are red, green, white and gold, but when it comes to Christmas lights, you have many more options. What color scheme are you going for? All white or gold lights can look less whimsical, but also more elegant, while bright rainbow colors can look more fun, but verge on being garish. If you've got young kids, they'll probably prefer super colorful lights over an understated color scheme, but it really depends on your tastes.
‌Bulb Type:‌ Outdoor Christmas lights come in both incandescent and LED bulbs, but between the two types, LED bulbs are the better choice. Not only do they consume less energy, but LED bulbs also stay cool to the touch and last longer than incandescent bulbs. Another plus of LED bulbs is that unlike incandescent bulbs, which are dipped for coloring, the diodes in LED bulbs are colored the same as the bulbs themselves, so LED lights experience much less color fading over the years than incandescent lights, if any at all.
‌Bulb Size/Density:‌ Another factor to consider when envisioning the complete lighting effect is the bulb size and density of the lights. Larger bulbs will be more visible from a distance, but at the same time, gigantic bulbs might look a bit tacky. Giant bulbs also tend to be more spaced out on each string, so while each bulb may shine more brightly than smaller bulbs, the cumulative effect may be lesser than that of high-density, smaller bulbs. Generally, the tradeoff for smaller bulbs is a greater number of them, so there are pros and cons to each end of the spectrum.
‌Durability:‌ Even if you don't live somewhere that sees a lot of inclement weather over the holidays, it's a good idea to purchase string lights (assuming you're using them outdoors) that are rated for outdoor use. Some products may include a certification from Underwriters Laboratories, Inc. (UL) that confirms the lights have undergone testing to be safe for outdoor use. If not, look for words like "UL-certified," "UL-listed" or "commercial-grade" in product descriptions. Many professional-grade lights are made with one-piece bulbs and sockets to prevent dirt, dust and moisture from getting in, which could cause a bulb to burn out or otherwise appear less brilliant. Commercial-grade lights may be harder to find at major retailers, but they're becoming more common online.
‌Location:‌ Where you plan to use these string lights can make you reevaluate every point we've discussed so far. While most people string up Christmas lights across their rooflines, string lights are more versatile than that. You can also wrap them around tree trunks, topiaries and lawn sculptures. While we haven't discussed Christmas net lights specifically, you can also use net lights to adorn bushes, shrubs and evergreens. Small bulbs in a high density may work well in the landscape, for example, even if each bulb shines less brightly individually. The cumulative effect will still look great.
‌Special Features‌: Some Christmas lights come with controls or timers for a variety of light show effects, such as blinking, twinkling, strobing or even alternating colors. There are also string lights that include a failsafe to prevent the entire strand from burning out when one bulb dies, so if a product mentions this feature, that's always a plus.
With these considerations in mind, we've rounded up some of the best Christmas lights in 2022: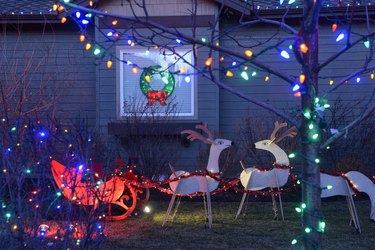 1. Amazon Basics 100 LED Commercial-Grade Outdoor Christmas String Lights
These classic-looking Christmas lights from Amazon Basics tick off a lot of boxes. Featuring commercial-grade, UL-rated LED light bulbs in either a warm white or a multicolor option, you can buy the strands of lights in different lengths: 16 feet (a pack of two) and 33 feet (a single- or two-pack). The shorter length is ideal for decorating Christmas wreaths and double doors, while the longer length is perfect for rooflines and Christmas trees.
Each length comes with 50 or 100 light bulbs, respectively. The rounded bulb tips provide more efficient light distribution than pointed bulbs, resulting in an overall brighter appearance. It doesn't come with any special lighting modes, and you can connect only up to three strands together—which is on the low end—but for a tried-and-true, traditional Christmas look, they're a top pick.
‌Length:‌ 16 feet/33 feet
‌Number of Bulbs:‌ 50/100 per string
‌Color Options:‌ Two; bright white and multicolor
‌Indoor/Outdoor:‌ Both; UL-rated
‌Lighting Effects:‌ N/A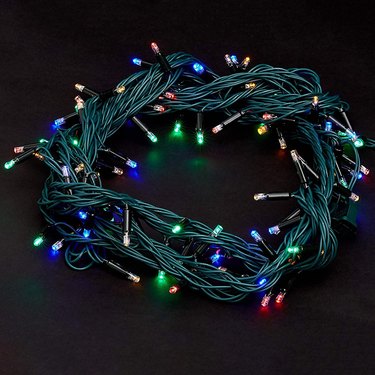 2. Home Accents Holiday 100-Light Mini LED Warm White String Lights
Another great classic-looking option that allows for more flexibility are these LED string lights from Home Accents Holiday. They come in just one color, warm white, but you can connect up to 30 strands together on one outlet, making them well-suited to large-scale outdoor decorating or ambience. The lights come in strands measuring 33 feet long and containing 100 bulbs per strand.
Some users have noticed a slight strobing effect, owing to the lack of rectifiers in the LED lights, but it's not that noticeable. Like our AmazonBasics pick, there aren't any special lighting effects, but it is UL-rated for outdoor use. However, it's not commercial-grade, so there is a small possibility of moisture getting inside the bulbs. For the price and flexibility you get, it's still a good value.
‌Length:‌ 33 feet
‌Number of Bulbs:‌ 100
‌Color Options:‌ One; warm white
‌Indoor/Outdoor:‌ Both; UL-rated
‌Lighting Effects:‌ N/A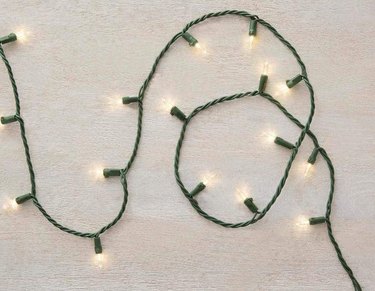 3. Twinkle Star 200 LED Christmas String Lights
If you're aiming to have one of the best Christmas light displays on your block, look no further. These string lights from Twinkle Star boast eight lighting modes: Combination, In Waves, Sequential, Slow Glow, Chasing/Flash, Slow Fade, Twinkle/Flash and Steady On. All you have to do to adjust the lighting modes is press the round button on the black controller box.
The lights come in 66-foot strands with 200 bright LED bulbs each, and you can connect up to five strands together. And if you're attracted to color, you have 11 color options to choose from, including color combinations and multicolor. We particularly like the warm white/fairy lights color combination, which allows you to switch back and forth between the two.
‌Length:‌ 66 feet
‌Number of Bulbs:‌ 200
‌Color Options:‌ 11; includes multicolor
‌Indoor/Outdoor:‌ Both
‌Lighting Effects:‌ 8 lighting modes
4. YULETIME LED Christmas Lights
These LED Christmas lights from YULETIME are perfect for front yards with a lot of foliage like trees, topiaries or shrubs, and even botanical gardens, thanks to their green wire that will blend right in at night. Each strand contains 200 LED bulbs and measures a generous 66 feet long. You can connect up to 10 strands together—up to 660 feet of lights—for flexible, large-scale Christmas landscaping.
Not only are the lights commercial-grade, but they're UL-certified, making them both resistant to the elements and also extremely safe to use. Choose from 10 different color options, including warm white, red, green and multicolor. While there are no special lighting effects, the lights were designed with a stay-lit feature, so if one bulb burns out, you don't have to worry about the rest of the strand burning out as well.
‌Length:‌ 66 feet
‌Number of Bulbs:‌ 200
‌Color Options:‌10; includes multicolor
‌Indoor/Outdoor:‌ Both; UL-certified
‌Lighting Effects:‌ No effects; stay-lit feature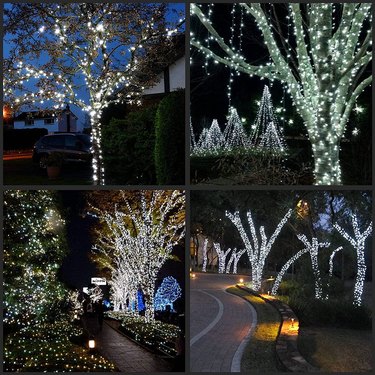 5. Wintergreen Lighting C9 Multicolor LED Christmas String Lights
For teardrop candy-shaped lights (sometimes called strawberry bulbs), Wintergreen offers six color options, including multicolor. Featuring large C9 bulbs, the lights come in 17-foot strands—a bit short, but the good news is that you can connect up to 90 strands together on a single plug for large-scale holiday decorating. Each strand comes with 25 LED light bulbs.
The high-quality bulbs are very durable, standing up to cracking, chipping or fading, and the lights are both UL- and Energy Star-certified, meaning they're very safe to install. Everything comes ready to install right out of the box. There are no special effects, but the lights do have a stay-lit failsafe and dimming feature. The only caveat is that with strands measuring only 17 feet long, costs can add up quickly if you have a larger home.
‌Length:‌ 17 feet
‌Number of Bulbs:‌ 25
‌Color Options:‌ Six; includes multicolor
‌Indoor/Outdoor:‌ Both; UL- and Energy Star-certified
‌Lighting Effects:‌ No effects; stay-lit feature and dimmable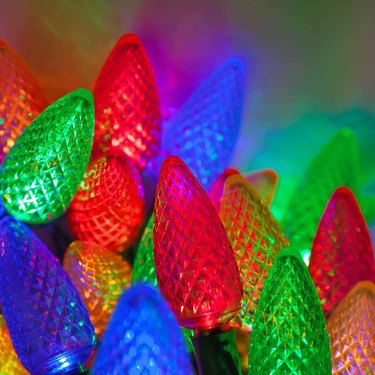 6. YIQU 200 LED Solar Christmas String Mini Lights (2-Pack)
These eco-friendly solar lights can put less strain on your electric bill while getting the job done. Solar lights present some drawbacks, such as not shining as brightly after cloudy days, but these LED solar lights from YIQU are some of the brightest around under normal conditions. The large solar converter charges in about eight hours, providing eight to 10 hours of festive glow at nighttime. Each pack comes with two generous 72-foot strands with 200 LED bulbs each, in nine color options. There are eight different lighting modes, including twinkling lights, as well as automatic on/off and memory functions.
For what you get for the price, this is probably the best overall value on our list—144 feet of special effects lighting for under $30. The decorating possibilities are numerous, too. Why stop at just your roofline when you can use them on outdoor umbrellas, trees, pergolas, trellises, archways, railings, decks and more?
‌Length:‌ 72 feet
‌Number of Bulbs:‌ 200
‌Color Options:‌ 9; includes multicolor
‌Indoor/Outdoor:‌ Outdoor
‌Lighting Effects:‌ 8 lighting modes and Auto On/Off
7. Huacenmy Solar Christmas Snowflake LED Lights
If you'd like to try something a little different, these novelty snowflake-shaped lights will definitely stand out on your street. Each strand measures 30 feet long and comes with 50 bright LED snowflake-shaped light bulbs, each measuring about 2 inches wide. They're powered by a small solar panel that stakes into the ground, and you can install the lights practically anywhere. Choose between all-white or multicolor color schemes, and have fun playing with the eight different lighting modes.
The main drawbacks are that it's easy for the snowflakes to get tangled when you're installing the lights, and after charging on cloudy days, the lights won't shine as brightly and will dim down after a few hours to conserve energy. However, if you want lights that nobody on your street is likely to have, these lights create a breathtaking winter wonderland floating above your yard.
‌Length:‌ 30 feet
‌Number of Bulbs:‌ 50
‌Color Options:‌ Two; white or multicolor
‌Indoor/Outdoor:‌ Outdoor
‌Lighting Effects:‌ 8 lighting modes
8. Home Accents Holiday 300-Count Icicle Christmas Lights
Icicle lights are among the most elegant of Christmas lights, and these ones from Home Accents Holiday are the best of the bunch. The lights come in strands measuring 14 1/2 feet long (13 1/4 feet of lighting) that contain 300 bulbs each. There are two color options: warm white, which will evoke real icicles better, and also multicolor. The lights are suitable for both indoor and outdoor use and are UL-rated for safety. While there are no special lighting effects, each strand will stay lit even if one or more light bulbs burn out.
‌Length:‌ 14 1/2 feet
‌Number of Bulbs:‌ 300
‌Color Options:‌ Two; warm white or multicolor
‌Indoor/Outdoor:‌ Both; UL-rated
‌Lighting Effects:‌ No effects; stay-lit feature
9. Adecorty LED Dripping Icicle/Meteor Shower Christmas Lights (8-Pack)
For an even more unique and impressive effect than the snowflake lights, opt for these icicle-shaped LED Christmas lights from Adecorty. Instead of a long string of smaller lights, each pack comes with a strand of eight tubular lights, each measuring just under 1 foot long. Each tube contains 18 LED lights, and each strand comes with eight tubes, making for 144 LED lights per strand.
The real showstopper is the cascading effect of the lights, which can evoke dripping icicles, falling rain and meteor showers all at once. It's really eye-catching. Choose from four color schemes, including a multicolor option. We think blue or white will look the most beautiful and the most like icicles, but to each their own. The main drawback of these lights is their price: Since each pack comes with only eight tubes, if you have a whole roofline to cover or multiple trees from which to hang the lights, it can get a bit expensive. But if you have the budget, getting a ton of them is really worth it for the fantastic overall effect.
‌Length:‌ 10.5 feet (string), 11.8 inches (tube)
‌Number of Bulbs:‌ 18 per tube/144 per string
‌Color Options:‌ 4; includes multicolor
‌Indoor/Outdoor:‌ Both
‌Lighting Effects:‌ Cascading effect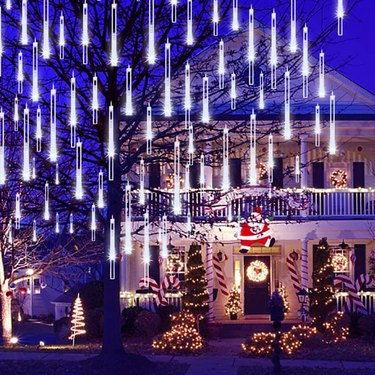 10. Twinkle Star 360 LED Christmas Net Lights
If you're not thrilled by the idea of getting up on a ladder and stringing lights across your roofline, these net lights are way easier to install. Perfect for if you've got lots of bushes, short trees or hedges, all you really have to do is drape them over or nestle them into some foliage and plug them in. Each net of lights measures 12 feet long and 5 feet wide and contains 360 LED lights. There are four color options, including multicolor, as well as eight lighting modes: Combination, In Waves, Sequential, Slow Glow, Chasing/Flash, Slow Fade, Twinkle/Flash and Steady On. You can connect up to three sets together.
‌Dimensions:‌ 12 feet by 5 feet
‌Number of Bulbs:‌ 360
‌Color Options:‌ 4; includes multicolor
‌Indoor/Outdoor:‌ Both
‌Lighting Effects:‌ 8 lighting modes