Stocking stuffers are basically appetizers for the main course of Christmas gifts. They're a fun little taste of what's to come, but for them to count as stocking stuffers, you're going to need the right stocking to put them in.
Holiday stockings are designed to hang on a mantel over a fireplace—you know, the spot Santa Claus makes his grand entrance and exit. If you don't have a mantel (or a fireplace), there are plenty of other spots to hang a stocking, including on a staircase railing, on a bookshelf or other shelving unit, on a tinsel line or even over a fireplace screen. There are plenty of matching stockings for the whole family to consider, as well as single stockings for a new family member (like for a baby's first Christmas or for a new partner).
Stockings come in several types of materials and sizes, including faux fur stockings, cable knit stockings, velvet stockings, plaid stockings, needlepoint stockings and stockings that can be monogrammed. You can find small, medium or large stockings depending on the amount of gifts you plan on stuffing inside.
Whether you're in the market to buy your very first stocking or you want to upgrade your current holiday decor, we rounded up our favorites that we think you'll like, too. Below, you'll find some of the best Christmas stockings of 2022.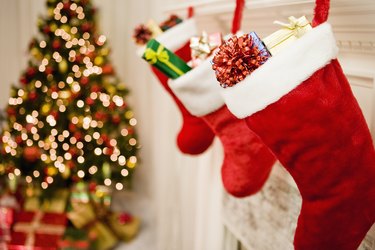 1. Anthropologie Flynn Wool Stocking
Oh, Anthropologie, how we love thee. This plush, hand-knit woolen stocking with cotton lining looks and feels like the coziest winter sweater, but it's actually the perfect holder for all those stocking stuffers. Hang it by its sturdy loop and add the company's red stocking to go along with this turquoise beauty. It isn't one of the personalized Christmas stockings where you can add a name, but it's so pretty that it doesn't even matter.
2. Pottery Barn Ombre Faux Fur Stockings
If you're going for a contemporary, chic look with your Christmas decor this holiday season, this ombre faux fur stocking is a great way to do it. Not only is this stocking super soft with a cozy aesthetic, it can be personalized with a name or initials on the font and color of your choice.
‌Dimensions:‌ 18.75" x 8.5"
3. Free Yoka Cable Knit Christmas Stocking, Set of 2
If you're dreaming of a white Christmas, these two cable knit Christmas stockings will make your dreams come true. Made with loose-knit heavy yarn, this two-pack of stockings will last for years, and they're stretchy enough to shove plenty of stocking stuffers inside. Choose from several color options and designs.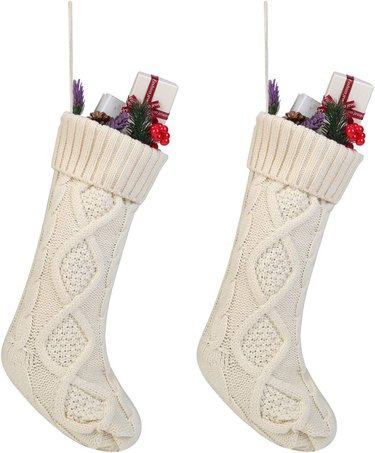 4. Marilee Home Cotton Christmas Stocking
Giving off a rustic vibe, this natural textured cotton Christmas stocking hangs beautifully over a fireplace. Adorned with a wooden letter charm of your choice and a rusty bells ornament, this unique stocking will add some charm to your living room and home decor.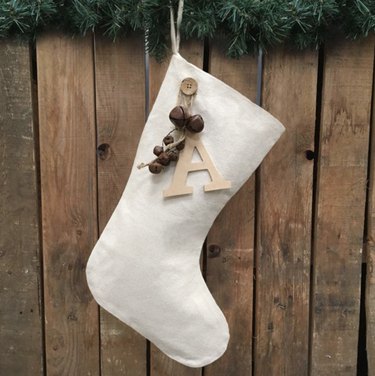 5. Bed Bath & Beyond Reindeer Christmas Stocking
Create a warm and adorable Christmas environment with one (or all four) of these holiday-themed Christmas stockings. Each stocking features a 2D character, either Santa, a reindeer, a snowman or a penguin. Personalize the stocking with any name embroidered in your choice of font, color and thread.
‌Dimensions:‌ 20.75" x 7.5"
6. AlanaJHomeEssentials Buffalo Plaid Jumbo Knit Stocking
You will love curling up by the fire and admiring your holiday decor with this jumbo knit buffalo plaid stocking hanging on a stocking holder. Faux fur tassel poufs hang off the top of the stocking and a cute Christmas tree is sewn onto the front. It's fully lined and strong enough to hold as many stocking stuffers that can fit inside. Personalize the stocking with your choice of name, font size and thread color.
‌Dimensions:‌ 23.5" x 7.5"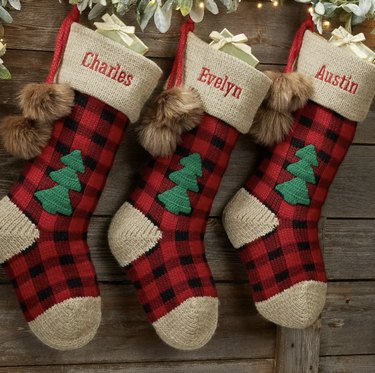 7. Gex Burlap Christmas Stockings, 4-Count
Perfect for a family of four, this set of four Christmas stockings will hang nicely on any mantel on a stocking holder, staircase or bookshelf. Each red and white stocking has a fur lined top with different Christmas-themed images on the stocking itself, like reindeer, a snowflake, Christmas ornaments and a Christmas tree, so the stockings will match while adding a touch of unique Christmas fun. The company also offers a five-pack and a six-pack for larger families.
‌Dimensions:‌ 20.5" x 11"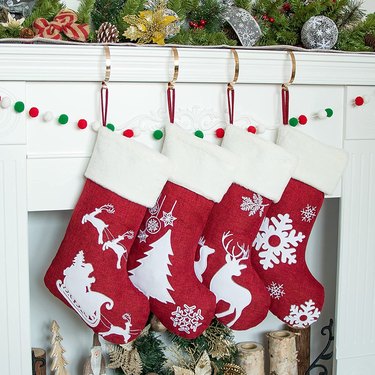 8. Bed Bath & Beyond Velvet Elegance Christmas Stocking
This burgundy and white stocking offers a classic Santa style, but not to worry, Santa will know which stocking belongs to which family member, thanks to the included name personalization on the faux fur cuff. Since the design of this stocking is so universal, you shouldn't have a hard time matching it to your tree skirts. Choose from two fonts and three color options for the name embroidery.
‌Dimensions:‌ 19" x 8.25"
9. Viglt Unicorn Christmas Stocking With LED Lights
On the smaller side of other stockings on our list, this keepsake unicorn is great for small tchotchkes and other small Christmas gifts that would otherwise get lost among all the bigger gifts under the tree. This soft and fluffy stocking is made to look like a sleepy, colorful unicorn and even has LED lights to make it shine.
‌Dimensions:‌ 17.3" x 8.66"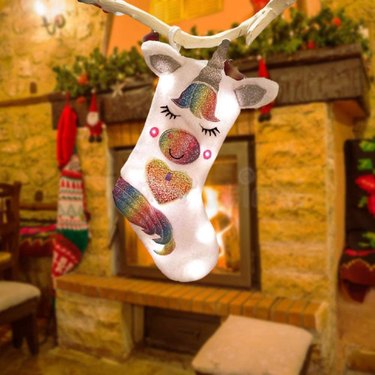 10. Dibsies Giant Tumbling Christmas Stocking
Your kiddo will be beyond thrilled to see a Christmas stocking that's almost as big as they are (maybe even bigger, depending on your child). The possibilities are endless as to what can be put inside. You can select the design you or your child like best—either a reindeer, snowman or Santa. Your child's name can be added to the top of the stocking at no additional charge.
11. PoshyKids Personalized Kids' Stocking
These adorable handmade personalized Christmas stockings are designed for many different kids' interests and include a ballerina mouse, a snowman, a unicorn, princesses, a mermaid, an ice skating alligator and a shark carrying a Christmas gift. Choose the one your child will like most and personalize it with their name and font style. Each stocking features colorful pom-poms and a quilted lining for durability.
12. LimBridge Christmas Mini Stockings, 6-Count
For a family of six who enjoys stocking stuffers, but not too many, this set of six mini stockings will get the job done. They're around half the size of a regular Christmas stocking. While they're great for small fireplace mantles or other areas of the home that'll fit small-sized stockings, they're also ideal for Christmas goodie bags.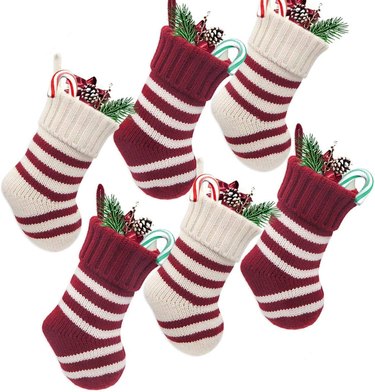 13. The Holiday Aisle Dog Paw Monogram Stocking
Dogs are family members too, and they enjoy gifts just as much as the next guy. This paw-shaped dog stocking is an ideal spot to put your dog's bones, treats and squeaky toys they'll be getting for Christmas. Dog bone ornaments hang from the cuff of the stocking to add to the dog theme. Your pet's name can be embroidered on the dog Christmas stockings' cuff in matching thread.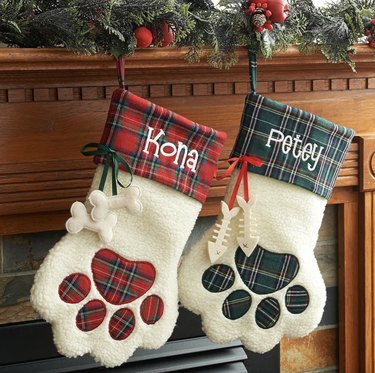 14. Pottery Barn Cozy Teddy Faux Fur Cat Stocking
If you don't have a cat, you're going to want to get one after seeing this beyond cute and cozy cat stocking. Shaped like a cat face and embroidered with whiskers, this adorable stocking will add to the decor as much as the rest of your family's stockings. Since your cat probably doesn't care much for holidays—or likely anything—this stocking is more for your enjoyment.