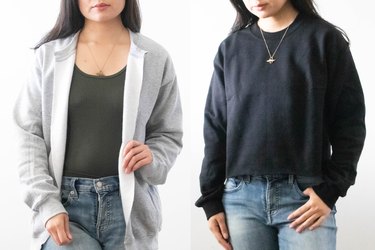 If you're craving a wardrobe refresh, it can be tempting to go on a shopping spree. But not so fast—a DIY sweatshirt project might be all you need to feel inspired. Plus, you don't even need a sewing machine to make it happen. With a few easy, no-sew techniques, you can give old sweatshirts a makeover with nothing more than a pair of scissors.
The best part? Sweatshirt fabric doesn't fray, so you won't need to finish off the edges. It's exactly why we love sweatshirt projects so much. They're simple enough for anyone to do regardless of your skill level or crafting experience.
Ahead, learn how to cut a sweatshirt into three different styles—a bomber jacket, an off-shoulder boat-neck top and a cropped sweatshirt—plus tips for each tutorial.
Style 1: Bomber Sweatshirt Jacket
Things You'll Need
Crewneck sweatshirt

Fabric scissors
How to cut a sweatshirt to make a bomber jacket
1. Prep the sweatshirt for cutting
Fold the sweatshirt in half lengthwise so that the front side is facing you. Lay the sweatshirt on a flat surface and make sure the collar and shoulder seams line up.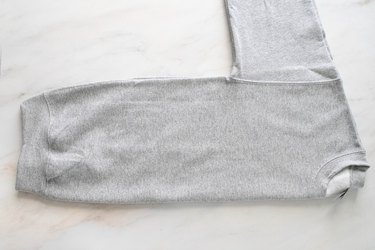 2. Cut along the fold for an instant jacket
Cut the top layer (i.e., the front of the sweatshirt) along the fold. We recommend holding the sweatshirt flat with your other hand to make this step easier.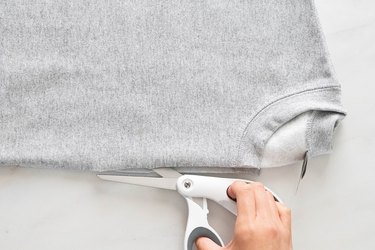 And just like that, you have a bomber sweatshirt jacket!
You can wear this piece with the edges folded outward (like faux "lapels") or with the edges laying flat. Style it with your favorite tank top or T-shirt.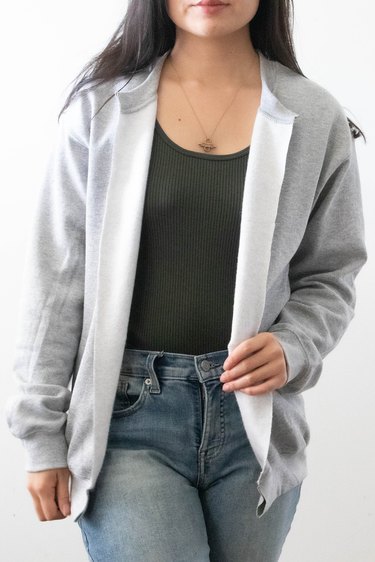 Tip
After cutting the sweatshirt, you can trim any uneven edges with the fabric scissors.
Style 2: Boat-Neck Sweatshirt
Things You'll Need
Crewneck sweatshirt

Fabric scissors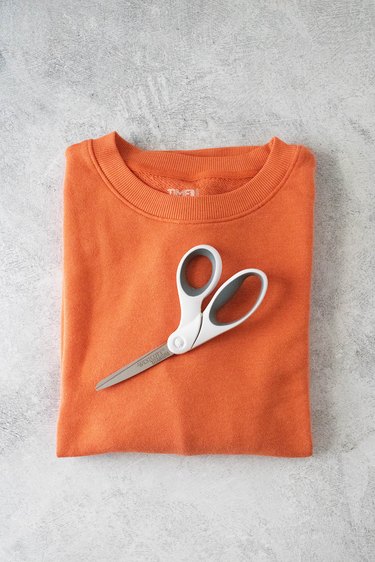 How to cut a boat-neck sweatshirt
1. Determine how much fabric to cut
Lay the sweatshirt on a flat surface. Create a cutting guide by placing two to four fingers near the collar. The more fingers you use, the looser and wider your boat-neck top will be.
Tip
The ideal width of a boat-neck top depends on many factors, including the exact size of the sweatshirt, how it currently fits you and your personal preference. If you're unsure how much to cut, use one or two fingers to start. You can always cut more after you try it on. Otherwise, if you cut off too much fabric, it might not stay on your shoulders!
2. Cut the neckline to make an off-shoulder top
Starting on the outside of your fingers, cut from the shoulders to the middle of the collar, moving in a curved motion. Be sure to cut through both layers of fabric.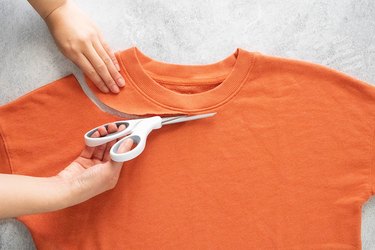 Tip
Avoid cutting a curve that's too wide or far from your fingers. If this is your first time cutting a shirt, we recommend cutting less than you think you need. You can always trim it later.
Fold over the cut piece so that the collar lines up.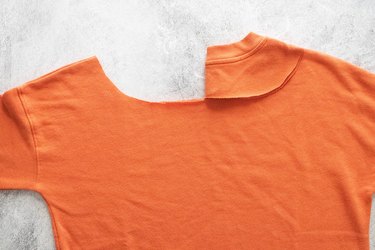 Next, cut along the curve to complete your boat-neck top.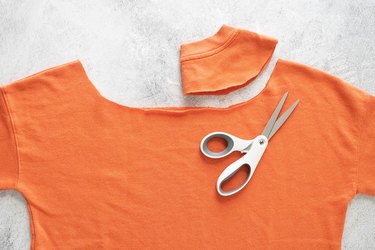 To wear your DIY sweatshirt, pair it with a tank top. This piece is also ideal for creating an '80s inspired look, especially when styled with leggings.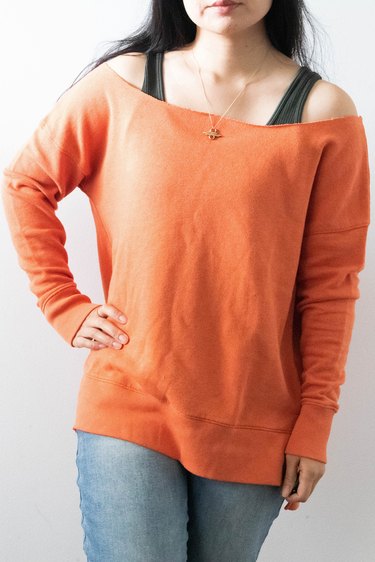 Style 3: Cropped Sweatshirt
Things You'll Need
Crewneck sweatshirt

Fabric scissors

Tailor's chalk

Ruler or tape measure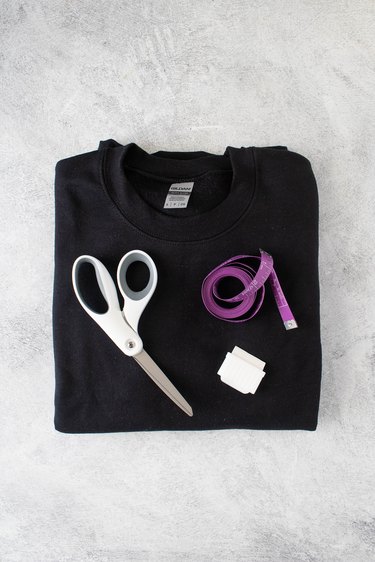 1. Figure out how much you want to crop
Try on the sweatshirt. Using tailor's chalk in a contrasting color, mark where you'd like the cropped sweatshirt to end. This will indicate how much fabric you should cut off.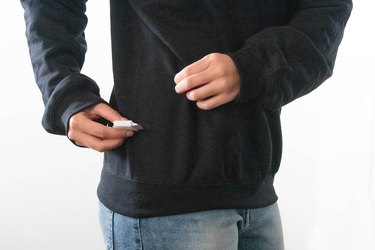 2. Cut off the bottom of the sweatshirt
Place the sweatshirt on a flat surface and draw a dotted line across it. Use a ruler or tape measure to make sure the length from the dotted line to the bottom of the shirt stays consistent.
Cut across the dotted line, making sure to cut both the front and back of the sweatshirt. Trim any uneven edges if needed.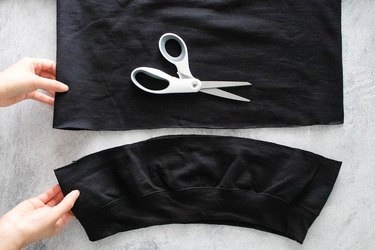 Your DIY crop top is ready to wear! Try pairing it with high-waisted jeans or pants for a comfy outfit.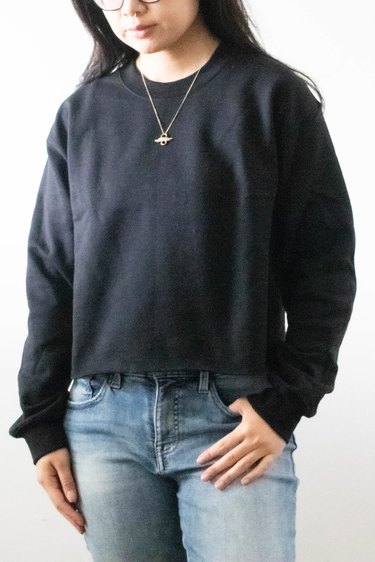 Quick Tips: V-Necks & Side Slits
How to cut a v-neck sweatshirt
For a v-neck sweatshirt, lay the sweatshirt on a flat surface and mark the center of the collar. Next, draw a diagonal line connecting this mark to the top of the right shoulder. Repeat this on the left side and then cut through the first layer of fabric along both lines. This will remove the neckband and create a v-neck opening.
How to widen a sweatshirt
If you simply want to widen a sweatshirt for a more comfy fit, place the sweatshirt on a flat surface. At the bottom of the sweatshirt, cut a slit on each side along the fold. You can cut as much as you'd like, but a few inches should do the trick.