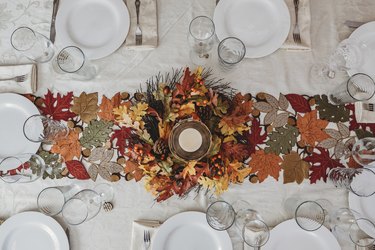 As Thanksgiving Day approaches, you'll need to get a few things in order: Determining how big your turkey should be, who's invited to the big meal, and the fall decor that'll add a serious dose of cheer to your home all season long. We can't help you narrow down your guest list, but we're full of Thanksgiving decoration ideas. A wreath is a must, and so are seasonal throw pillows, fall-scented candles and anything pumpkin related. Don't overlook the importance of a Thanksgiving centerpiece either. Whether you opt for an eye-catching focal piece or something more subtle, a centerpiece is key to dressing up your dining room table.
If you're hosting Thanksgiving dinner, a centerpiece is a must to bring the design of your table settings together. Even if you're not hosting though, consider including a Thanksgiving centerpiece on your dining table throughout the month of November. That'll ensure you feel the warm, fuzzy feelings of the season even if you're just warming up another turkey sandwich from leftovers. Designs range from floral arrangements to tiny turkeys, and from glass gourds to an array of mini pumpkins. No matter your decorating style, we shopped for—and found!—Turkey Day centerpieces in a variety of price points that'll be the finishing touch to your table's design.
What to Consider When Purchasing Thanksgiving Centerpieces
​Size:​ Size matters when it comes to centerpieces. A too-tiny centerpiece will look disproportionate on a large table with a dozen guests, while an oversized one will overwhelm an intimate dinner and feel annoyingly in the way. (Don't let anything, including a centerpiece, get in the way between you and another serving of stuffing.) Dining room tables tend to get crowded during a Thanksgiving meal as it is, so take into consideration all the pieces that are important to a successful meal: place cards, silverware, wine glasses, candles and not to mention the food—lots and lots of food. And that's ​before​ adding a centerpiece. Keep a close eye on the dimensions of the centerpiece you're considering and make sure it balances the proportions of both your table and room.
​Height:​ No centerpiece, however beautiful it is, should impede your guests' ability to make conversation. You and your guests should be able to easily converse across the table without needing to lean either way around a centerpiece. With that in mind, keep your centerpiece low—under a foot tall is best—to make sure guests can pass the potatoes and ask each other how their new job is going without ducking around a floral arrangement. Or, if you're going for a statement piece, leave it on the table until right before the food is served. Then set it elsewhere to be admired from afar while you enjoy Thanksgiving dinner.
​Colors:​ Most Thanksgiving centerpieces will be adorned in seasonal colors: oranges, golds, reds and occasionally greens. Keep in mind how those hues will pair with your entire tablescape, including your tablecloth, table runner, plates and even the paint color of your dining room. If your decor is already on the wild side, stick to centerpieces in muted tones or metallics.
Read on for eight of our favorite Thanksgiving centerpiece ideas that exude fall season vibes—for the big meal itself and also for all November long.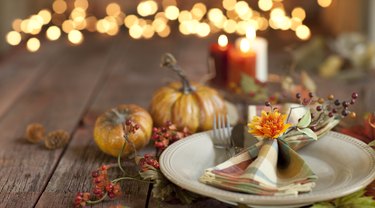 1. Pumpkin & Gourd Handcrafted Recycled Glass Cloches
Consider these hand-blown mini pumpkin cloches, which are made from recycled glass, as an upscale alternative to candlelit jack-o'-lanterns. (Bonus: they last forever, while real jack-o'-lanterns rarely make it to Halloween.) Arrange a few of them in the center of the table for a subtle pumpkin centerpiece for Thanksgiving dinner, with either flameless votives or mini LED string lights inside to add a warm glow. Since they're handcrafted, each gourd will be slightly different, making them a truly one-of-a-kind centerpiece.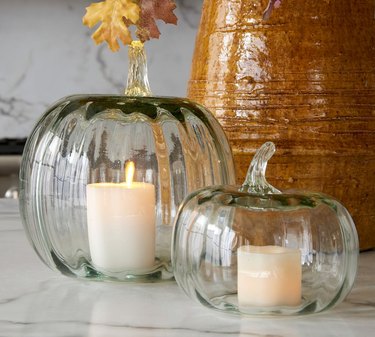 2. Book Pumpkins Thanksgiving Centerpieces
For a Thanksgiving table centerpiece that you can feel extra good about, consider these paper pumpkins. They're made from upcycled books from an independent Etsy artist, and are bound (pun intended) to inspire your guests to ask, "Where did you get these?" Pumpkins, of course, are fall decor-friendly from the first day of September through the last bite of Thanksgiving leftovers. Place them on your fireplace mantle, end table, or, of course, highlighted at the center of your dinner table. These book pumpkins come in three sizes, though we recommend opting for the set of three that gives you a small, medium and large pumpkin, as well as a dozen felt acorns that come in a variety of colors. That gives you the ability to arrange them just so while saving plenty of room for the turkey platter.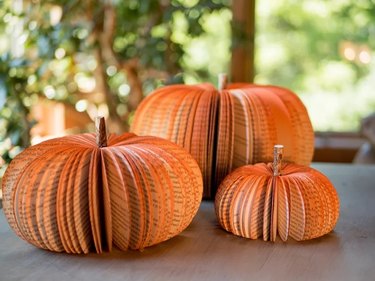 If your style veers towards traditional, this is the Thanksgiving centerpiece for you. Made with colorful fall leaves, berries, pumpkins and gourds, this centerpiece will add a dose of fall color to your holiday table without taking up too much room. It measures just over two feet in length, so you'll still have plenty of space for the mashed potatoes and pumpkin pie while bringing a festive feel to your tablescape. It has everything a centerpiece needs: texture, color and seasonal cheer.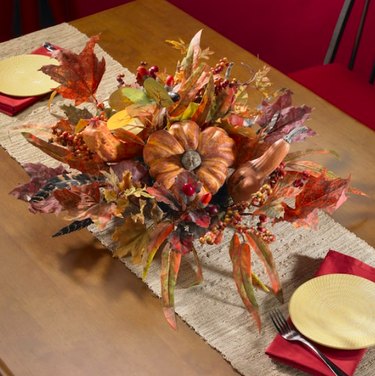 4. Thanksgiving Turkey Tea Light Candle Holders
For a more subtle centerpiece, arrange this family of turkey tea light candle holders in the middle of your table. They'll add soft light and serious charm without taking up much room. You could also gift these to your guests, placing one at each seat and encouraging your friends and family members to take theirs home as a keepsake of the best Thanksgiving ever. They come in a set of four, so stock up on a couple of sets if you're hosting your whole family. The candles are not included, so be sure to add tea lights (whether real or flameless) to your "must buy" list too.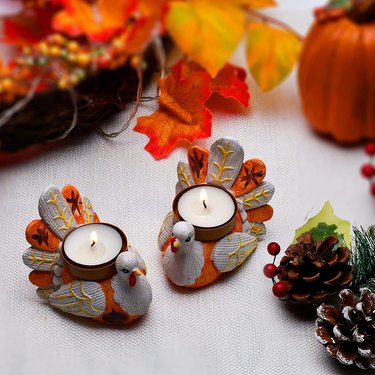 5. Bittersweet Bunch Thanksgiving Floral Arrangement
For a floral centerpiece, go on a hunt for bittersweet bunches. Its orange and red berries are distinctly fall-like, and since they'll be dried, you don't have to worry about changing out the water or having them die on you before Thanksgiving Day. Bittersweet can be difficult to find in the grocery store or at your local florist, so this Etsy shop may be your best bet. The seller cuts the real bittersweet stems from their small farm and naturally air dries them. It doesn't take much effort to arrange the vines in a vase for a standout centerpiece. Note that the stems and berries will be brittle, and will become more so the longer they dry, so keep them in a place they won't be knocked around. If you're worried about them getting bumped during your Thanksgiving meal, move them off the table as plates are being passed and your aunt who tends to talk with her hands is telling a story.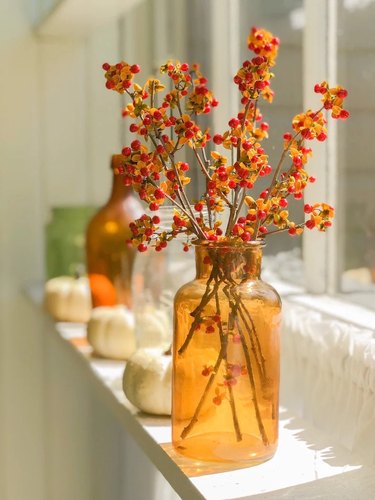 6. Minimalist White Ceramic Vases
For a more subtle approach to a Thanksgiving centerpiece, go minimal and modern—like these ceramic vases. They come in a variety of sizes and styles, from bud vases to bouquet vases and frog bowls. That way, you can mix and match the pieces to fit your table and your style. Plus, you can DIY your own fall centerpiece with an arrangement of fall flowers (either fresh or dried) and greenery. Best of all, these vases can be repurposed throughout the year, moving around from room to room in your home and holding various fresh or dried flower arrangements. They'd look just as beautiful on an entryway console table as they would on a fireplace mantle as they would on a Thanksgiving dinner table.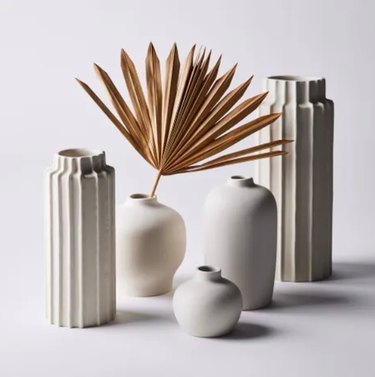 7. Pumpkin Cornucopia Mixed Floral Arrangement
Nothing says "Thanksgiving" quite like adding a cornucopia to your fall table. (Other than turkeys and pumpkin pie, of course.) Embrace the holiday with this piece of cornucopia decor, which you can use as a table centerpiece on the big day itself or as shelf or tabletop home decor every other day of November. Adorned with white pumpkins and pinecones, it's the perfect pop of color and prickly texture for your table decor.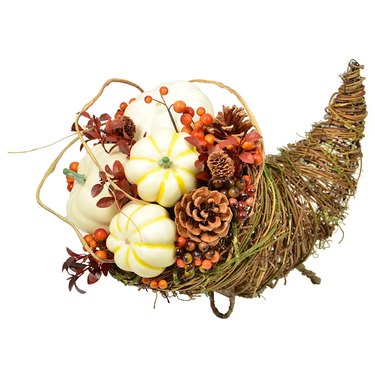 8. Harvest and Pumpkin Mixed Candelabrum
Consider this candelabrum a two-for-one deal. It's a centerpiece ​and​ also a candle holder, creating the ultimate autumnal, intimate vibe for your Thanksgiving meal. Fall foliage-inspired maple leaves and wheatgrass accent a pumpkin, making it an ideal candle centerpiece for the season. Though it's on the taller side (it's 12 inches tall before you add a pillar candle), it's thin enough to not impede across-the-table conversation so you can keep it on the table from the first bite of green beans to the last bite of sweet potato pie. Store this centerpiece carefully and you'll be able to bring it back into your decorations rotation fall after fall.