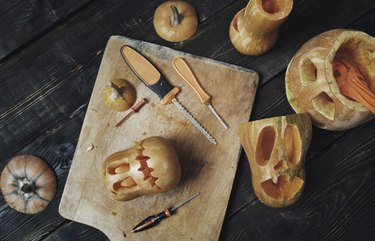 Halloween season will be in full swing before you know it, which means it's about time to dust off those Halloween decorations and get your supplies ready for that fun-filled day (or maybe dreaded day) of carving pumpkins. After all, can Halloween even happen if you haven't carved a pumpkin?
Carving pumpkins is messy and a lot of work, but it's all part of getting into the spooky holiday spirit and spending time with people you love. There's something about the smell of the inside of a pumpkin and the excitement surrounding making pumpkin seeds topped with butter, sugar and whatever spices you prefer that brings back all the nostalgic Halloween feels. A great way to carry on the tradition you had as a kid (or to create a new tradition) is to lay out the newspapers, carve pumpkins with your kids and set the finished jack-o'-lanterns on your front stoop.
What to Consider When Purchasing a Pumpkin Carving Kit
​Tools:​ The basic pumpkin carving tools consist of a scraper scoop that helps clean the goop and the seeds out of the pumpkin and a saw for precision carving. More intricate carving will require sculpting tools, etching tools and possibly even a pumpkin drill tool. Cookie cutter-type tools make carving easier, faster and safer for kids.
​Age of Kids:​ While some pumpkin carving kits come with plastic tools that are safe for kids to use on their own, others have sharp edges and are dangerous for use without adult supervision. Of course, the blunt plastic tools aren't the most efficient, but they're safe, and you won't have to worry about kids getting injured.
​Number of People Using It:​ If you have two kids who will be carving their own pumpkins, a 5- or 6-piece kit should offer enough tools so they aren't fighting over the same ones. If you're throwing a pumpkin carving party with several people and supplying all the tools and accessories, you're going to need a bigger kit—and possibly more than one. The largest pumpkin carving kits typically have somewhere from 24 to 38 pieces.
​Extras:​ Do you just want the tools needed for carving or are you looking for a kit that'll supply you with everything from tools to stencils to LED candles to stickers? There are plenty of kits that have the basic tools needed to successfully carve a pumpkin, or you can go for the ones with all the bells and whistles.
Below you'll find our list of pumpkin carving kits that'll help you create a jack-o'-lantern that's sure to impress—or not ... it's the effort that counts!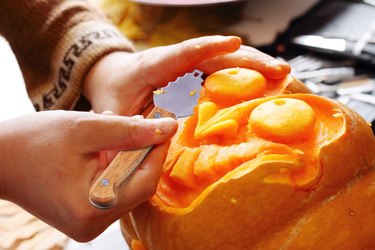 1. Greatever Pumpkin Carving Kit, 7-Piece
If you're ready to step up your pumpkin carving game, you can get it done with this kit. No more amateur hour, this kit comes with seven tools to help you carve even the most intricate details onto your design, including a pumpkin scooper, a small saw, an etching tool, double-sided saws, a pumpkin drill and a small knife. The kit comes with an orange carrying case to keep everything organized and away from curious little fingers.
2. Pumpkin Punchers Pumpkin Carving Tool Kit, 24-Piece
Make your child's pumpkin carving experience a little easier with pumpkin punchers that look just like cookie cutters. Kids can stick them in the pumpkin and hammer them in with a rubber mallet or an actual hammer with the help of a grown-up. There are 24 designs for your kids to choose from, so they can mix and match eyes, noses and mouths to make the silliest or scariest jack-o'-lanterns. The punchers are dishwasher-safe, making clean-up a breeze.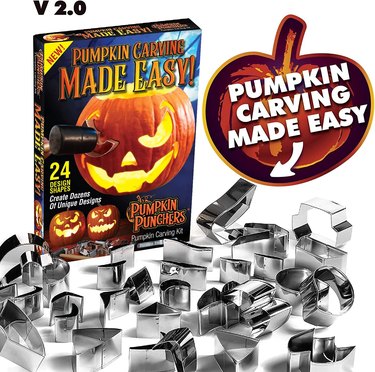 3. Chryztal Pumpkin Carving Tools, 13-Piece
You don't have to be a professional pumpkin artist to own a professional pumpkin carving kit. This kit has 13 stainless steel tools that help you scoop, slice, carve and etch your pumpkin into the design you want. It comes with double-sided sculpting tools, sharp tooth saws, a heavy-duty scooper, an etching tool, a drill, and a black and orange zippered carrying case to make it easy to reuse the tools for Halloweens to come.
4. Pumpkin Masters Bare Bones Pumpkin Carving Kit, 2-Piece
Whether you're on a budget or are perfectly happy with the bare bones of pumpkin carving tools, this kit is a great way to get your pumpkin carved for cheap. Consisting of one saw and one scraper scoop, this kit is a great beginner kit for kids. Depending on the age of your kids, they might need some assistance since the tools are limited in what they can do.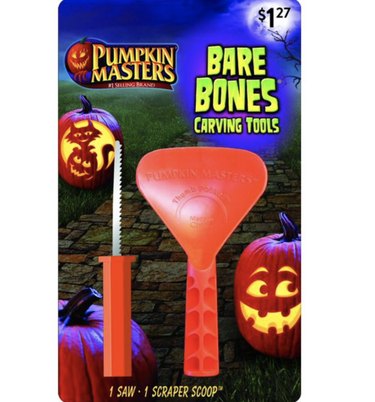 5. Shuttle Art Professional Pumpkin Carving Tool Set, 15-Piece
When you treat pumpkin carving like an art form, you need a kit that helps you flourish as an artist. This kit includes 15 high-quality tools that'll guide you through carving a pumpkin masterpiece. The pumpkin carving kit contains a curved knife, a pumpkin scooper, a double-sided tooth saw, a triangle carving spoon, a hole cutting tool, two cambered etching tools, six double-sided precise sculpting tools and two intricate detail sculpting tools. Since it comes with so many different tools, the kit includes a user manual to help walk you through what each one does.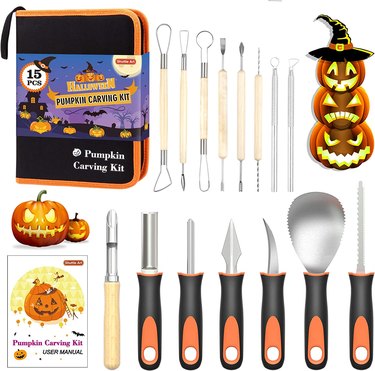 6. Pumpkin Masters All-In-One Carving Party Kit, 8-Piece
With this pumpkin carving party kit, you get all the tools needed to carve a pumpkin, including a lid cutter saw for removing the top of the pumpkin, a scooper for cleaning out the pumpkin, a jumbo drill for transferring patterns, a blue crayon for transferring pumpkin carving stencils, two starter saws for carving simple designs, a saw that can be used to carve detailed patterns and a pattern book that includes 14 patterns.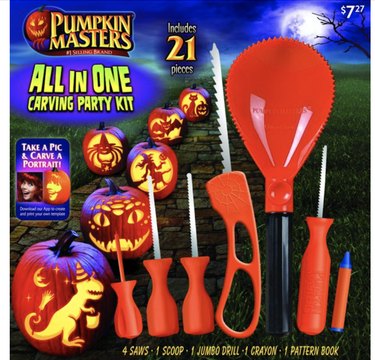 7. Yixiang Pumpkin Carving Kit, 5-Piece
This is a great basic pumpkin carving kit that includes a pumpkin scooper, a fine-tooth saw, a pumpkin drill and an etching tool. It also comes with four LED pumpkin candles, which will light up your pumpkins at night and are also ideal for safety reasons if you don't want to light a real fire in your pumpkin.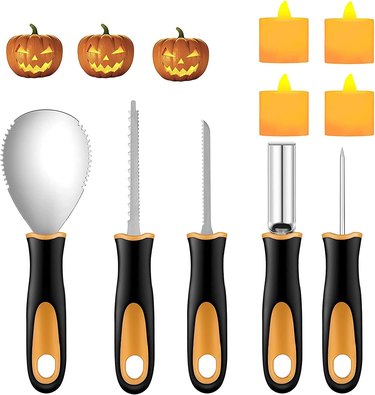 8. Atner Professional Pumpkin Carving Set, 10-Piece
These versatile, ergonomic tools are far from amateur. All 10 tools in this kit are sharp and ready to carve. The serrated tools have a wooden handle for easy grip. The kit contains a pumpkin scraper, an etching tool, a scimitar saw, six stainless steel minutiae carving tools and a storage bag. It's definitely made for grown-ups.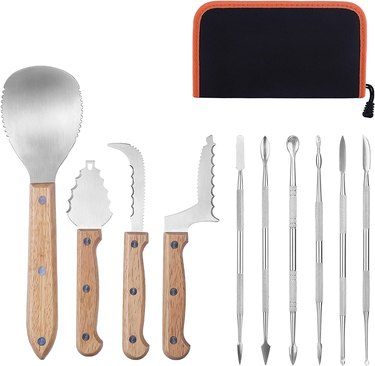 9. Vanow Pumpkin Carving Kit for Kids, 38-Piece
If you care more about fun accessories than you do actual pumpkin carving tools, this set will bring you joy ​and​ help you and your kids DIY some awesomely decorated pumpkins. The kit comes with 10 silly and spooky pumpkin carving patterns and templates, along with a pumpkin scooper, a small pumpkin shovel, a large saw, a small saw, a drill and a poker wheel. It also comes with six LED candles, four balloon headbands for your kiddos and six LED toy rings.
10. Powerful Pumpkin Carving Tool Kit, 10-Piece
Perfect for family pumpkin carving night, this kit includes five pumpkin carving tools, three professional detail carving tools, one pen and one nylon bag. It also gives you access to a free e-book that contains 100 pumpkin templates. If you aren't fully satisfied with the kit, the company will refund your money at any time.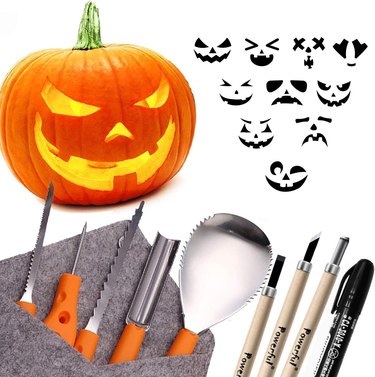 11. ASZ Pumpkin Carving Kit, 19-Piece
Your kids will love everything about this kit. Not only does it have all the necessary pumpkin carving tools (the scooper with an adorable pumpkin face), but it also comes with 10 classic stencils, a carrying case, and perhaps most importantly, glow-in-the-dark tattoos. You can never go wrong with glow-in-the-dark tattoos.