Things You'll Need
Paper towel roll

Newspaper

1 cup glue

5 cups water

Water

Flour

White paint

Paint brush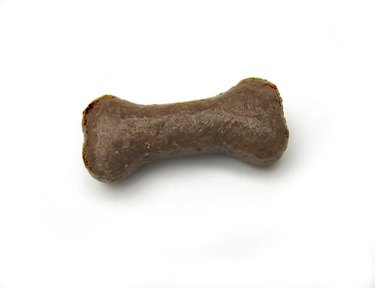 Whether you're doing a dinosaur fossil project, a school play about prehistoric times, creating a display for your pet shop or doing a study on human bones, creating a bone out of paper is a fun and easy addition. Artists have used papier mache to craft pieces of artwork for centuries, and you may use the very same technique to shape bones for whatever project you are working on. Using common household supplies like glue, a paper towel tube and newspaper, you'll be making fossil shaped sculptures in no time.
Step 1
Crumple four pieces of newspaper into four 1-inch balls. Tape two of the paper balls together with masking tape, then secure them to one end of the paper towel tube. Do the same to the other end. Make sure there is a dip between the two paper balls, to create the effect of the ends of a real bone.
Step 2
Boil 4 cups of water. While the water is coming to a boil, mix 1 cup of glue with 1 cup of tap water. Add the boiling water and mix.
Step 3
Rip up about ten 1 inch by 5 inch pieces of newspaper. Dip the newspaper in the glue, then adhere it to the bone. Repeat with the newspaper until the entire bone is covered in newspaper.
Step 4
Allow the bone to dry for at least 24 hours. If the bone still feels damp, give it more time. When it's completely dry, paint the bone using your white or off-white paint.