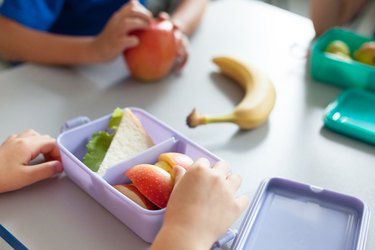 Whether your kids are in preschool, elementary school, middle school or high school, they need a durable lunch box to get them through the school year. Lunch boxes have come a long way since the tin boxes of our past—now they come in all different shapes, sizes and colors, and they're designed specifically for kids.
Lunch boxes need to be durable. Kids aren't the gentlest when it comes to taking care of their things, so a lunch box that can withstand the wear and tear of school is essential. Since you'll likely be the one packing the lunches and cleaning the lunch boxes, it's also important to have a lunch box that's easy to clean.
The internet has so many lunch boxes to choose from—from bento boxes to leakproof coolers to insulated lunch totes. To help you narrow things down, we rounded up the best ones for the endless PB&Js and turkey sandwiches you'll be making this school year.
What to Consider When Purchasing a Kids' Lunch Box
​Type:​ The most popular type of lunch boxes for kids' school lunches are soft-sided insulated lunch boxes, bento boxes and lunch bags. A soft-sided lunch box usually has one large compartment to hold all of your child's food and a drink, as well as a spot for an ice pack for cold foods. A bento box has multiple compartments and can hold several different types of food. A lunch bag can either hold individually wrapped lunch items, like a sandwich, chips and fruit, or it can be a place to store a bento box along with an ice pack.
​Insulation:​ A lunch box needs good insulation so the food doesn't spoil before lunch time. Some lunch boxes have built-in gel linings that can keep things cool for several hours, while others might have a pocket for an ice pack or two. If the lunch box isn't insulated, the ice packs won't stay cold for long. Lunches that need to stay heated to be enjoyable will likely need an insulated container in addition to a lunch box to keep it warm.
​Size:​ Most lunch boxes designed for kids are large enough to hold lunch, a beverage and an ice pack, while being small enough to easily fit inside a standard backpack with room for homework, school supplies and all the other trinkets your child insists on keeping forever. Bento boxes are similar in that they're big enough to hold plenty of food for your child's lunch, but they're small enough to fit inside an insulated lunch box. Some bento boxes run a little bigger than the average insulated lunch box, in which case the company will likely sell a matching lunch box.
​Food Preferences:​ Before you make your purchase, consider the type of lunches your child typically eats. If they like to eat several snack items for lunch, a bento box with four or five compartments might be best. If they tend to have a bigger appetite, a lunch bag will probably make the most sense.
Scroll on to see the best school lunch boxes of 2022.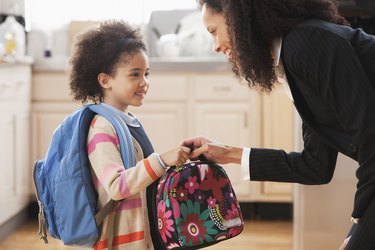 The Best Overall Kids' Lunch Box
PackIt Freezable Lunch Box Cooler
No need to worry about ice packs with this lunch box as it's completely freezable and will keep food and drinks chilled for hours. To freeze, all you need to do is empty it, collapse it and put it in the freezer overnight. By morning, the nontoxic gel walls will be completely frozen. The lunch box has a zippered exterior pocket and plenty of interior space. The bag's materials are free of PVC, BPA, phthalates and lead. With 21 designs to choose from, your kids are bound to find something that fits their personality—whether it's tie-dye, camo, unicorns, dinosaurs or a space theme.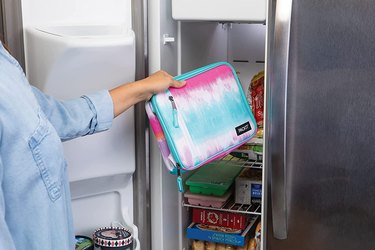 The Best Budget Kids' Lunch Box
Arctic Zone Kids Classics Utility Lunch Box
If affordability and efficiency are what you're after, this inexpensive lunch box is a great option. The leakproof interior pocket is lined with high-density thermal insulation to keep the contents cool. It's easy to wipe clean and is resistant to stains and odors. There's a zippered exterior pocket for storing utensils or a note, and the padded handle has a buckle so you can fasten the lunch box to the outside of a backpack. It comes with an ice pack and is sold in seven colors and patterns, although not all of the lunch box styles are eligible for shipping.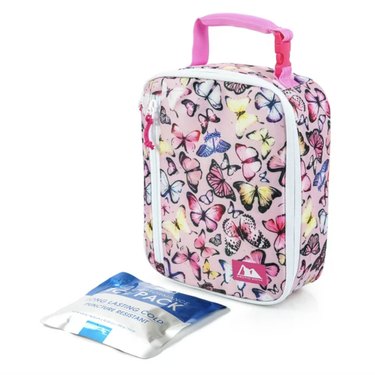 The Best Dual Compartment Kids' Lunch Box
Thermos Kids' Dual Compartment Lunch Box
Dual compartments are great for keeping snacks and beverages separate from lunch so your child knows where to go for each. The top compartment of this versatile lunch box fits a water bottle and a snack perfectly, while the bottom part can hold a standard school lunch. This budget-friendly lunch box is made with cell foam insulation and a PEVA lining with antimicrobial properties, which is more eco-friendly and less toxic than PVC liners. The inside of the bag is also easy to wipe clean.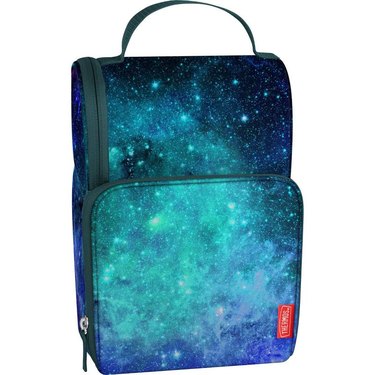 Bentgo's bento boxes for kids are extremely popular among parents for good reason. The box has five compartments that are perfectly portioned for a child's appetite and to encourage kids to eat a balanced meal. Leakproof technology keeps the food fresh and mess-free. It has two kid-friendly latches that are easy for even the littlest hands to maneuver. The box is also impact resistant with rubber-coated edges to prevent it from sliding around while your child is eating. All the materials are BPA-free and food-safe. A removable compartment tray is microwave- and dishwasher-safe, making cleanup a breeze. Hand-washing is recommended for the outer shell. This Bentgo kids' lunch box is available in 25 kid-approved designs at Amazon and four at Walmart.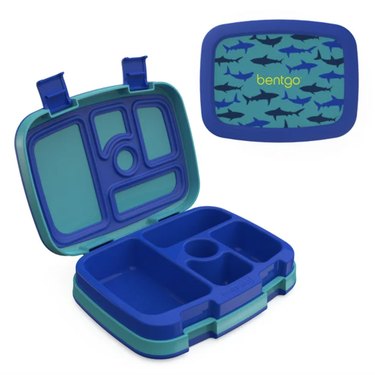 The Best Stainless Steel Kids' Lunch Box
PlanetBox Rover Stainless Steel Lunch Box
You can't go wrong with PlanetBox's popular stainless steel bento-style lunch box. It has five perfectly sized compartments, it's dishwasher-safe and it's one of the most durable lunch boxes you can buy. Two leakproof containers are included—a large one and a small one. The clasp is secure, but it's also easy enough for tiny hands to open and close without the help of a teacher. Included is your child's choice of four different magnet themes to decorate the top of the box. The size of this lunch box is a little larger and thinner than other bento boxes, so PlanetBox sells an insulated lunch box that fits around it perfectly.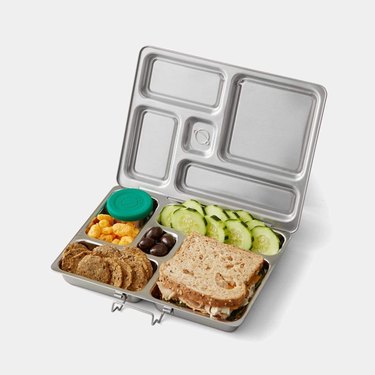 The Best Washable Kids' Lunch Box
Send your kids back to school (or to daycare) in style with this machine-washable canvas lunch tote. Its overall dimensions are 8 inches long, 5 inches wide, and 11 inches high. Made with organic cotton and a water-resistant lining, the canvas is soft and folds flat when it's not being used. The interior boasts a pocket for a water bottle or ice pack, and the oversized zipper can withstand daily use. Perhaps the most exciting part of this lunch tote is its washability. You can either wash the fast-drying lining in the sink with soap and water, or you can throw the entire bag in the washing machine. It comes in 30 colors and designs.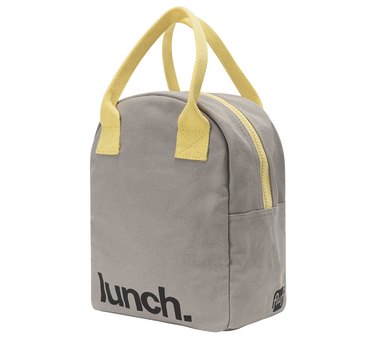 The Best Tote-Style Kids' Lunch Bag
This lunch tote is great for older kids (adults too) who want a bit more space in their lunch boxes. It has a large capacity for plenty of food, snacks and drinks. Insulation will keep food colder or warmer for up to four hours. A pocket on the outside can hold notes, a phone or other small items. The tote comes in 22 color options and designs, including stripes, florals, leopard print and tropical leaves.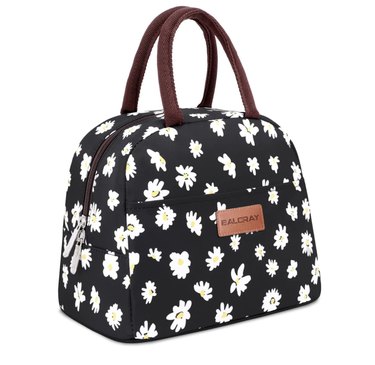 The Best Nostalgic Kids' Lunch Box
The Tin Box Company Vintage Star Wars Lunch Box
It doesn't get much more nostalgic than a classic tin Star Wars lunch box. Your kids might never understand what it feels like to walk four miles to school in the snow (uphill, of course), but they can certainly get a feel for what a lunch box used to be like. This lunch box isn't insulated, but since it's made of tin, an ice pack can keep food cool for a surprisingly long period of time. It's a breeze to wipe clean and offers plenty of room for a kids' lunch at 9 inches long, 3.5 inches wide and 6.75 inches high.