Without a rug, dorm rooms can be pretty cold and bare. One of the best parts of moving into a dorm room is decorating, and adding a rug can instantly transform the room to make it feel more like home while also adding a splash of style.
It's hard enough to get out bed in the morning—especially for college students who probably stayed up late the night before studying or partying (or both)—but with a comfy rug under their feet, there might be a little more motivation to get to class on time. So, whether you're shopping for your own dorm room or are buying a rug for your college-aged kid's dorm room, there are plenty to choose from.
What To Consider When Purchasing a Dorm Room Rug
​Style:​ When it comes to choosing dorm rugs, there are practically endless styles and designs to choose from. Whether you're into vintage, fringe, shag, or sheepskin rugs; bold or neutral colors; or geometric designs or solid colors, there's something for everyone. If the dorm is going to be shared with a roommate, you might want to check in first to make sure your styles align.
​Size:​ Area rugs come in all shapes and sizes, but before you make your purchase, you should find out the square footage of the dorm room. You may not be able to take measurements if you want to buy a rug before school starts, but the square footage should give you a good idea of the size. You should also determine if you want the rug to nestle between the beds or if it should take up the entire floor of the dorm room. If you prefer a rectangular area rug, one that's 4 feet by 6 feet or 5 feet by 7 feet should suffice, but we've also included some less-common rug shapes and sizes in this roundup.
​Price:​ There's really no reason to spend a fortune on a dorm room rug. Not only is a dorm room a temporary living arrangement, but the rug will likely get ruined. Let's be real, college students aren't always the tidiest or the most careful. If the rug happens to survive freshman year—great! It can come along to sophomore year and beyond. To keep things budget-friendly, we've only included rugs that cost under $100, but generally speaking, the larger the rug, the pricier it'll be.
​Care:​ Most rugs aren't machine-washable, so it's a bonus when you find one that is. If it isn't machine-washable, it should at least be able to be vacuumed and spot cleaned. You know, to get rid the stench of whatever liquids are spilled—and who knows what else.
Take a look at the best dorm room rugs of 2022 that are stylish, affordable and cozy on the feet.
1. Safavieh Tulum Round Rug, 7' x 7'
Add some color to your dorm room with this trendy geometric area rug. The round rug measures 7 feet in diameter and will fit perfectly between two beds or under a desk. It'll add some cushion to a hard floor, along with modern style, so if that's what you're looking for in a rug, you've found a winner right here. This rug comes in seven colors, as well as various size and shape options.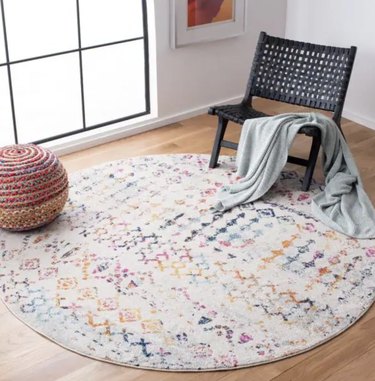 2. Gorilla Grip Faux Fur Washable Rug, 4' x 6'
If you want a rug that would be comfortable enough to take a nap on, this is the rug to get. The faux sheepskin rug emulates the look and feel of real fur, but it's a much more affordable and ethical alternative. It has over 2 inches of fur, so there's no doubt that it'll provide your feet with the comfort they deserve after walking to and from classes. The rug has a durable rubber non-slip backing to prevent sliding. It's machine-washable, which is a nice feature for college students who like to keep things clean. It's sold in 21 different color options and also comes in a rectangle shape.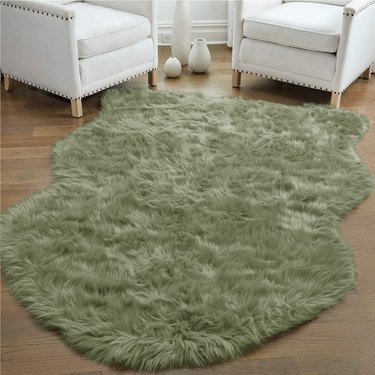 3. Rugs.com Kai Rug, 4' x 6'
Bring some brightness into your dorm room with this chic yellow rug with a geometric design. If yellow isn't your color, it also comes in shades of blue and gray. If it isn't held down by furniture, you'll probably need to get a rug pad to put underneath it to prevent the rug from moving around on a hard floor. A rug pad will also add some padding for your feet. Choose from rectangle, square, round or runner shapes.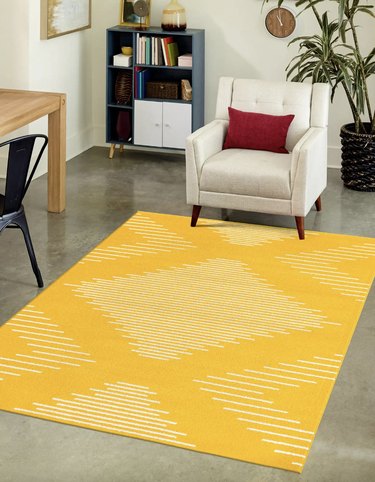 4. Andecor Shag Rug, 6' x 9'
A white rug is a bold move for a college student's dorm room, but if you feel confident that it'll remain white—or at least off-white—by the end of the school year, then you should make it happen. White can lend a clean look to your home decor, but if it's placed in a high-traffic area, you might want to implement a no-shoes rule. This shag area rug only comes in a rectangle shape and ranges in size from 3 by 5 feet all the way up to 6 by 9 feet. There are 10 solid colors to choose from.
5. Unique Loom Sofia Collection Vintage Area Rug, 5' x 8'
This vintage-inspired rug has a distressed look that will add a homey vibe to your utilitarian dorm room. It's a rug that's easy to care for, as it doesn't shed, it's stain-resistant and it can be spot-cleaned using a carpet cleaner. It does, however, require a rug pad to prevent slipping and sliding. There are 12 colors to choose from and several sizes with both rectangular and round options.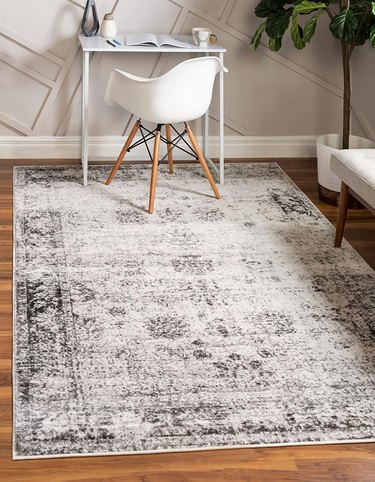 6. Gap Home Kids Double Rainbow Area Rug, 3' 2" x 4' 6"
Bring some fun to your college dorm room with this white rug featuring double rainbows. The rug can be cleaned in the washing machine using mild detergent, which is a huge bonus for high-traffic areas such as dorm rooms. It's made of durable, 100% polyester fiber, and comes in multicolor (pictured here) or all-pink. A non-slip rug pad is recommended. The size of the rainbow rug is 3 feet 2 inches by 4 feet 6 inches, so it's on the smaller side, but would be a great rug to place next to your bed. There's also a larger version for less than $100 that measures 5 feet 2 inches by 7 feet.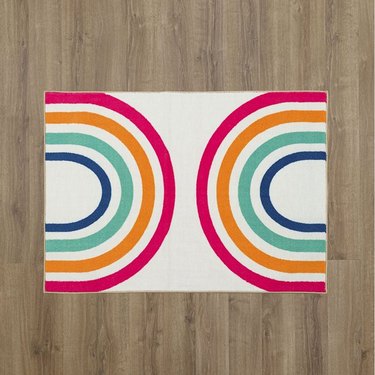 7. Glacier Diamond Woven Runner Rug, 1' 10" x 7'
You can easily upgrade your living space with this diamond-pattern rug. Its neutral colors and simple design fit in well with most decor, so you don't have to focus too much energy on finding bedding and other accents to match your rug. The rug has a medium pile height, so while it isn't a plush rug, it does add some padding and softness to a hard floor. It's available in three colors and four sizes. The runner version is ideal for dorm rooms without a lot of space between the beds.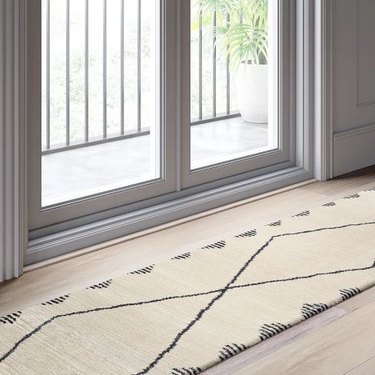 8. World Menagerie Round Varuna Jute Rug, 4' x 4'
You can match almost any home decor style to a classic jute rug. While it isn't the coziest option, this handmade jute and sisal rug brings sophistication and style to a dorm room. It's also pretty forgiving when it comes to stains. Jute and sisal materials are ideal for medium-traffic areas. The round rug is available in multiple sizes from 3 feet to 11 feet in diameter. It's softer than many similar options and is easy to vacuum.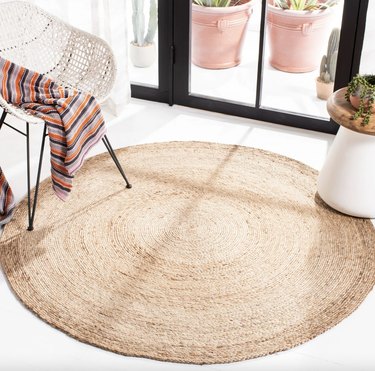 9. Novogratz by Momeni® Daisy Rug, 3' x 3'
If you're looking for a novelty rug to plop down next to your bed, consider this playful daisy design. The hand-hooked rug is made with 100% polyester fibers and has a pile height of a quarter-inch. It has off-white and bright white petals, and a yellow center with orange and white dots. A non-skid rug pad is recommended but not included. If it gets dirty, the decorative rug can be vacuumed or spot-treated. When you move out of the dorm and into an apartment, you could place the rug in your kitchen or bathroom for a touch of whimsy.
10. Bailey Mid-century Modern Area Rug, 4'4" x 6'
This stylish mid-century modern rug is soft and durable with a low pile height of 0.3 inches, making it a great option to fit under furniture like a bed or a desk. Its design can add texture and movement to your small space without being overbearing. The rug is made of ultra-soft polypropylene, and is stain-resistant and non-shedding. It's also latex-free for those with allergies or sensitivities. Color options include burnt orange, charcoal, blue and gold.