Things You'll Need
Tape measure

1-by-3-inch board

3-inch-wide decorative trim

Handsaw

Sandpaper

Wood clamps

Drill with bit

2 to 3 metal picture hangers

Hammer

1-inch nails

2-inch wood screws that fit drawer pulls

4 drawer pulls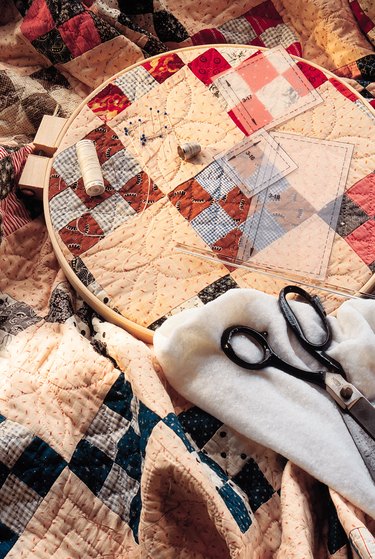 Whether you want to display a homemade creation or dress up a room with textures and patterns, there are many options for hanging a quilt. A straightforward quilt hanger you can make at home, called a compression quilt hanger, clamps the upper edge of your quilt and allows the remainder of the quilt to hang free. Once your hanger is complete, you can leave it as natural wood or paint or stain the hanger to match the colors of your room.
Step 1
Measure the width of your finished quilt along the top edge, and add 2 inches. Measure and cut both boards (the 1-by-3-inch board and trim piece) to this measurement. Sand the cut ends of both boards and all surfaces, but leave the face of the decorative trim alone if there is a pattern carved into it.
Step 2
Stack the decorative piece over the 1-by-3, and align the edges. Clamp the boards together. Drill four evenly spaced holes down the length of the boards through both boards. Use a drill bit that is just slightly wider than the screws you have chosen.
Step 3
Lay the 1-by-3-inch board on a flat surface. Space two picture hangers across the length of the board, using three if your hanger is longer than 50 inches. Nail the picture hangers in place to secure them to the back of the board.
Step 4
Flip the board over so the hangers are facing down. Stack the trim board over the 1-by-3 with the decorative side facing up. Insert a screw through each drilled hole from the back of the 1-by-3 up so the screws extend above the boards.
Step 5
Slip the top edge of the quilt between the boards by 1 inch. Press the decorative trim board downward to hold the quilt in place. Attach a drawer pull to each screw sticking up above the hanger.
Step 6
Turn the pulls until the pressure pushes against the decorative trim and holds the quilt snugly in place. Tighten the screws from the back, if necessary. Hang the hanger on your wall where the quilt will not be pulled on.
Tip
Wood hangers are not recommended for antique quilts as they expose the body of the quilt to sun and the top inch to direct contact with wood.