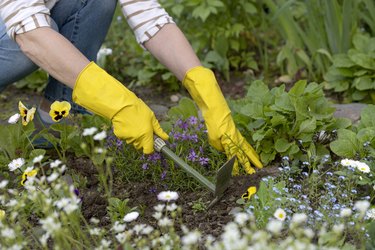 Weeds seem to have superpowers, quickly taking over garden beds even when everything else seems to be growing at a glacial pace. Before you know it, the pesky weeds have invaded your landscaping, making it look neglected and unkempt. Even areas with a thick layer of mulch can have a weed invasion. It's best to rid your flower beds and other areas of unwanted growth as soon as possible as it robs your desirable plants of water, sunlight and nutrients. This is where the appropriate garden weeder can save the day along with your precious plants.
Every gardener who wants to make quick work of getting rid of weeds should add a weeder to their arsenal of garden tools. The best weeding tool for the job depends mainly on the types of weeds you have, their size and your physical ability. If you have problems getting up and down from the ground, you'll want to do your hand weeding using a weeder with a long handle or opt for a stand-up weeder so you can remain standing. Regardless of the weedy mess ruining the looks of your flower garden and landscape, there's a weeder that will make weed removal a breeze.
Below we've listed some factors you should take into account when selecting the best weeding tool for your specific needs. We've also noted some of the better weeders that will keep your landscape in pristine condition.
What to Consider When Purchasing a Weeding Tool
​Weeder Type​: When selecting the best weeding tool that will get the job done efficiently, you should first consider the types of weeds you're removing and their location. Stand-up weeders are divided into two basic categories of either a weed puller or weed cutter. Weed pullers usually have a curved or bent forked blade that is inserted into the soil next to the weed. When you pull the blade out of the soil, the weed (along with its taproot) is removed. Although a bit pricer, many high-quality weed pullers have stainless steel blades that are rustproof.
Weed cutters cut off the weed's top portion, leaving behind the deep roots, and can be less effective than pullers. However, many types of weeds will perish once they've been cut a couple of times and weed cutters don't disturb the soil like pullers. Like many high-quality weed pullers, some cutters have stainless steel blades.
There are also multi-use weeders where one tool accomplishes a variety of weeding jobs. They get top marks on functionality as they can act as a puller and a cutter. You can adjust the tines and use the tool as a cultivator, weeder, or use it to till or aerate the area.
​Material​: Consider the hand weeder's construction and material, especially its handle, blades, claws and shaft. The last thing you want is to be in the middle of a job and the handle breaks because it can't take the force. Although a bit pricier than other materials, stainless steel and carbon steel blades are durable and are heavy-duty enough to stand up to extreme work. They also are rustproof, adding to their lifespan.
Those with bamboo, fiberglass or plastic handles are lightweight but might break with extreme use. Wooden handle weeding tools have been around forever and are durable, but once again, might break with extreme pressure. Whatever you decide, make sure it will stand up to the workload and is lightweight enough for you to handle easily. The tool is supposed to work for you, and you shouldn't be working for the tool.
​Handle Length​: Depending on the specific hand weeding job and your physical ability, consider the length of the handle. Many ergonomic handles are padded, making it easier on your hands to use and grip. If you have problems getting up and down, you'll want to select a weeder with a long handle. However, if that's not a problem, then a short-handled weeder will work fine.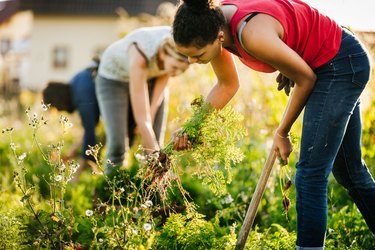 The Best Overall Weeding Tool
Cobrahead Original Weeder & Cultivator Hand Tool
Although a simple design, the Cobrahead weeder is a garden weeder designed by gardeners based on years of gardening experience. It isn't fancy but this hand tool will get the job done without you having to expel a lot of physical exertion. The curved head and blade are made from durable tempered steel and will easily plow through any type of soil and remove even the toughest weed roots. The handle is made out of recycled plastic and is ergonomic, fitting your hand whether you are left-handed or right-handed.
This is the perfect hand weeder to add to your selection of garden tools, suitable for novices and seasoned gardeners alike. It also fulfills a variety of needs whether you just want to get rid of a patch of pesky weeds or need to cultivate or aerate an area in the garden. The Cobrahead weeder might not have a bunch of bells and whistles but it's built to last for years and it's also made in the United States.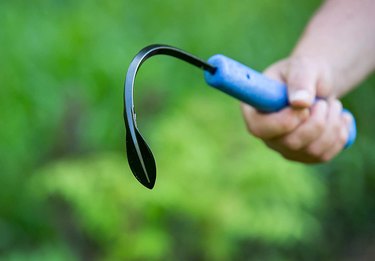 The Best Budget Weeding Tool
Mr. Pen Hand Weeding Tool
If you're searching for a garden weeder that won't hurt your budget but is durable and lays waste to unwanted weeds, then you can't go wrong with Mr. Pen's hand weeding tool. The short-handled weeder has an ergonomic design and is padded to take away the stress on your hands and wrists while giving you extra control. There's also a depression for your thumb to give you even more control while using it to pull the weeds and their taproots out of the ground.
It has a curved base and a one-piece aluminum shaft that is durable and rustproof, adding additional leverage against the ground while you're using it. Whether it's dandelions, thistles or crabgrass you're trying to remove, they'll stand no chance against this budget-friendly but durable weeder. It even has a hole on top to make for easy storage.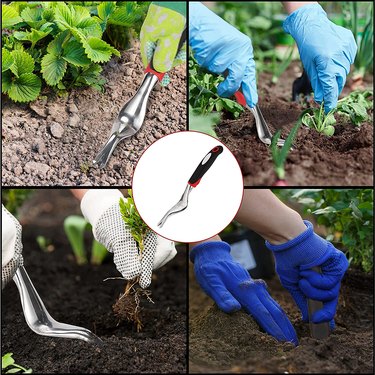 The Best Hand Cultivator and Weeder
Corona Extended Reach Cultivator and Hoe
Corona has been manufacturing high-quality tools for gardening and making gardeners' lives a little easier since the 1920s. This extended reach cultivator and hoe meets their continued standards. With its 36-inch long handle, it's the perfect solution for those with back or knee problems or gardeners who just can't get down on the ground anymore with ease. The lightweight aluminum handle's end has an anti-blister comfort grip that makes handling the tool easy on your hands. The extended reach handle allows you to work in hard-to-reach areas, raised beds, or other garden beds with tight spaces.
One side of the tool is a cultivator made up of three tines and the other side is a standard hoe with a base made out of durable steel. Whether you need to break through the soil or use the hoe to pull out deep roots, the hoe won't let you down. The cultivator side of the tool will have your garden beds ready to plant in no time. With it weighing only 2 pounds, there are no worries about lugging a heavy tool around to get your landscaping work accomplished.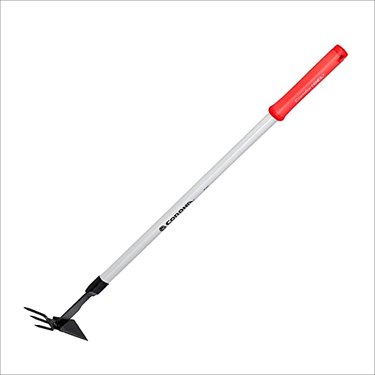 The Best Dandelion Weeding Tool
Grampa's Weeder Weed Puller Tool & Dandelion Weeder
Problematic dandelions will be a thing of the past when you use the Grampa's Weeder weed puller tool. Those with back or knee problems no longer have to worry about crawling on the ground to do hand weeding in an effort to remove dandelions or other noxious weeds. The weeder's 45-inch-long stand-up handle made out of lightweight bamboo allows you to keep standing to uproot and pull the unwanted growth from the ground.
With a steel head and four-claw design, the stand-up claw weeder is built to last. It's been putting a hurting on weeds and a staple in many gardener's tool arsenal since its initial design in 1913. It's a breeze to master and you don't have to expend a ton of effort to use it. You simply place the weeder over the targeted weed's center, thrust it into the soil, and tilt the handle to easily extract the weed and its roots from the ground. It's sure to become one of your favorite gardening tools.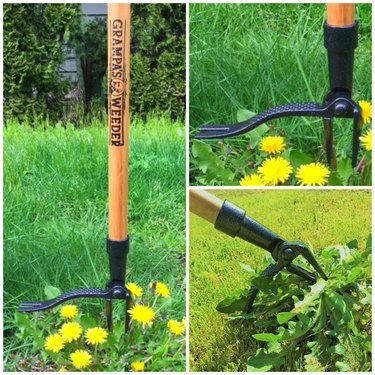 The Best Multi-Functional Weeding Tool
Winslow & Ross 5-in-1 Garden Tool and Hand Weeder
If you're looking for versatility in a hand weeder, Winslow & Ross' 5-in-1 garden tool won't disappoint. The small hand tool functions as a weeding saw, a digging trowel, and a weeding fork, and also has a cutting notch and scale blade. Whether your gardening chores consist of loosening the soil, planting or digging out the deep roots of unwanted crabgrass, this multi-functional tool won't let you down. At 13.5 inches long and weighing only a quarter of a pound, it's lightweight for ease of use. The nonslip wooden handle offers a good grip and is gentle on your wrists and hands. The tool also has a leather strap so you can hang it up on your potting bench. The versatile head is made from heavy-duty stainless steel so it's a tool that is built to last for many years.