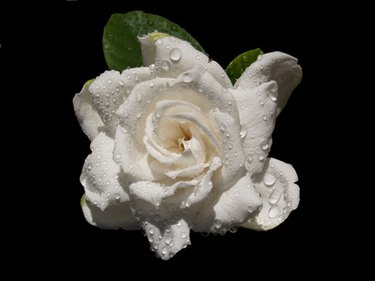 Evergreen plants are always in high demand for gardens and yards due to their stately beauty and low maintenance year-round. Fragrant evergreens offer the additional bonus of scenting the area with pleasant aromas, from either their leaves or blossoms. While the list of scented evergreen plants is extensive, there are several favorites that are known for their fragrance, appearance and ease of keeping.
Gardenia
Well known for their heavily perfumed white blooms, gardenias generally grow into shrubs between 2 and 8 feet tall, with dark, shiny green foliage. The plants flower throughout late spring and summer and do well in rich, well-drained soil in partial to full sun.
Evergreen Clematis
Clematis are known for their shiny, satiny green leaves and delicately scented blossoms. The evergreen strain (Clematis armandii) may be difficult to track down but is undeniably worth the search. Clusters of small white flowers appear to explode from the branches throughout spring, and the vine itself remains tight-growing and attractive year-round.
Jasmine
Night-blooming jasmine is a hardy and easy-to-grow vine that does well in light soil with plenty of sun. The white, tubular flowers are potently scented for their size and produce round, shiny white berries on the vine. Most jasmine varieties are evergreen except in regions with exceptionally harsh winters.
Sweet Olive
The sweet olive is a southern treasure that is little known elsewhere, despite its exceptional hardiness and ease of care. Sweet olive, though technically a shrub, can easily grow to 20 feet tall and sometimes even higher in coastal regions. It is a relatively nondescript-looking plant, with thick, leathery leaves. Its scent is packed into tiny cream-to-white flower clusters that spread over the branches and can provide fragrance to a large area year-round.
Pine and Fir
Coniferous pine and fir trees are often overlooked in garden or landscaping applications, but these hardy and readily available trees should not be neglected on a list of scented evergreens. There are dozens of varieties of pine and fir, and while most will thrive just about anywhere, selecting a tree that does better in your climate and growing season will ensure that the plant performs to its fullest. The best species for scent are also the trees most commonly seen at Christmastime: Scotch pine, Douglas fir, white spruce and Noble fir.