There are few things more satisfying than digging into a plate of homemade nachos. While tortilla chips are a classic ingredient of most nacho recipes, it's fun to switch things up. Take these plantain nachos, for example. Featuring a base of homemade plantain chips and a hearty tempeh mixture, this unique vegan dish is bursting with flavor.
Inspired by @sepps_eats on Instagram, this plantain nacho recipe is perfect for parties and weeknight dinners alike. Simply slice ripe plantains, toss them with olive oil and bake until they're crispy and golden. Next, simmer onions, tomatoes and tempeh (or your protein of choice) in a skillet and then whip up an avocado and lime sauce. Once combined, you'll have a mouthwatering dish that's healthy, vegan and gluten-free.
What's more, you can easily customize this nacho recipe according to your dietary preferences and needs. Ahead, learn how to make plantain nachos, with tips and tricks for making them your own.
Things You'll Need
4 ripe plantains, peeled and sliced

Olive oil or avocado oil

1 white onion, diced

2 garlic cloves, minced

15-ounce can diced tomatoes

14 ounces tempeh, crumbled

2 bell peppers, deseeded or diced

1/4 cup olives, sliced

1 teaspoon chili powder

1/2 teaspoon cumin

1 teaspoon salt

1/2 teaspoon ground black pepper

1/2 teaspoon paprika

1/4 teaspoon red pepper flakes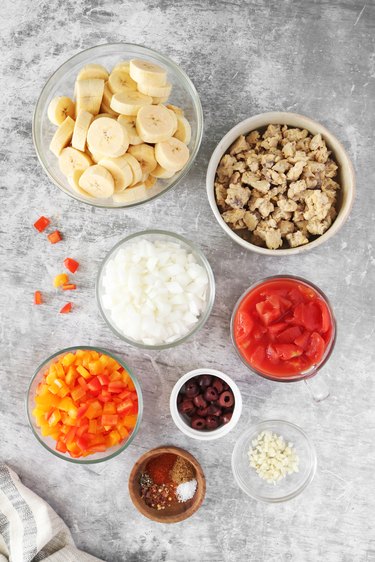 Tip
The thickness of the plantain chips is up to you. For extra-crispy plantain chips, cut them into thin slices. If you still want to be able to pierce the plantains with a fork, cut them into 1/4- to 1/2-inch-thick slices. Alternatively, if you're short on time, you can buy plantain chips from the grocery store.
1. Prepare the plantain slices
Preheat the oven to 425 degrees Fahrenheit. Line a large baking sheet with parchment paper.
In a large bowl, coat the plantain slices in olive oil or avocado oil. Sprinkle with salt to taste.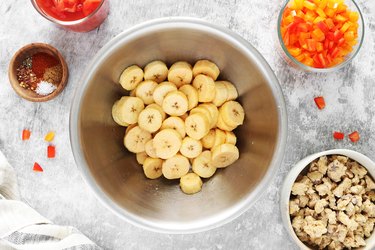 Arrange the plantain slices on the parchment-lined baking sheet in a single, even layer. Bake for 20 to 30 minutes, flipping once halfway until crispy and golden. The total time will depend on the thickness of your slices.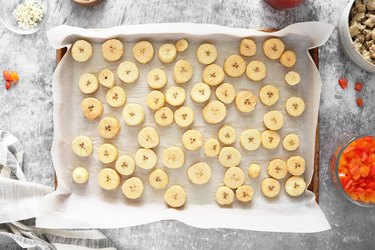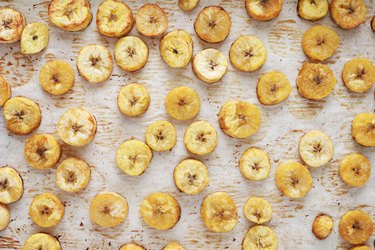 3. Cook the onions and garlic
While the plantain slices are baking, prepare the tomato-tempeh mixture. In a large skillet over medium heat, warm 2 tablespoons of oil. Cook the diced white onion for 5 to 7 minutes or until translucent. Add the garlic and cook for another 1 minute.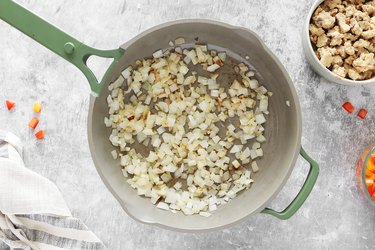 4. Add the tempeh and tomatoes
Next, add the crumbled tempeh, diced tomatoes, bell peppers, spices and olives (if you're using them). Cook for 10 minutes, mixing frequently to coat the tempeh in tomatoes.
If you don't eat soy or prefer other forms of protein, feel free to use it in place of tempeh. Black beans, ground beef and ground chicken are all delicious options.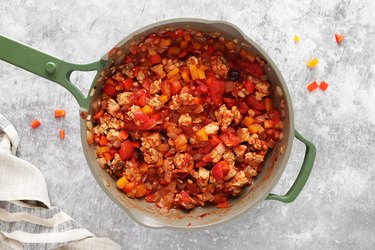 Tip
Instead of diced tomatoes, you can also use crushed tomatoes or tomato sauce. Another option is to combine diced, crushed or pureed tomatoes for a more varied texture. For extra heat, consider adding diced jalapeños during this step.
5. Make avocado lime sauce
Things You'll Need
1 ripe avocado

1 lime

1 small bunch fresh cilantro

3 tablespoons mayonnaise or sour cream

1 teaspoon garlic powder

1/2 teaspoon salt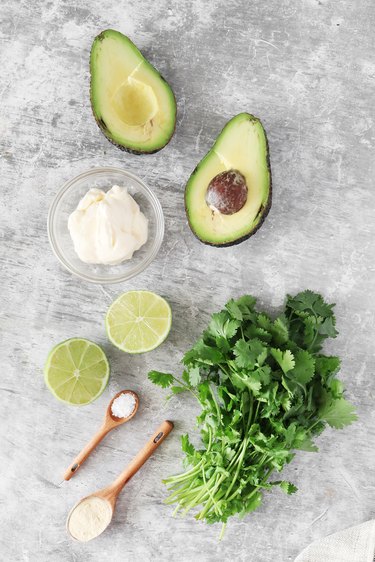 Tip
Not a fan of cilantro? Use parsley instead.
In a food processor or blender, combine the avocado, lime juice, cilantro, mayonnaise or sour cream, garlic powder and salt. Blend until fully combined.
Tip
If you're short on time, replace this homemade sauce with store-bought guacamole.
6. Top the plantain nachos with sauce and serve
To serve the nachos, add the plantain chips to a plate or serving tray. Top with the tempeh mixture and avocado sauce. Depending on how you serve the nachos, you might have some of the tempeh mixture left over.
If you do eat dairy, feel free to top off your dish with shredded cheese, like cheddar cheese or mozzarella. Cotija, a type of aged Mexican cheese, also works perfectly with this recipe.