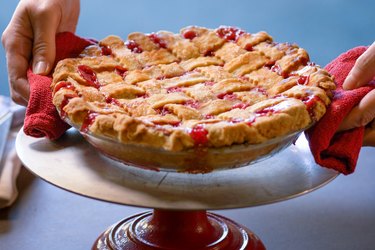 What do ‌you‌ call it: a pie dish, pie pan or pie plate? The answer probably says a lot about where and when you grew up, but no matter what you call them, you're going to need one before you can start baking pies. The best pie plates will give you a perfectly crisp and flaky end result every time, whether you're making a double-crust pie or blind baking an empty shell to finish later: No over-browned spots, no soggy bottoms, just golden perfection. Stay with us as we pick out six of the very best pie pans and explain why they're better than the competition.
What to Consider When Purchasing Pie Dishes
‌Size:‌ Most recipes are designed to fit into a 9-inch pie pan that's 1.5 to 2 inches deep, so we've used that standard as our reference point for most of these picks. Anything 2 inches or greater in depth is generally referred to as a "deep dish" pan, though there's no objective standard for that term. Ten-inch pie pans are also common, and you'll find smaller ones from various manufacturers, but we've left them out of this review. If you're actively in the market for petite or oversized pie pans, the information in this guide should help you pick one that fits your needs.
‌Material:‌ Pie pans are typically made in metal, glass or ceramics (which includes stoneware). They all have their pros and cons: Metal conducts heat well for quick crisping and it's unbreakable, but the pans aren't attractive and can scratch when you cut your pie (especially if they have a non-stick coating). Glass is inexpensive and performs well, and lets you see how your pie crust is browning, but it's fragile. Ceramics are the most attractive of the three, but will bake your pies more slowly and can leave the crust gummy or doughy (and they can also break, though they're sturdier than glass pie plates).
Tip
Glass pie plates can be made of either borosilicate glass (the lab-quality glass originally used by Pyrex) or tempered silica-lime glass, the type used now by Pyrex and most other brands. Borosilicate glass is resistant to breakage caused by thermal shock, but it's physically fragile if you drop it. Tempered glass is physically more durable if dropped, but is more prone to breakage if it goes from hot to cold too quickly. Borosilicate breaks into fewer, larger pieces, while tempered glass shatters spectacularly into thousands of fragments (some bakers speak of them "exploding"). Each has its strengths and weaknesses.
‌The rim:‌ This might not be a feature that leaps to your eye, but it's important. Too narrow a rim can make the pie pan hard to remove from the oven, or to move around if you're baking multiple pies. It might also leave you with too little space to crimp the edges of your crust properly. A too-wide rim can cut down the number of pies you can fit in the oven at once, and take up extra space in storage. Some pie pans have scalloped rims, which are intended to help you crimp your crust attractively but don't always work out in practice.
The Best Overall Pie Dish
There's a whole lot to like about this glass pie plate from OXO, a company with a reputation for getting the little details right. For starters, it's deeper than the classic Pyrex pie pans, so you can use it for deep-dish pie recipes or piled-high apple pies. The thick borosilicate glass transfers heat evenly for beautiful browning, and unlike most glass bakeware, it can go straight from the freezer to the oven (but you'll still need to be careful about putting it on a cold surface while it's hot from the oven).
The rim is generous enough for crimping dough and easy handling, without being excessive. The included lid is a nice bonus: It's tall enough for your biggest pies or a towering meringue. It's also vented, so you can pack along warm pies to potlucks without worrying about trapped steam making your beautiful crust soggy. Oh, and the price point is pretty appealing, as well.
This is the quintessential pie pan, the one you probably picture in your head when you think of baking a pie. Most mainstream recipes (like the pumpkin pie recipe on your can of pumpkin) are sized to fit its dimensions, and it's as versatile a workhorse as you could ask. The rim is not large but it's big enough for easy crimping, and you'll still be able to take it from the oven with your oven mitts on. You can use it confidently for everything from quick blind baking (pre-baking an empty shell) to long-baking fruit pies, knowing you'll get excellent results. The thoughtful features of the OXO made it our top pick, but you can't go wrong with this one either. The very similar Pyrex Easy Grab pie pan has a wider, fluted rim, but that can make for more difficult cleanup, and overall the pan doesn't perform any better.
The Best Ceramic Pie Dish
Ceramic pie dishes are unquestionably the most beautiful option, and their durability means they can last for generations. Unfortunately they're not always the best pie pans from a practical perspective, because they can take a long time to heat up. That means crusts can sometimes come out pale, greasy or soggy, rather than crisp. At the very least, you may need to adjust your baking time (or use your ceramic pie plate for recipes that already have long baking times, like deep fruit pies).
That being said, a few ceramic pie pans stand out from the crowd and this offering from French manufacturer Emile Henry is exceptional. It rivals glass pie plates in overall performance, with beautifully even heat distribution for a perfect bottom crust (you might still need to adjust your baking time, but not by as much) and its colorfully stylish finishes and aggressively fluted edge set it apart visually. It can also go under the broiler to brown a meringue, something glass pans can't do. It'll go from freezer to oven like the OXO, and it's dishwasher-safe as well. It's priced well above our other top picks, but still offers solid value when you consider its durability.
Metal pie dishes are common in commercial kitchens, where durability and function are everything. Metal pans are almost always made of aluminum or aluminized steel, which conduct heat better than glass or ceramics (cast iron is the opposite and should be avoided). That makes an aluminum pan like this one from American Metalcraft the best pie plates for blind baking, giving a cracker-crisp crust each time. Baking in a metal pan means a perfect bottom crust every time, so you can think of it as a "cheat code" for tricky recipes like custard pies or quiches. Just be aware that you'll need to shorten your cooking times, and—unlike glass—you won't be able to visually check the doneness of your crust.
One big advantage of metal cookware is that it can go straight from a hot oven to your countertop: Thermal shock isn't something you have to worry about. The pan is freezer safe and broiler safe for maximum flexibility. The only downsides are that cutting in the pan will cause cosmetic damage over time (aluminum is a soft metal) and that you'll need to hand-wash the pan because it will tarnish in the dishwasher.
Tip
There are several good metal pans with nonstick coatings, but those will inevitably deteriorate over time (especially if you use metal utensils). With lifelong durability being one of the best reasons to buy metal pie plates, we've opted for a high quality pan without non-stick in order to emphasize that advantage. There's no wrong answer here, so if you value non-stick over durability by all means seek one out.
The Most Innovative Pie Dish
Creo SmartGlass Pie Plate
What if there was a pie pan that combined the responsiveness of glass bakeware with the durability and resistance to temperature changes offered by ceramics? Well, that's exactly what you'll get with SmartGlass bakeware from Creo. This pie plate is part of their full line of kitchenware (including loaf pans, mixing bowls and baking dishes), all made with borosilicate glass interiors and ceramic exteriors. The end result is a pan that will give you evenly baked crusts without browning so quickly that your pie filling isn't cooked all the way through.
It's microwave-safe, dishwasher-safe, freezer-safe and (of course) oven-safe, for maximum flexibility, and you can bake at temperatures of up to 450 degrees Fahrenheit. The interior is plain white, and you can choose between the elegant Brooklyn Grey or bold Bali Green for the exterior. This is one of the pricier pans in our roundup, but its combination of style and function makes it a compelling option.
The Best Disposable Pie Dish
There are times when it's awfully handy to have a few disposable aluminum pie plates on hand. Whether you're heading out to potlucks or gifting someone a pie or bringing one in to work, it's nice to not worry about getting your pie pan back. There are definitely cheaper options out there—a lot of them!—but these pans from California-based KitchenDance stand out from the pack. They're made of heavy 90-gauge foil (two to three times thicker than most disposables), so they handle and bake more like a regular aluminum pan. They won't buckle as you remove them from the oven, and you won't need to rest them on a sheet pan or inside a regular pie plate as cautious bakers do with regular disposables.
You'll be able to gift your friends perfect pies without soggy bottoms, at a cost that means you won't mind saying goodbye to the pan. Even better, if they ‌do‌ come back to you, each of the pans in this pack of 10 is durable enough to be washed and reused several times. In fact, if you only occasionally delve into pie-making, these might be the only pans you'll need.