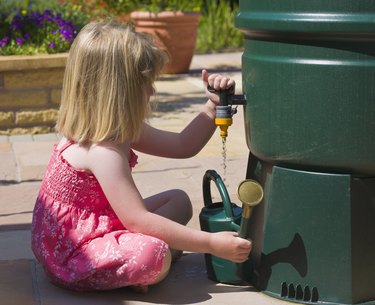 Using a rain barrel is a great way to save water and keep some cash in your pocket. If you're on a public water system, you have to pay for the water you use, so consider it free water. It's also a great way to reduce stormwater runoff, which helps prevent erosion and pollutants like lawn fertilizers, animal waste and other chemicals from affecting the environment. It's also healthier to water your plants as it doesn't contain chlorine and other chemicals and is softer than using tap water.
Rain barrels come in a wealth of sizes, so there's something for everyone, whether you're collecting from a small or larger home or building. You install the rain barrel under a downspout where it will collect the water running off of the roof when it rains. The collected water is then useful to water your plants and yard, fill up a fountain, wash your car or clean any tools.
Below we've outlined some considerations when purchasing a rain barrel and offered suggestions of suitable choices for every situation.
What to Consider When Purchasing a Rain Barrel
‌Size:‌ Most rain barrels usually come with a storage capacity of anywhere from 30 gallons of water to more than 100 gallons of water. The larger the barrel, the more water it will hold. To get an idea of how much water is produced during a rainstorm, for a 1,000-square-foot roof, every inch of rain that falls can result in around 600 gallons of rainwater. However, the average amount of water you collect is around 10% to 30%.
If you wish to collect a larger amount of water, with some DIY handiwork, you can connect two rain barrels. You can then retain the excess water that would typically overflow when the first barrel reaches capacity. Look for a barrel that can hook up to another.
‌Durable Lid and Screen:‌ You want to make sure the rain barrel has a durable lid or a secure mesh screen that can't be easily removed by children or animals. Some rain barrels have both a lid and a screen. This prevents things like mosquitoes, leaves and other debris from getting into the contained water.
‌Overflow Precautions:‌ You'll want to regularly monitor the rain barrel to prevent an overflow that can damage your home's foundation or create other problems, especially if you plan to be away for an extended period of time. To prevent this, you can disconnect the downspout and make sure the rain barrel is covered.
Another option is connecting an overflow valve to a garden hose, directing the flow of water away from your home. You can also purchase a downspout diverter and have it installed on the downspout. This allows the flow of water to return to the downspout once the rain barrel is full.
‌Ease of Use:‌ If you will be using the rain barrel to water your garden, you'll want to make sure the spigot is near the bottom, making it easy to fill up your watering can. The last thing you want is a barrel with all the valves and fittings located at its back where you can't get to them or move the barrel once it's filled with water. Elevating the barrel on a sturdy stand makes it easier to use and you won't have to do much bending. Just make sure the stand is sturdy enough to hold the barrel once filled with water.
The Best Overall Rain Barrel
The Good Ideas Rain Wizard Rain Barrel offers everything you might need and it's all contained in one barrel. The rain barrel holds 40 gallons of water and the faux oak wood grain fits naturally into the landscape. It comes in five colors: gray, black, terracotta, green and khaki. It has a screen mesh to keep unwanted things out of the water and is easily removed for cleaning. The rain barrel also has a flat back, making it easily fit against your home's walls and is made from 100% recycled resin.
The barrel also has a high-quality and durable brass spigot that you could easily hook up to a hose, as well as an overflow spout. If you want to collect more water than one barrel can handle, this model is designed to hook up to additional rain barrels with an easy-to-use linking kit (sold separately).
The Best Compact Rain Barrel
With its elegant-looking, stone-like finish, corrosion-resistant recycled plastic construction, and standing 35.5 inches tall and 11 inches wide, the Koolscapes Stone-Look Rain Barrel won't take up much space and fits in nicely with any landscape design. It holds 55 gallons of water and has a securely attached screen to catch unwanted debris and molded bars to prevent unwanted access. The rain barrel has a durable brass spigot and overflow spout. With three outflows for water, you can hook up another barrel or hook up a soaker hose or sprayer from the lower drain and fill up your watering can from the spigot.
The Best Rain Barrel for Large Gardens
If your garden is large and you're looking for a rain barrel that holds a decent amount of water, then the Good Ideas 65-Gallon Rain Barrel might fit your needs. It's made out of FDA-approved resin and is BPA-free, making it resistant to rot, rust, mildew and mold. It also touts a faux oak wood look. It has a closed-lid design with a self-draining planter on top, so you can even make the barrel look better by adding a plant! The barrel also has a fine mesh screen to keep unwanted debris or bugs out. There are two threaded brass spigots you can attach hoses to or use a bucket or watering can, as well as an overflow spout. You can even attach another rain barrel to it and its flat back design means it fits snuggly against exterior walls.
The Best Collapsible Rain Barrel
The IOCOCEE 100-gallon rain barrel has a collapsible design, allowing you to fold it up and store it when it's not in use. Its green color will blend in with any landscape and the price is reasonable for the amount of water the barrel can hold. It's made from PVC with a PVC zippered mesh cloth cover to keep unwanted debris and bugs. Sturdy PCV support rods help the barrel maintain its shape. The rain barrel also features a threaded spigot for hooking it up to a hose, faucet or ABS drain valve. After setting the rain barrel up, you only need to place it under a downspout to start collecting your rainwater.
The Mirainbarrel 58-gallon rain barrel features a high-quality and durable brass spigot and brass overflow valve. However, the overflow valve and downspout adapter aren't pre-installed, so you can install them wherever you prefer. Installation is easy and the kit contains everything you'll need to get the job done—other than the tools. You can attach an additional rain barrel if you want to increase your rainwater collection, and you can also hook it up to a garden hose to water your lawn or divert water away from your home. The container is made from food-grade recycled plastic barrels that once contained olives and can withstand cold temperatures. Additional features include a twist-off lid and mesh screen to keep unwanted debris out. With this rain barrel, you not only get a DIY option but one that's also eco-friendly.
The Best Value Rain Barrel
The 50-gallon Eco Rain Barrel will fit into any landscape with its faux-wood finish. It's made from 100% recycled plastic and won't fade or rot, as it's UV-resistant. It will, however, catch a large amount of rainwater without breaking the bank. The flat back means you can place the rain barrel directly against an exterior wall. Additionally, it comes equipped with a plastic spigot that you can attach a hose to, and there's a handy shut-off valve on the spigot as well. A plastic screen helps to keep out unwanted debris and bugs. If desired, you can also hook up additional rain barrels to this one and collect even more rainwater. The Eco Rain Barrel will get the job done and you don't have to spend a fortune to do it.