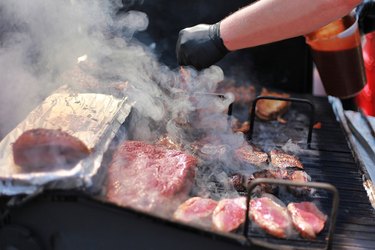 Pellet grills—also known as pellet smokers—are cool outdoor cooking appliances. They offer the functionality of a charcoal grill or gas grill and a smoker, and they're generally easier to use than either of those standalone pieces. In fact, the best pellet grills are basically as simple to operate as an oven; Just set the temperature and put your food in. And the wood pellets impart a great smoky flavor, and they're less messy and leave behind less ash than charcoal.
With one of these products in your yard, you can prepare barbecue with less hassle. In case you don't know, there are differences between grilling and barbecuing. Generally, grilling is for smaller stuff (e.g., burgers, hot dogs, wings, steak, fish fillets, veggies), and it's done quickly at high, direct heat. Barbecuing is for larger cuts (e.g., whole birds, racks of ribs, brisket, pork shoulder or butt), and it's done low and slow with indirect heat, involving smoke for at least part of the cooking time.
But there are a lot of pellet grills on the market now that fall within a wide range of prices. So, it's important to do some research to ensure you get the best pellet smoker for your needs and preferences.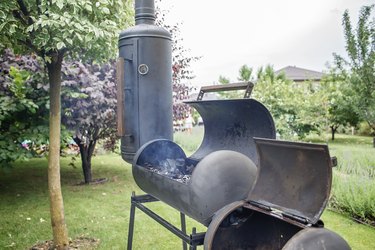 What to Consider When Purchasing a Pellet Grill
‌Cooking Area:‌ Standard pellet grills offer anywhere from around 300 square inches of cooking surface on portable models to around 1,400 square inches on large ones. Usually, the total dimensions are for two surfaces—a larger primary grilling area and a secondary rack for warming and indirect heat. Somewhere around 500 square inches should be perfectly fine for cooking for up to four people. But, if you want to smoke big cuts or grill for a crowd, you'll want more cooking capacity than that.
‌Hopper Capacity:‌ How many pounds of wood pellets does the hopper hold? This affects whether you'll have to refill it when you're slow cooking. A smaller hopper that holds around 5 pounds of hardwood pellets will keep you going for several hours, which is adequate for smaller smoking jobs. But if you intend to barbecue large cuts of meat for half a day or longer, you'll either need a much bigger hopper or be prepared to refill it every few hours.
‌Temperature Range:‌ You're buying a cooking appliance that works as a grill and as a smoker. So, be sure it operates at the right temperatures. Many pellet grills top out at around 450 degrees Fahrenheit, but getting one that pushes up to 500 is a good idea if you want the ability to nicely sear your grilled foods. Cooking low and slow calls for temperatures from around 160 to 220 degrees Fahrenheit. Many pellet grills start at 180 or 200 degrees Fahrenheit, which is certainly acceptable, but look for a slightly lower range if you want to be able to do the lowest, slowest barbecuing.
‌Price:‌ You can spend anywhere from a couple hundred dollars to several thousand dollars on a pellet grill. Their size and extra features are big factors in the overall cost. Also, a few brands command higher prices in this category—particularly Traeger, the innovator of the original pellet grill and the best-known name for these products. But don't assume a high price automatically indicates high-quality, or that you can't get a great pellet grill at the low end of the price spectrum.
These considerations will help you select a pellet grill that meets your needs and that you're happy with. And don't forget to pick up a grill cover to protect the appliance!
The Best Overall Pellet Grill
This is a great price for a great pellet grill, and it's user-friendly enough for novices while offering the versatility more experienced users look for. The dual-tier grill grates (there's a smaller warming rack) offer a combined 573 square inches of cooking surface area, which isn't huge, but it's a comfortable amount of space for most typical home use.
It offers exceptionally consistent temperature control, a very simple interface, and a temperature range of 160 to 500 degrees Fahrenheit. That's low enough for the lowest, slowest barbecue cooking, and high enough to properly sear foods when you grill.
The large 18-pound pellet hopper capacity is ample enough that you won't have to keep refilling it while you cook. An automatic pellet auger dispenses them as needed, further reducing the need for your involvement. And cleanup is simple too, thanks to the built-in hopper and ash cleanout system and the enamel-coated grill grates on the lower cooking surface.
It's also quite easy to assemble upon arrival, and it comes with all the tools you need. The steel side shelf provides a convenient staging area you don't always get with pellet grills, and this model even has a built-in bottle opener.
The Best Budget Pellet Grill
This is about as affordable as high-quality pellet smokers come. At just over 83 pounds, and with wheels on two of the legs, it's designed for mobility. The relatively compact size and notably low price do come with a slightly smaller cooking capacity, with 465 square inches of cooking surface. But if you don't cook in big quantities for a group of more than four, that's adequate; plus, there's a removable upper cooking rack that adds another 53 square inches of cooking surface.
It has easy-to-use digital controls and an LED display screen, as well as easy ignition. The temperature range is good for both grilling and smoking, going from 180 to 500 degrees Fahrenheit for everything from low-and-slow smoking to searing in those attractive grill marks. The side-plate flame broiler gives you the option of using direct or indirect heat.
The grill grates are porcelain-coated steel, which conducts heat well and is easy to clean. It has a relatively small pellet hopper that holds 5 pounds of pellets at once, which is plenty for a few hours of cooking, but longer smoking may require refills. All the grill components are made of heavy-gauge stainless steel, so you're not getting anything flimsy with the low price tag.
There's a convenient side table for staging, and it's removable for more compact storage. The shelf underneath is a convenient place to stash a bag of pellets or some grilling accessories. And with the barrel's mahogany finish, this is an aesthetic piece, too.
The Best High-End Pellet Grill and Best Large Pellet Grill
If you're going to spend top dollar on one of the best pellet grills around, make it a Traeger grill. And this particular model is a great choice. It offers an oversized 1,300 square inches of cooking surface (though a smaller version with 850 square inches of cooking capacity is also available), so you're set for the largest smoking jobs and preparing food for a gathering. Just to give you an idea, it'll fit 44 burgers.
Traeger invented the pellet grill, and they just do it better than anyone. Their pellet grills with Wi-Fi connectivity—including this one—are packed with tech features that make them extremely user-friendly. Control the appliance and monitor your food from your phone with the Traeger app and WiFIRE® Controller. And there are other helpful tech features, like a pellet sensor that alerts you when the pellets are running low, a keep-warm mode, and the ability to pre-set different cooking cycles.
All around, the design is thoughtful and convenient. There's ample prep space, easy hopper cleanout, stainless steel grates, and two removable racks for a total of three cooking tiers. The generous 20-pound hopper keeps things going for as long as you'll need it to in most instances. The double-walled drum is extra insulated for superior heat and smoke retention, too. It also comes with a meat probe.
This precision luxury appliance offers unmatched temperature control and consistency, even across its extra-large cooking surface. The temperature range goes from 165 degrees Fahrenheit (for the lowest low-and-slow smoking) up to 500 degrees Fahrenheit for perfect grilling. You can even use it to bake, braise and more.
The Best Portable Pellet Grill
If you're looking for a compact, portable pellet grill for mobility or use in a limited grilling space, Traeger has the perfect offering. This is also one of the most affordable models from the brand. It provides 300 square inches of cooking space, and unlike the other products on this list—but typical of a highly portable pellet grill—only has one cooking surface (that can accommodate 12 burgers).
Further adding to the portability, it has wheels on two of its legs. The legs are foldable, so you can collapse the appliance for easy storage and transport. Just keep in mind that it's a lot easier to fold and unfold the legs with two people. And, weighing in at only 62 pounds, it's a lightweight in this product category.
Even with its relatively small size, the pellet hopper has an 8-pound capacity that'll keep you smoking for several hours. The temperature range runs from 180 to 450 degrees Fahrenheit, and the interface is incredibly easy to use. While this appliance is consistent most of the time, do occasionally peek at its grill thermometer, as some infrequent temperature swings can occur (as they usually do with smaller models).
As with other Traeger pellet grills, this one is designed to handle more than just grilling, barbecuing and smoking; use it to bake, roast and braise, too. Assembly is about as simple as it gets with any pellet grill, and it comes with the basic wrenches you'll need for the job. Cleanup isn't difficult either, as this model produces relatively minimal ash and the interior parts are easy to remove for cleaning.