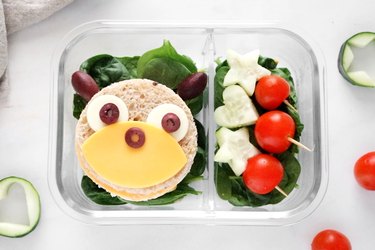 One of the best ways to eat healthy at school or work is to pack your own lunch. Not only does it allow you to fully customize your meal but it's generally cheaper too. The only catch? Packing a lunch and meal prep can be stressful if you're not sure where to start.
To help you, we've created five healthy lunchbox ideas that are equal parts simple and fun. What's more, these lunch recipes work well for kids and adults alike, making it easy for the entire family to enjoy a healthy lunch on the go. These work and school lunch ideas can also be altered based on each person's dietary preferences and restrictions.
Are you ready to make easy school and work lunches? Check out the full meal prep DIY, below.
Breakfast and Berries Lunchbox
Things You'll Need
Waffles (regular or mini)

Berries

Hard-boiled eggs

Nuts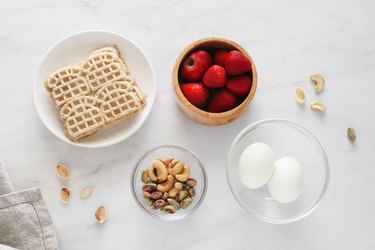 Step 1
Arrange the ingredients in a bento box. You can toast the waffles first, or if you have access to a toaster at work or school, you can pack them frozen.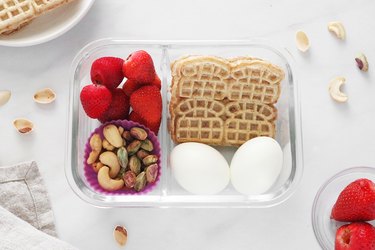 Tip
Place the nuts in a silicone cupcake cup or a small container with a lid. For a sweet touch, add a few chocolate chips or dark chocolate chunks to the nut mix.
Wrap and Fruit Rainbow Lunchbox
Things You'll Need
Whole-wheat tortilla

Leafy greens

Deli meat

Deli cheese slices

Strawberries or raspberries

Orange or peach wedges

Pineapple chunks

Green grapes

Blueberries
Tip
You can also use dried fruit in place of fresh fruit. Alternatively, to make a vegetable rainbow, use sliced red and yellow bell peppers, baby carrots, celery sticks, and purple cauliflower. Another option is to use a combination of fruits and veggies.
Step 1
Prepare the wrap using your desired fillings. Cut it in half to create two pinwheel halves.
Place both pieces in the bento box. Arrange the fruits in rainbow order (red, orange, yellow, green and blue).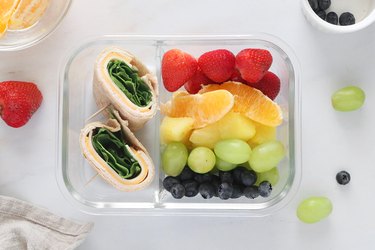 Tip
Insert a toothpick into each roll-up to keep the layers together.
Things You'll Need
Yellow or brown rice

Cooked red or black beans

Salsa

Tortilla chips

Grape or cherry tomatoes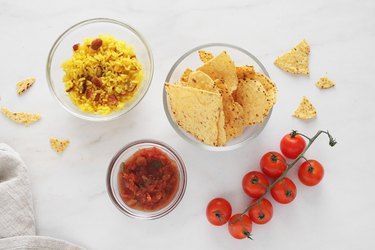 Tip
If you don't have beans, try this healthy lunch with cooked lentils instead.
Step 1
In a bowl, combine the rice, beans and salsa.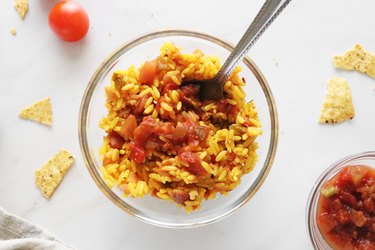 Tip
To increase the protein content of this Mexican-inspired meal, add chunks of grilled chicken.
Step 2
Add the beans, rice, salsa, tortilla chips and cherry tomatoes to the bento box.
Bear Sandwich and Vegetables Lunchbox
Things You'll Need
2 slices of whole-wheat bread


Deli meat

Yellow and white American cheese slices

Spinach, lettuce or green salad

2 whole olives

3 sliced olives

Cucumber slices

Grape or cherry tomatoes

Circle cookie cutter

Mini heart, flower or star cookie cutters

Metal pipe tip or attachment (or mini circle cookie cutter)

Toothpicks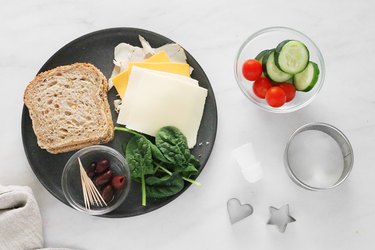 Step 1
Prepare a sandwich with bread, deli meat and deli cheese. Press the circle cookie cutter into the sandwich, making sure to cut through every layer.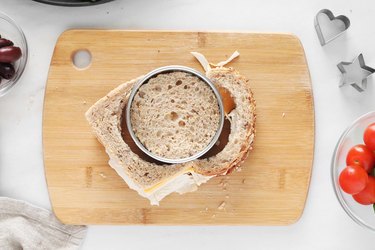 Tip
Use the excess bread to make breadcrumbs or croutons. Use the scraps of meat and cheese in omelets or a green salad.
Step 2
Using the circle cookie cutter, cut out a circle of yellow American cheese. Next, cut out an oval shape from the circle.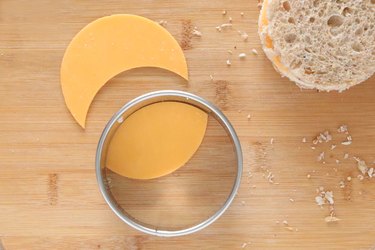 Step 3
Using the metal pipe tip or mini circle cookie cutter, cut out two small circles of white American cheese.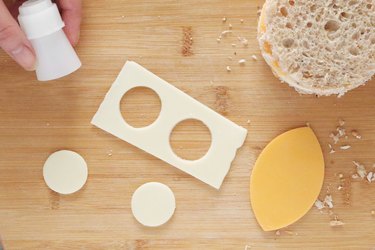 Step 4
Pierce toothpicks into two whole olives.
Step 5
Insert the toothpicks between the sandwich's layers. Place the two small circles on top, just above the middle. Place the oval on top, lining up the bottom edges.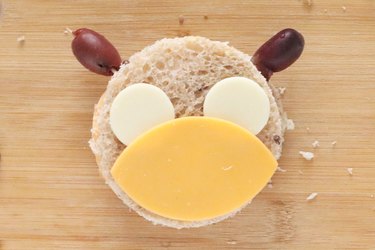 Step 6
Add the three sliced olives to create the eyes and nose.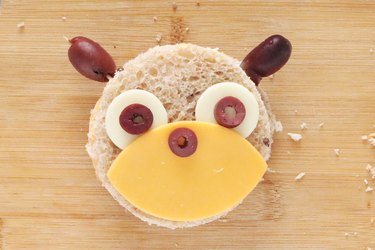 Step 7
If you'd like, use the mini cookie cutters to cut out shapes of sliced cucumbers. Next, pierce toothpicks into the vegetables to make mini veggie skewers.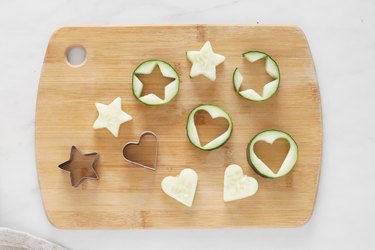 Tip
You can also use cookie cutters to make shapes out of radishes, zucchini or chunks of cheese.
Step 8
In the bento box, add a layer of green salad along the bottom. Place the bear sandwich and mini veggie skewers on top.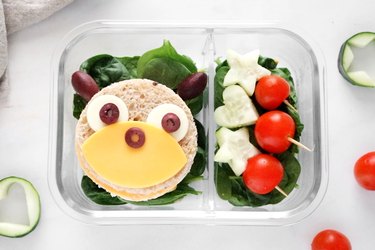 Pesto Pasta Salad Lunchbox
Things You'll Need
Pesto

Pasta

Chopped grape or cherry tomatoes

Shredded chicken breast, edamame or canned chickpeas (optional)

Sliced apples

Carrot sticks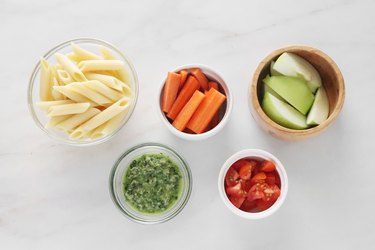 Tip
For a gluten-free version, replace the pasta with gluten-free quinoa or rice. Also, this lunch works well with other vegetables, like celery sticks and sliced bell peppers.
Step 1
In a bowl, combine the pasta, pesto and chopped tomatoes. You can also mix in shredded chicken breast, edamame or canned chickpeas to increase the protein content of your meal.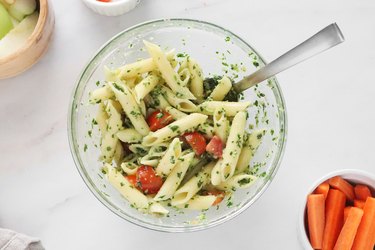 Tip
For even more flavor, consider adding crumbled feta cheese to your pasta.
Step 2
Add the pasta salad, sliced apples and carrots to the bento box.