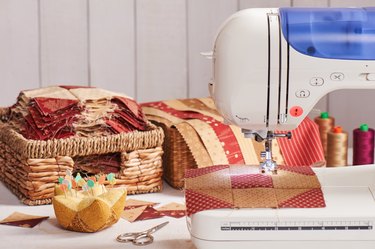 You've been to the quilt shows and were awestruck by the colorful, intricately designed quilts lining the walls. You've meandered through the fabric shops marveling at all the beautiful textiles. You've perused Pinterest and you keep seeing charming quilts that you would love to try and make. You are now ready to give quilting a try but there are so many different quilting machines on the market so where do you start? We are here to help you sort out what makes a good quilting machine and pinpoint which one will suit your needs best.
What to Consider When Purchasing a Quilting Machine
​Regular Sewing Machine Versus Quilting Machine:​ It's important to understand the difference between a regular sewing machine and a quilting machine before investing your hard-earned money.
Beginners can start quilting with a regular sewing machine but as quilters gain more experience, they will most likely want to make an investment in a quilting machine with more options to help improve the quilting experience.
A quilting machine can do the same types of sewing as a regular sewing machine like sewing seams, constructing garments and creating home decor. But a quilting machine has so many more options like add-on quilting feet for piecing quilts and walking feet for free-motion quilting. Quilting machines have more quilting stitches and stitch regulation for machine quilting, more stability when working with larger quilting projects, and high-speed stitching. A quilting machine will require a larger workspace than a regular sewing machine, however.
​Needs:​ Consider the type of sewing you will be doing most often. This will help determine what type of sewing machine will fit your needs best. Ask yourself what your quilting needs will be. Will you be quilting as an occasional home sewing hobby? Or, will you be doing more frequent sewing for personal use and creating gifts? Or, do you intend to quilt for profit?
​Standard Quilting Machine Versus Longarm Quilting Machine:​
A standard quilting machine usually has a 7-inch arm and is great for free-motion quilting. You simply lower the feed dogs and use a darning foot that hovers over the surface and allows you to move the quilt in all directions. This type of machine gives you complete control over stitch regulation of length and direction because you are using your hands to guide the quilt as you stitch.
A longarm quilting machine has a 10- to 14-foot frame, a 9- to 13-inch sewing head, a fabric roller and a layered plastic extension table. With a longarm quilting machine, the fabric stays stationary while the sewing head moves. This type of machine stitches much faster than a regular quilting machine. They are high-quality but much more costly.
​Components:​ When purchasing a quilting machine, there are many features that may (or may not) come with it. Here we will discuss what those features are and why you might want to seek them out.
Stitch regulation is an important feature to consider because when you're quilting you'll want to be able to control the stitch length, the direction of your stitches and the type of stitch.
Motor speed control is an essential element to look at, especially if you'll be sewing for a profession. You'll want to have the fastest and most precise stitch possible.
Do the feed dogs drop on the machine you are looking to buy? Feed dogs are the metal pieces on the sewing machine plate that move the fabric along. When the machine has the capability to drop them, it will allow you to do free-motion quilting.
If you'll be working on large, thick quilts, you'll want to get a machine with a large throat space. The throat space is the area to the right of your machine head. A large throat space will allow you to work with the quilt more easily before you have to reposition it.
When working on larger projects, a quilting machine with a higher weight and larger size will provide more stability and durability when sewing.
When sewing large areas, an automatic needle threader on your machine can reduce the frustration that can come with threading needles often.
Adjustable quilting frames are crucial to comfortable quilting.
Some machines are a combination quilting and embroidery machine. This type of combo machine allows you to do in-the-hoop quilt block piecing, personalized quilt labels, and embroidered blocks as well as regular quilting.
​Size of Quilting Area:​ Determine how much room you have for your quilting workspace before purchasing a quilting machine. Some larger machines can take up to 12 feet in space, so if workspace is at a premium in your house, definitely do some measuring before you buy.
​Warranty:​ Making an investment in a complex sewing machine needs to include some kind of a warranty in case something goes wrong with the machine. If the manufacturer has confidence in their product and offers some sort of a warranty on moving parts, then it might be a good one to buy. Some manufacturers believe their product is of such high quality that they offer a 25-year warranty on their sewing machines.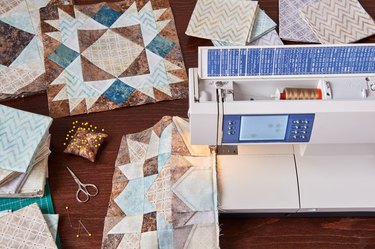 The Best Quilting Machine for Beginners
Singer Confidence Quilting and Sewing Machine
The high-quality Singer Confidence Quilting and Sewing machine offers great value for the price. It will sew up to 700 SPM (stitches per minute), has 98 built-in stitches, and allows you to adjust the stitch width and length. You can opt to have the needle stop in a down position when piecing patchworks, appliquéing and pivoting fabric. The feed dogs drop to allow for free-motion quilting. It has a nice large throat space of 6.5 inches, which will permit you to easily sew a full-sized quilt.
It weighs 16.25 pounds and measures 17 inches long, 8 inches wide and 12.5 inches high. This machine is heavy and large enough to be steady and stable while sewing. You will save loads of time with the automatic needle threader that is part of this sewing machine. The extension table is included and it has a 25-year limited warranty.
You can also access online and social media support. The Singer Confidence Machine comes with nine presser feet: An all-purpose foot, a zipper foot, a buttonhole foot, a blind hem foot, a satin stitch foot, a darning and embroidery foot for stippling, a walking foot to help the fabric move through the machine, an open toe foot for visibility and a 1/4-inch foot for piece work.
The Best Quilting and Sewing Machine For Professional Quilters
Janome MC6650 Sewing and Quilting Machine
The Janome MC6650 Sewing and Quilting Machine is one of the more expensive models but there is a good reason for it. This sewing machine has 170 built-in quilting stitches, two complete alphabets, a maximum stitch length of 5 millimeters, a maximum stitch width of 9 millimeters for stitch quality, and a start/stop button that provides instant control of stitching. To top it all off, your favorite stitches can be programmed in to automatically engage when the machine is turned on.
The high speed of up to 1,000 SPM will get the job done quickly and accurately. The Janome MC6650 has a seven-piece feed system and a drop feed for darning, buttonholes and free-motion quilting. It's a sturdy, heavy-weight sewing machine at a solid 24.25 pounds and a height of 11.8 inches, a length of 20.3 inches and a width of 8.6 inches.
The automatic needle threader will help to make your projects go quickly and smoothly. The 10-inch metal flatbed allows you to sew large quilts. The auto declutch bobbin winder makes machine quilting seamless. For peace of mind, the Janome MC6650 comes with a 25-year warranty on mechanical parts, a 5-year warranty on electrical parts, and a 1-year warranty on labor. It features six LED lights in three different locations for peak visibility.
The twelve included accessory feet make this machine extremely versatile for all of your quilting projects. It comes with a walking foot, a zig-zag foot, a blind hem foot, an overcast foot, a satin stitch foot, a rolled hem foot, a zipper foot, a darning foot, a closed-toe foot, an open toe foot and a buttonhole foot. It also comes complete with a lint brush, seam ripper, six bobbins, two small spool caps, two large spool caps, a quilting guide, screwdriver, needles, two cone nets, two spool rests, a soft cover, electrical cord and foot control. Plus, the instruction manual and DVD will help get you familiar with your new quilting system quickly and easily.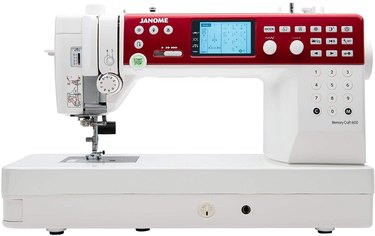 The Best Budget Quilting and Sewing Machine
Brother CS6000i Sewing and Quilting Machine
For those of you who want to keep quilting more affordable, the Brother CS6000i is a budget-friendly quilting and sewing machine. But that doesn't mean this machine won't be one of the best sewing machines you've ever owned. This machine has 60 built-in quilting stitches, both decorative and buttonhole stitches. You can select your quilting stitches with the touch of a button on the easy-to-see, backlit LCD screen. The sewing speed is adjustable using the speed control system. The built-in free arm makes it easy to sew sleeves, pants, and cuffs. It comes with a hard carrying case, and at only 13 pounds, the Brother CS6000i is very portable and can easily be taken to classes, seminars and sewing conferences.
The convenient automatic needle threader that pushes the thread through the needle and the jam-resistant, drop-in top bobbin makes this a very user-friendly sewing machine. It comes with a 25-year limited warranty and free lifetime technical support. Included with this machine are ten different presser feet to help you complete all kinds of quilting projects: regular, buttonhole, overcasting, monogramming, zipper, zig-zag, blind stitch, button fitting, walking and spring action. It also comes with a complete instruction manual, three bobbins, a needle set, tweezers, a screwdriver, a seam ripper, and a brush with oil for regular maintenance.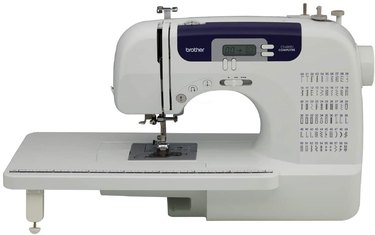 The Best Combination Quilting and Embroidery Machine
Brother SE1900 Quilting and Embroidery Machine
The Brother SE1900 professionally engineered combination quilting and embroidery machine is well worth the investment. It comes with 138 embroidery designs and you can download and create your own designs as well. You can even edit designs and create your own quilting stitches using the 3.2-inch LCD screen. This sewing machine comes with 11 embroidery fonts for monogramming or adding names and words to your quilting projects, 10 frames, 14 borders, 10 buttonhole options, and three different piecing stitches.
The Brother SE1900 includes 240 built-in sewing stitches with the option to import new stitch files if you'd like. You can get lots of sewing completed with a stitch speed of 850 SPM. It weighs a hefty 22.05 pounds and measures 23.19 inches long, 11.54 inches wide and 13.43 inches high, which is solid enough for steady stitching. This machine has a large 5-inch by 7-inch embroidery area and the embroidery hoop is included. The advanced automatic needle threader will change thread at the touch of a lever and the drop-in top bobbin will make changing thread quick and easy. Brother believes in this machine, offering a 25-year limited warranty and technical support for the life of the machine.