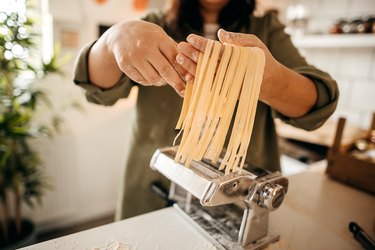 Sure, it's easy to dump a box of noodles into a pot of boiling water. But making your own pasta at home is pretty easy too, and a fun preparation to have in your repertoire. The only ingredients you need to make fresh pasta from scratch are flour and water (though salt, eggs and/or olive oil are good to use, too). Homemade pasta is more tender, more flavorful and fresher tasting—and it even cooks faster than the packaged stuff. Plus, it's nice to be more involved with your food and have control over what goes into it.
The old-school method of flattening the pasta dough with a rolling pin and then carefully cutting it into noodles is, however, a bit of work. But the best pasta makers transform this process into something much simpler and more efficient. These machines roll and cut the dough for you—significantly reducing the effort and time involved—and ensuring your noodles are of uniform thickness, width and length.
What to Consider When Purchasing a Pasta Maker
​Manual or Electric:​ Most pasta makers operate by a hand crank. It's not particularly grueling work, but it can be somewhat awkward feeding the dough into one side of the machine, turning the crank, and guiding the noodles out at the other side all at the same time. You'll get the hang of it though, or you could enlist a helper.
But there are also electric machines available, some of which even mix and knead the dough. They're easier to use; you have to keep pace with the machine, cutting the noodles to the desired length as they're extruded. And they're also usually more expensive than manual pasta makers, and a little more complicated to clean.
Some pasta makers—like the pick below for the best overall pasta maker—are hand-crank models that can also be hooked up to a motor for automation. So, you can enjoy the more tactile manual experience when you're in the mood, or switch to the electric function if, say, you have a lot of pasta to make.
​Cutter or Die Extruder:​ Cutters used with manual pasta makers and stand mixer attachments are for making flat noodles like lasagna, linguine, fettuccine and pappardelle (and sometimes round noodles like spaghetti or angel hair). Die extruders can be used with manual and electric pasta makers, including stand mixer attachments. These produce round, tubular and spiral noodles like spaghetti, rigatoni and rotini. Determine whether you want just one or both.
​Compatibility With Additional Attachments:​ Take a look at what noodle shapes you can make with the cutters and/or dies that come with any pasta maker you're considering. If you think you'll want more options, check which other cutter and die attachments you can buy in the future to expand your capabilities. The best pasta makers offer compatibility with a number of attachments for making other, more specialized types of noodles.
These factors—in addition to your budget considerations—will help you choose the best pasta maker for your needs and preferences.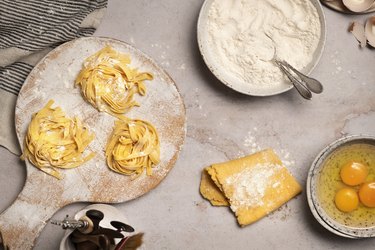 The Best Overall Pasta Maker
Marcato Atlas 150 Pasta Machine
This Italian-made classic is perhaps the perfect pasta maker. It's sturdy and durable, using a vise to clamp onto your table. Made from chrome-plated steel, it has a high-end look that surpasses its price (and it's available in several attractive colors). It rolls dough to 10 different thicknesses, and the roller imparts a rough texture that helps the noodles hold sauce well. It also doesn't jam when you run thicker dough through it—a common issue with many hand-crank pasta makers.
In addition to rolling sheets of pasta, there are two cutters for fettuccine and tagliatelle that cut quite cleanly. But this machine is compatible with 12 other cutter attachments to make all types of pasta shapes. They slide on and off easily, which not all pasta makers can boast. Plus, you can buy a small motor to convert this to an electric pasta maker. The handle is detachable for more compact storage, and we'll also just mention that this product comes with a much more thorough instruction manual than most of its competitors.
The Best Electric Pasta Maker
Philips Compact Pasta Maker
If you prefer an electric pasta maker that eliminates basically all the work involved in making your own pasta, this is a great option. It kneads the dough for you, and it can handle extra ingredients like eggs, herbs, spinach or vegetable juices to make flavored pasta. Then, it cleanly extrudes spaghetti, fettuccine or penne, depending on which of the three included shaping discs you select.
Impressively, the whole pasta-making process takes less than 20 minutes with this model (for two to three servings). The compartment is clear so you can see when the dough is ready. It's a compact machine that won't take up too much space on your counter or in a cabinet, and it has convenient built-in storage for the die extruders. You also get a recipe book that teaches you how to make all sorts of pasta.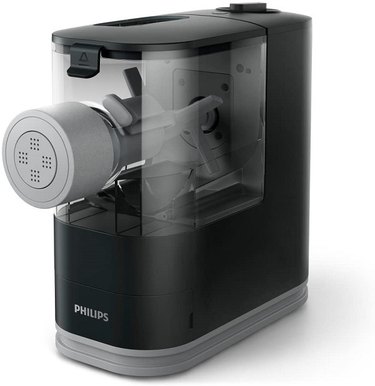 The Best Budget Pasta Maker
OxGord Pasta Maker Machine
Here's a great option for anyone looking for a reliable, durable pasta maker at the low end of the price spectrum for these products. It's ideal for novices who want to start exploring the process of preparing their own pasta without investing twice as much (or more) in a pasta maker. Roll the dough to nine different thicknesses, setting it with a user-friendly dial, and use the two cutters to make fettuccine, linguine and spaghetti in addition to lasagna, ravioli and other pasta made from sheets.
Attach the machine to your countertop with the included clamp. It's a little bit more wobbly during use than many costlier products, but not enough to interfere with your pasta making. As a rare benefit, the stainless steel rollers and cutters with this model are dishwasher-safe for easier cleanup. The crank detaches easily to cut down on the amount of storage space needed, too.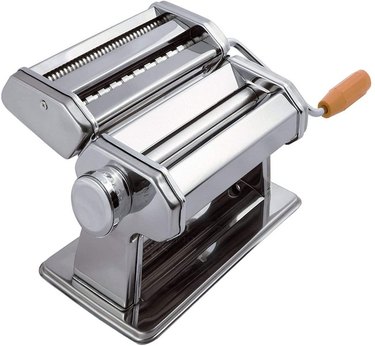 The Best High-End Pasta Maker
Philips Pasta and Noodle Maker Plus
This simple-to-use electric pasta maker makes the process fast and effortless. Just dump in the ingredients and it mixes, kneads and extrudes the dough automatically. And it's efficient; it turns out half a pound of pasta in 10 to 15 minutes. You can also add extra ingredients like eggs, leafy greens, vegetable juice and herbs to make noodles with different flavors, colors and consistencies—and more nutritional value. It comes with four dies to make spaghetti, fettuccine, penne and lasagna sheets.
The machine has an elegant design, so it looks right at home in any luxury kitchen. An LED display shows the time remaining, and the machine powers down automatically when it finishes a batch of pasta. It's easy to disassemble and reassemble for cleaning, and some of the parts are even dishwasher-safe. There's a storage drawer for the shaping discs and cleaning tools, too. Plus, you get measuring cups and a book with recipes for 15 different pasta and noodle dishes.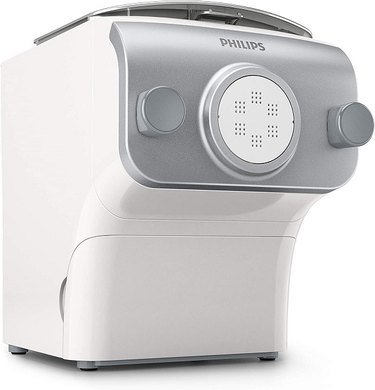 The Best Pasta Maker Stand Mixer Attachment
KitchenAid 3-Piece Pasta Roller and Cutter Set
Some stand mixers are compatible with attachments that significantly expand their applications. KitchenAid stand mixers are well known for this, and yes, there are pasta maker attachments. This one's a set of three stainless steel pieces: A roller that produces 6-inch sheets with eight different thickness settings, plus two cutters for spaghetti and fettuccine noodles (and you get a cleaning brush, too). Additional attachments for different shapes are available as well.
The attachments plug into the power hub connector at the top front of the stand mixer. They're powered by the mixer's motor, so this is an electric pasta maker that looks a lot like a manual one—minus the crank, bulky stand and clamp, making it more compact than a standalone pasta making machine. Plus, this frees up both of your hands for feeding the dough and catching the noodles. All in all, it's easy and fun to use, and it's a convenient option if you own any KitchenAid stand mixer.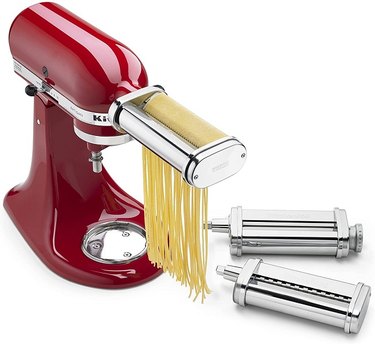 The Best Vegetable Pasta Maker
OXO Good Grips Tabletop Spiralizer
For those who want gluten-free, lower-calorie, low-carb, higher-fiber, more nutritious "pasta," you can always make vegetable pasta (zucchini is a popular choice). And yes, there are pasta makers for you too! This budget-friendly machine is a spiralizer for fruit and veggies, and you can cut three noodle shapes with its stainless steel blades: spaghetti, fettuccine and ribbons.
It's a simple, incredibly user-friendly product, with a dishwasher-safe food holder that has sharp teeth to securely grip the fruit or vegetable you're working with and an easy crank that rotates and advances it. A strong suction cup holds the machine steady and prevents slips. It comes with a storage case for the blades that conveniently attaches to the spiralizer.