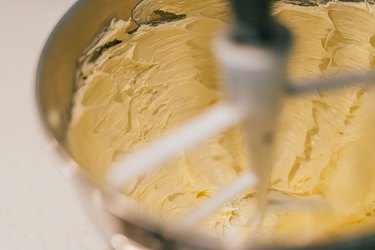 You love your KitchenAid stand mixer for all the time and effort it saves when you need to mix, whip, fluff, fold, beat, blend or knead. But it can do so much more than swirl ingredients around in a bowl. It has a power hub connection at the top front of its mixing head that hooks up to a wide array of attachments.
With the right attachments, your KitchenAid stand mixer can help you do all sorts of stuff, from making pasta and sausage and ice cream to juicing to dicing to spiralizing. And because the attachments are powered by the stand mixer's motor, they're often smaller (and sometimes lower priced) than standalone items for the same task—especially other motorized appliances.
Here's a look at some of the best KitchenAid stand mixer attachments. These are products that are worth buying—primarily because they work well, serve a practical purpose and save space by replacing larger separate tools (no, this can't be said for all of the nearly three dozen available attachments).
What to Consider When Purchasing a KitchenAid Mixer Attachment
​Usage:​ It's easy to get a little swept up in an if-they-build-it-I-will-come mentality when you start exploring all the KitchenAid stand mixer attachments. But remember: Just because you can buy it, that doesn't necessarily mean you should. The pasta roller attachment is great if you make homemade pasta—but are you really going to take the time to do it regularly? Or, the vegetable sheet cutter attachment does a nice job slicing thin sheets of vegetables—but before you drop $100 on it, think about how often you want thin sheets of vegetables.
​Price:​ The attachments for KitchenAid stand mixers range from around $50 to over $200. It's a reliable brand, and you know you're getting a quality product that will last. That said, you can always find a standalone item for the same task for less. They aren't all as good, but you can certainly sometimes find a lower-cost alternative of comparable quality. It pays to check around. But also, you usually save storage space using an attachment, so consider how valuable that is to you as a tradeoff for possibly paying a little more.
​Compatibility:​ Most of the attachments are compatible with all KitchenAid stand mixers. Emphasis on 'most.' So, we'd be remiss if we didn't remind you to confirm that any attachment you're eyeing can actually be used with the stand mixer model you own.
These considerations should help you pick out KitchenAid stand mixer attachments you'll be happy you bought—and help you avoid those regrets from random pieces of kitchenware sitting around just gathering dust and taking up cabinet space.
The Best Pasta Roller Attachment
KitchenAid 3-Piece Pasta Roller and Cutter Set Attachment
If you've discovered the joy of fresh, homemade pasta—or you want to—this will quickly become one of your favorite kitchen tools. It's a set of three attachments, compatible with all KitchenAid stand mixer models, and it makes the process of making your own pasta so much quicker and easier.
All the pieces are stainless steel, solidly constructed and simple to use. One is a pasta roller with eight thickness settings for making pasta sheets of uniform thickness—perfect for preparations like ravioli and lasagna. Then there are two pasta cutters, one for making spaghetti noodles and one for making fettucine noodles. You definitely won't miss cutting noodles by hand.
Unlike most pasta rollers and cutters that operate by hand crank, these attachments are powered by the stand mixer's motor. That reduces your work and conveniently frees up both hands for feeding the dough and catching the pasta. The set also includes a useful cleaning brush.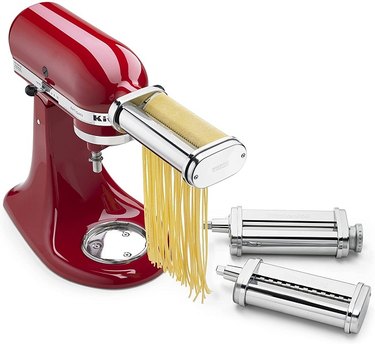 The Best Food Processor Attachment
KitchenAid Food Processor and Dicing Kit Attachment
You don't need a standalone food processor if you pick up this KitchenAid stand mixer attachment. It slices, dices, shreds, juliennes and more, powered by the stand mixer's motor. Plus, it comes with a commercial-style dicing kit. One great feature is the ExactSlice System, which lets you customize the size of the output, easily operated by a little lever.
This attachment is pretty big, so it's not a space-saving item as compared to a regular food processor. It does however come with a convenient storage case that keeps all the components organized and protected. There's also a food pusher included to help you feed food into the tube. And one advantage of the attachment's size is that the feed tube is relatively wide, minimizing prep work prior to processing.
The stainless steel blades are dishwasher-safe for easier clean-up, though you do need to hand-wash the body. This attachment is compatible with all KitchenAid stand mixer models.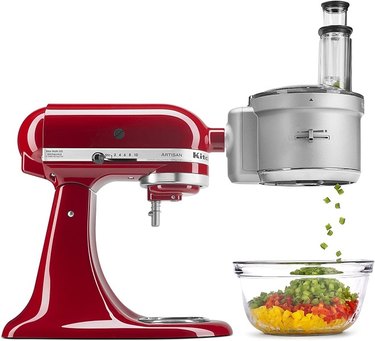 The Best Slicer and Shredder Attachment
KitchenAid Fresh Prep Slicer/Shredder Attachment
This attachment is a smart buy if you'd like to dispense without manual labor (and risk to your knuckles and fingertips) involved in using a box grater or hand-held grater. It also comes in handy if you don't have a food processor with a shredding disc—or if you don't like getting it out and having to clean it just for some quick shredding.
You'll especially appreciate the slicer/shredder if you frequently use lots of freshly shredded cheese for pizza, mac and cheese, tacos, salads and other dishes, or if you shred potatoes for things like hash browns. This attachment helps steer you away from the temptation of inferior, more expensive, but convenient pre-shredded cheese and veggies by making it much quicker and easier to prep yourself.
Compatible with any KitchenAid stand mixer, you get three separate dishwasher-safe blades. There's a 3-millimeter slicing blade for slicing vegetables, a 4-millimeter shredding blade perfect for shredding cheese and veggies, and a 6-millimeter coarse shredding blade for bigger shredded output. The set also comes with a storage case that neatly holds and protects all the components.
The Best Food Grinder Attachment
KitchenAid Metal Food Grinder Attachment
Most attachments on this list are here because they make it easier to enjoy the superior taste and quality of freshly prepped ingredients, rather than the ready-made, store-bought stuff. And, if you've ever freshly ground your own meat, you know it's a perfect example.
This attachment works with any KitchenAid stand mixer, powered by the motor. Use it to grind meat, poultry, bread for fresh breadcrumbs and more. Along with the grinder and removable food tray, the set includes fine, medium and coarse grinding plates, plus two sausage stuffer tubes and a sausage stuffer plate for making your own sausages. There's also a handy food pusher for feeding the grinder.
All the components are sturdily constructed, and this food grinder readily handles any protein. Have fun making your own custom ground meat blends and different types of sausages, all with the peace of mind that comes with knowing exactly what went into your food. The individual pieces are easy to clean, and there's a helpful cleaning brush included, too. The whole set fits nicely into the storage case that comes with it.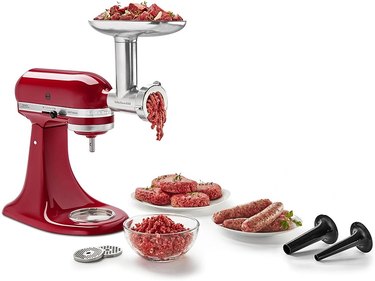 The Best Juicer Attachment
KitchenAid Masticating Juicer and Sauce Attachment
Of the three main types of juicers, masticating juicers—also known as slow juicers—are the best for preserving the nutrient content and extracting the most flavor from your fruits, veggies and herbs. Skip the standalone juicer—and the overpriced juice shops—with this attachment, which is compatible with all KitchenAid stand mixer models. You can also use it to make sauces (e.g., homemade tomato or apple sauce) and jams, too.
Three stainless steel basket filters let you customize to low, medium or high pulp. And the attachment has two separate containers to catch the juice and the excess pulp. The extra-wide feed tube minimizes the prep work required on your part and makes the pressing process more efficient. Overall, it's a convenient, user-friendly, easy-to-clean option for these tasks.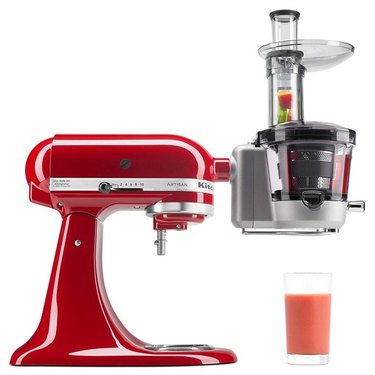 The Best Ice Cream Maker Attachment
KitchenAid Ice Cream Maker Attachment
Who doesn't want to make ice cream? Well, now you can with this excellent KitchenAid stand mixer attachment that fits all but one model: the Artisan 3.5-Quart Mini Stand Mixer. It's a simpler alternative to owning a dedicated ice cream maker, and it's lots of fun for the whole family. In addition to ice cream, you can also make your own frozen yogurt, gelato and sorbet. And the results come out with a perfect creamy texture.
You do need to plan ahead, as the bowl must be kept in the freezer for a day ahead of time. But then, it only takes about 20 minutes to make up to 2 quarts of your frozen treat of choice. Unlike the other attachments on this list, this one doesn't connect to the power hub; it replaces the mixing bowl.
It's easy to use, and clean-up isn't a hassle, either. The freeze bowl must be hand-washed, but it comes clean without a fight, while the other components (the dasher, drive assembly and adapter ring for use with tilt-head stand mixer models) are all dishwasher-safe.