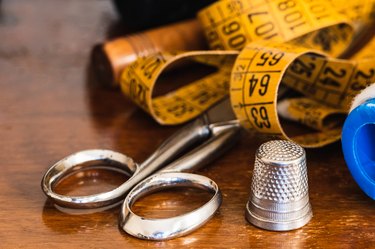 There's a reason a seamstress or tailor always has a tape measure or two hanging around their neck while working on their creations. It's an essential sewing tool that gets used constantly in the world of sewing. Tape measures are used when designing and sewing garments, creating home decor made with fabric, and altering or tailoring clothes. The tape measures made for sewing consist of flexible cloth or soft plastic and have linear markings. It's used to take body measurements, draft patterns, measure fabrics, keep patterns straight on the grain, measure curtain lengths, check the size of hems, measure corners and curves, and specify the length of a garment. Beginner and advanced sewers will all need to purchase a few tape measures in their sewing career and we're here to help you find a tape that'll give you long-lasting service and become one of your favorite sewing tools.
What to Consider When Purchasing a Sewing Tape Measure
Flexible tape measures are made from soft cotton, plastic, fiberglass or reinforced polyester. They are designed for tailoring, alterations or making garments. The flexibility of this type of tape measure allows the seamstress to mold it around someone's body to get accurate dimensions. Because they are so soft and supple, they're perfect to hang around your neck for easy access.
A retractable tape measure pulls out of a case, has a locking mechanism, and retracts easily so the tape won't get tangled. These are usually quite compact so they can be stored and carried around easily.
A digital tape measure takes accurate measurements of curved and irregular surfaces such as clothing or bodies.
​Measurements:​ It's important to have precise printed increments on the tape measure that start exactly on the edge of the tape. Tapes come in both imperial and metric measurement units. Imperial, or standard, measurement units consist of inches, feet and yards. Metric measurement units consist of millimeters, centimeters and meters. Many tapes are dual-sided, with standard units on one side of the tape and metric measurements on the other side. Most tape measures are also 5/8-inch wide, which is what most patterns require for a seam allowance. This way you can use the width of the tape to draw in a seam allowance when creating patterns.
​Quality:​ Choosing a high-quality tape measure will ensure that your projects will be completed accurately and precisely. Be sure to choose a tape made from strong materials that won't shrink, stretch or tear. There should be tabs on both ends of the tape to prevent fraying. The tape you purchase should also have clear, large calibration marks that won't disappear over time.
​Color:​ Tape measures come in many different colors. The color you choose should make it easy for you to read the increment marks. Choosing a pretty, bright color could help you find your tape in the piles of creativity in your sewing studio and could also lift your spirits when you're creating.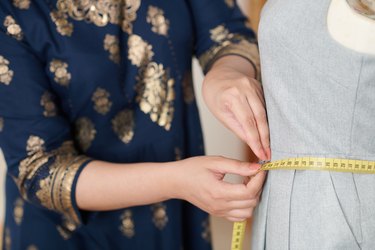 The Best Retractable Sewing Tape Measure
Singer 50003 ProSeries Retractable Tape Measure
The Singer ProSeries Retractable Tape Measure comes in a beautiful and modern turquoise color that makes it easy to spot amongst your other sewing tools. It's 96 inches long and comes with a keyring hole so you can attach it to a keyring, lanyard or peg. The tape is a durable and flexible vinyl that retracts into a compact, 2.25-inch diameter locking case. It's small enough to put in your pocket, purse or sewing basket and take with you to a sewing seminar, conference or class. This tape has standard units on one side of the tape and metric measurements on the other.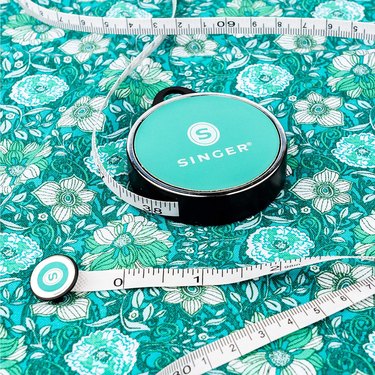 The Best Extra-Long Sewing Tape Measure
SumVibe 120 Inch/300 Centimeter Soft Tape Measure 2-Pack
An extra-long sewing tape measure will help you complete most tailoring, sewing, quilting and fabric home decor projects. It's also helpful when measuring and creating clothes for a fuller figure. The SumVibe Extra Long Soft Tape Measure will measure up to 120 inches and 300 centimeters. The standard measurements on one side of the tape go from full inches down to 1/8-inch increments and the metric increments on the other side of the tape go from centimeters down to millimeters. The tape is made of durable, flexible fiberglass so it won't stretch or tear after consistent use. There are tabs on both ends of the tape to prevent fraying. It's a bright yellow sewing tape measure with black, easy-to-read markings. And, to top it all off, it comes in a pack of not just one, but two tapes.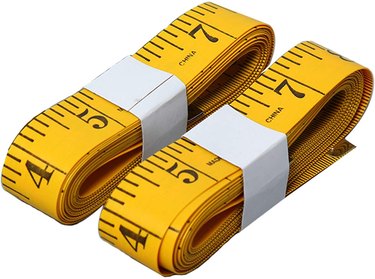 The Best Digital Sewing Tape Measure
DUKA Digital Tape Measure
The beauty of a digital tape measure for sewing is that it can accurately measure irregular and curved surfaces such as clothing and bodies. They're especially handy for professional tailors and seamstresses. The DUKA Digital Tape Measure will measure a linear measurement as well as a circular arc, an arbitrary curve, asymmetrical rough surfaces as well as take a cylindrical measurement. The DUKA Digital Tape Measure will store up to ten measurements. It features a lithium polymer battery, which has a long battery life. One thing to be aware of when purchasing this tape measure is that it only reads in metric units.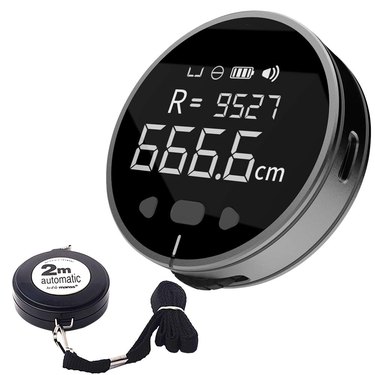 The Best Sewing Tape Measure For Body Measurements
RayTour Body Measurement Sewing Tape Measure
Since humans come in all different shapes and sizes, it's crucial to be able to take precise body measurements when creating garments. The RayTour Tape Measure is an accurate, double-sided (60-inch/1.5-meter) retractable sewing tape measure. The easy-to-read black tape with white markings is flexible and durable. This tape is perfect for traveling to sewing seminars, conferences or fittings. When the tape is retracted into the case, it only measures 5.10 inches in diameter and 0.51 inches thick, which will fit conveniently into a pocket, purse or sewing bag. To make this tape even better, there is a money-back guarantee for a full refund or replacement for any product quality problem.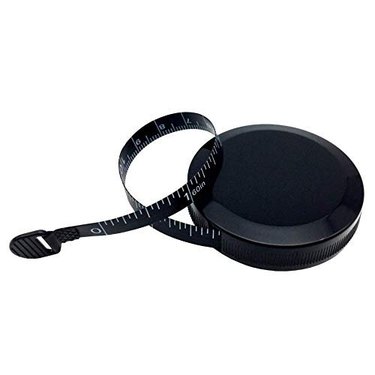 The Best Sewing Tape Measure for Quilters
Dritz 3011 Quilter's Flip Tape Measure
The Dritz Quilter's Flip Tape is ready to measure from both ends and works well for left-handed and right-handed sewers—no more finding the right end when taking multiple measurements. One side of the tape has standard measurement units to 1/16-inch increments. The other side of the tape has inches on one edge and centimeters on the other edge. This is a 120-inch tape measure but it is also available in 60-inch and 288-inch lengths as well. The tape is a pretty purple color with easy-to-read white markings. It's made from non-stretch, durable fiberglass. This tape will handle anything you can dish out and will last for many years of quilting.
The Best Tape Measure to Give as a Gift
HandsOnWorkshop Yuzen Leather Tape Measure
If you have a friend or family member who loves to sew and you've been searching for an unusual gift for them, the handmade Yuzen Leather Tape Measure might be just the ticket. This tape measure retracts into a fun floral design leather case, which comes in five different colors—blue, green, gray, pink and yellow. There is a leather tab on the side so you can attach it to a lanyard or a key fob. It is a unique gift for that special seamstress or tailor in your life.