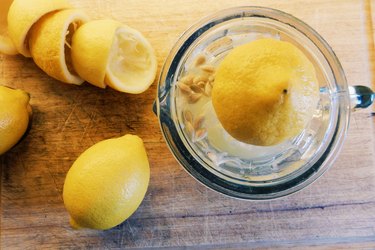 Almost anything you make in your kitchen can benefit from a splash of bright citrus flavor. Baked goods? Check. Salads? Sure. Poached fish or grilled pork? Absolutely. Cocktails? Oh, you betcha! And for most of us, nothing says "lazy weekend morning" like a glass of fresh-squeezed orange juice.
Unfortunately, most of us don't have unlimited storage space in our kitchens, which means that a compact, handheld citrus juicer is the best option. Most take up very little space in a cupboard or drawer and have few parts to keep track of, so you can always count on having fresh juice when you want it. Of the many, many juicers on the market, these stand options stood out to us.
What to Consider When Purchasing a Handheld Citrus Juicer
First, let's set some parameters. We're excluding any motorized juicers and non-citrus juicers from this review (we've covered those separately) as well as heavy-duty manual presses that require a dedicated chunk of space on your countertop. The juicers on this list can all either be used freehand or plunked down temporarily on your work surface as needed. Here are some things to keep in mind as you consider your options:
​Physical Size and Weight:​ This one's kind of a no-brainer. If you're going to hold your juicer over a bowl or cup while you use it, you'll want it to be lightweight and easy to grip. If you'll be grabbing it from the cupboard and putting it back when you're done, you will—again—want it to be compact and lightweight enough to make this easy. Also, the smaller the unit is, the easier it is to find a convenient place to keep it.
​Ease of Cleaning:​ Your juicer is going to generate large quantities of juice, pulp and seeds; that's basically what it's ​for​. To put it bluntly, you're going to make a mess. Cleaning that mess from the juicer's nooks and crannies will take a bit of time and effort, and some juicers will always be easier to clean than others. The simplest models are typically the easiest to clean, but intelligent design can also be a factor.
​Straining and Storage:​ Most (but not all) juicers have some sort of straining mechanism built in to keep seeds and pulp from your glass or mixing bowl. You can strain them out separately, but it's inconvenient and it means one more utensil to juggle while you work. Similarly, some juicers have a built-in cup or container to catch the freshly-squeezed juice. As always, it's a trade-off: A bigger cup holds more juice but takes up more space in your cupboard.
​Size of the Juicer:​ Citrus fruits range from tiny key limes to oversized pomelos, and one size decidedly does not fit all. Broadly speaking, there are at least two sizes you'll see—small juicers for lemons and limes, and larger ones for oranges and grapefruit. Size is something you'll need to take into account when making your decision. It all comes down to how you plan on using your juicer. If your morning's not complete without a big glass of OJ, your needs are different from those of a cook who just wants a squeeze of lemon or lime to brighten a dish.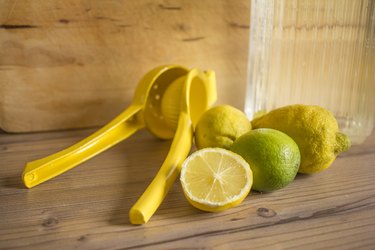 OXO Good Grips Wooden Citrus Reamer
A reamer is the simplest citrus juicer of them all. It's ridged at the "business end" and has a handle at the other, and to use it you simply insert it into your halved citrus fruit and give it a twist. That being said, OXO's Good Grips line is all about doing the basics well, and this reamer is no exception. The tip and juicing edges are nice and sharp for efficient juicing, and the handle is well-shaped and fits comfortably in most hands. It's made of solid beech, which is visually attractive and—more importantly—resistant to the acidity in citrus fruits. Cleanup is a matter of a quick rinse (the dishwasher is overkill and will age the wood prematurely). To keep your reamer at its best, wipe it down occasionally with food-grade mineral oil to protect the wood.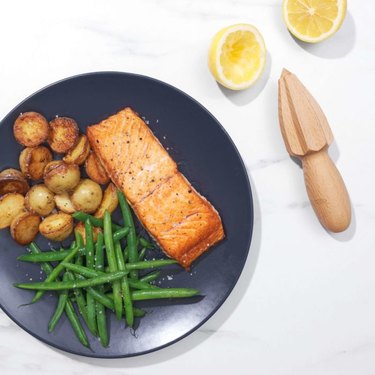 The Most Versatile Citrus Juicer
OXO Good Grips 2-in-1 Citrus Juicer
The problem with a basic handheld reamer is that it won't catch the juice or strain out pulp and seeds, which means you need to do those things separately. OXO's Good Grips 2-in-1 citrus juicer addresses both of those issues handily. The base unit is a juice catcher, holding up to 12 ounces of fresh-squeezed juice in its easy-to-hold measuring cup. The reamer portion of the juicer comes with a built-in strainer, and the cup has a built-in pour spout for convenience and ease of use. Best of all, it comes with two separate reamer attachments—a larger one for oranges and grapefruit, and a smaller one for lemons and limes—so it covers all the bases in one small package. You don't need to worry about clutter, either: The smaller reamer snaps into place and nests beneath the larger one for storage.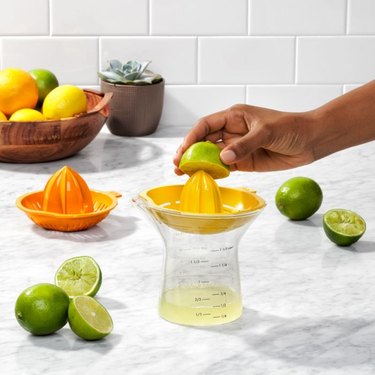 The Best Citrus Juicer for Lemons and Limes
Bellemain Stainless Steel Lemon Squeezer
Most handheld juicers are lightweight and correspondingly light-duty, which is perfectly fine for occasional use. If you're a heavy citrus user, though, or just prefer to buy durable, good-quality tools, this is the juicer for you. The basic design is pretty familiar: You drop your halved lemons into the cup and mash the handles together to get juice. There are plenty of similar squeezers, but they're mostly made of plastic. The Bellemain lemon squeezer is made instead of durable 18/10 stainless steel, with reinforced hinges and silicone grips for easy handling. At just over a pound in weight, the Bellemain is on the heavy side, but its performance and easy cleaning (usually just a quick rinse, but it's top-rack safe in the dishwasher) make it a solid winner otherwise.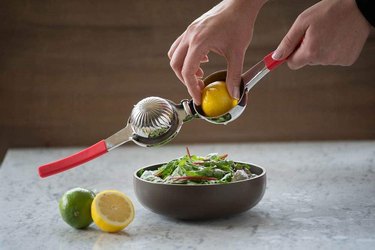 The Best Citrus Juicer for Easy Squeezing
Chef'n FreshForce Citrus Juicer
With a lot of juicers, the amount of juice you'll get from each fruit is limited by the amount of force you can exert. That means kids, the elderly or anyone working around physical challenges might find it difficult to get as much juice as possible from each fruit. That's not the case with the Chef'n FreshForce juicer, which uses a skillfully-engineered, dual-gear hinge design to amplify the amount of force you apply. This yields up to 20 percent more juice from every squeeze, yet the juicer is small and light enough for almost anyone to use. There's a built-in strainer to catch seeds and pulp, and the juicer is top-rack dishwasher safe. There are two versions, one for lemons and one for limes, but—pro tip—you can also buy them as a bundle to save money.
The Best Citrus Juicer for OJ Lovers
Sunhanny Manual Citrus Juicer
The problem with a lot of these manual juicers is that they aren't really suited to making a ​lot​ of juice at one time. If you have a big family or if a lavish brunch is the highlight of your week, that can be inconvenient. If you're in the market for a juicer that's better suited to big batches, this one from Sunhanny might be just what you're looking for. The top feature here is the juice pitcher, which holds a full half-liter (17 fluid ounces) at a time. There are two reamers provided with the juicer, a smaller one for limes and lemons and a larger one for oranges and grapefruit. The included snap-on cover keeps cupboard dust out of your reamer and doubles as a drinking cup, and—if that's not enough—the juicer has one additional party trick: You can turn the small reamer upside-down and use it as an egg separator. What more could you want?