A toothbrush holder is a bathroom essential. Of course, you can easily place your toothbrush on the bathroom counter, but then it's subject to germs and bacteria and whatever else is on there. The purpose of a toothbrush holder is to keep your toothbrush upright so it can dry quickly to help prevent it from collecting any bacteria floating around the bathroom. The other purpose is to help your bathroom, specifically your countertop, stay organized. Toothbrush holders come in a wide variety of shapes, sizes, colors and finishes. The most traditional toothbrush holders sit on your countertop, but there are also holders that can be wall-mounted to clear up counter space.
What to Consider When Purchasing a Toothbrush Holder
​Size:​ Ideally, a toothbrush holder will be as compact as possible, because even if you have a large counter, it probably isn't necessary to have a chunky ordeal of a holder sitting there as an eyesore. Toothbrush holders are mostly designed for manual toothbrushes, but some can accommodate electric toothbrushes as well, you'll just need to check the dimensions to make sure that yours will fit.
​Capacity:​ The capacity of the toothbrush holder you should get will depend on how many people will be using it. Some holders have one big slot for one or more toothbrushes while others have individual slots. If you have a large family that shares one bathroom, a large capacity holder makes sense, but if it's just you, a small or single holder will do. Another thing to consider is your visitors. If you regularly have guests stay the night, you might need to accommodate their toothbrushes as well.
​Type:​ The most popular toothbrush holders sit on the countertop. You can also find ones that mount to the wall, which is a great solution for small spaces. Certain holders have a top with air vents, which can prevent all types of bacteria—including those from the toilet—from settling on your toothbrush. Completely closed toothbrush holders without airflow can promote bacterial growth, according to the American Dental Association (ADA). Some holders feature ultraviolet sanitization capabilities that hold your toothbrush in place while zapping bacteria.
​Material:​ Your best bet is to get a toothbrush holder that's easy to clean, doesn't trap water, and won't rust, like porcelain, bamboo or stainless steel. Stainless steel will offer the best durability, and if it gets knocked over or dropped on the ground, it won't break. Plastic is an inexpensive option that's easy to clean and lightweight, but it can easily break if dropped or knocked over—something that probably happens most often in tight spaces.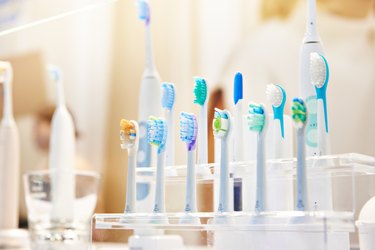 The Best Multi-Functional Toothbrush Holder
Simple Houseware Multi-Functional Toothbrush Holder
There are six slots in this metal toothbrush holder—four for toothbrushes, one for toothpaste, and a larger slot for miscellaneous items like a razor or lotion. You can even use the larger slots for electric toothbrushes. Its modern design features sturdy, chrome-finished steel balls for a raised base. The company offers a freestanding holder or one for wall-mounting that utilizes adhesive stickers and hooks.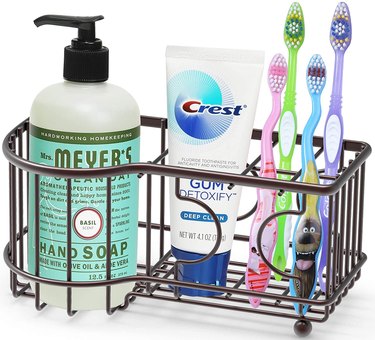 The Best Toothbrush Holders for Kids
Prince Lionheart EyeSmile Toothbrush and Toothpaste Holder
If it's a task to get your kids to brush their teeth twice a day, maybe this little guy will help make things more fun. It might even encourage them to put their toothbrush and toothpaste away, too. This cute monster can hold up to three toothbrushes and one tube of toothpaste. Certain electric toothbrushes will fit, but it might be tight depending on the width. A suction base sticks to most surfaces, and the holder is dishwasher safe. Choose from four fun colors: berry blue, flashbulb fuchsia, galactic gray and green.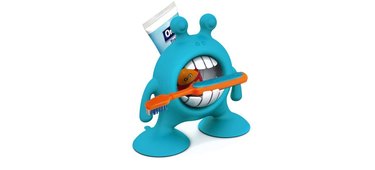 The Best Toothbrush Holder for Families
Ulg High Capacity Toothbrush Holder and Organizer
If your family shares one bathroom, this toothbrush holder is an ideal purchase. With a whopping seven slots, it can hold five toothbrushes—three regular-sized toothbrushes in the smaller slots and two electric toothbrushes (if needed) in the bigger slots. There are two extra-large slots that can hold other items like toothpaste, soap, face wash, hand sanitizer, etc. The stainless steel holder is slip and rust-resistant and is open on the bottom so it doesn't accumulate water. It comes in two color options: silver or black.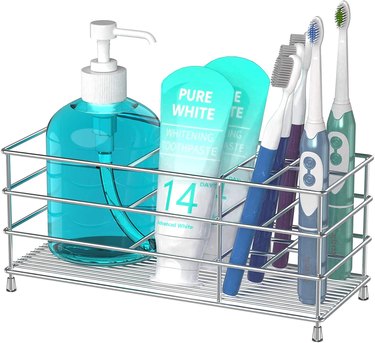 The Best Toothbrush Holder for Travel
Ucec Travel Toothbrush Case and Holder, 2-Pack
Three toothbrushes and a tube of toothpaste can fit in this travel holder. It comes as a 2-pack, so technically you don't ​have​ to share with your family, but that's a possibility if you're trying to pack light. The holder can be disassembled to be used as two cups for rinsing or as an upright holder, which is ideal for camping or any travel situation where you'll be sharing a bathroom and really don't want your toothbrush sitting on the counter. It has a large capacity, but the company notes that not all electric toothbrushes will fit.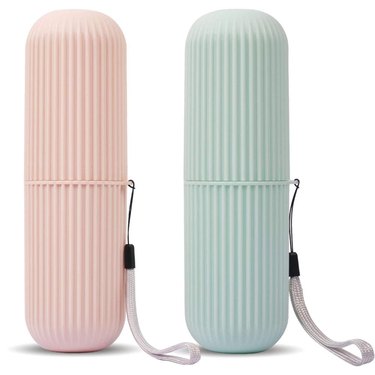 The Best Sanitizing Toothbrush Holder
Tao Clean UV Sanitizing Toothbrush Holder
Whether you have a manual toothbrush or an electric toothbrush, this travel-friendly, UV-sanitizing station can accommodate both. To use the battery-operated device, open the UV sanitizer door and place your toothbrush bristle-side down, facing the door. Clamp the door shut and the sanitization cycle will begin. The powerful UVC rays kill 99.9% of germs in just four minutes. While sanitizing is in progress, a blue light turns on, although it will eventually turn off to let you know that the cycle is complete.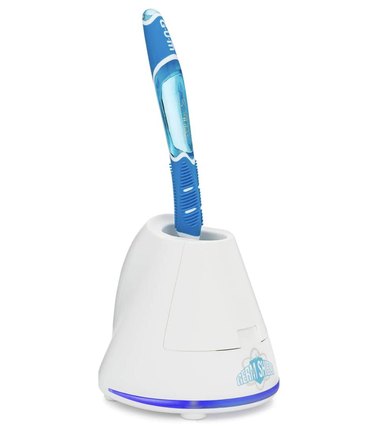 The Best Wall-Mounted Toothbrush Holder
The best way to clear up some space on your bathroom counter is to mount a toothbrush holder to the wall. This one is super easy to install—simply press the adhesive strip firmly against the wall and let it adhere for two hours before use. A toothbrush cup covers a hook where the toothbrush hangs. It has holes for ventilation and can be removed for easy cleaning. The ABS plastic is thick and translucent and BPA-free. The top of the holder has space to hold toothpaste, a hairbrush, or whatever small items you want accessible.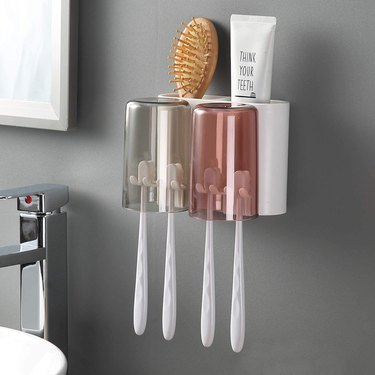 The Best Toothbrush Holder for Small Spaces
iDesign InterDesign Toothbrush Holder
This toothbrush holder is compact, but it can hold up to four manual toothbrushes or small electric toothbrushes. The durable holder has a white ceramic base and a rust-resistant chrome stand. It's easy to clean and blends in nicely with any bathroom decor.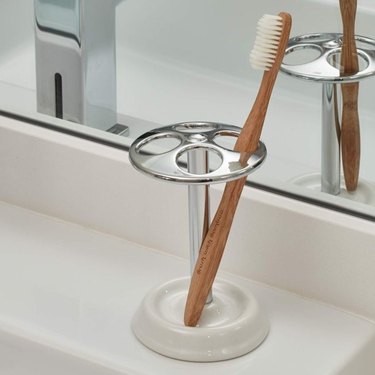 The Best Eco-Friendly Toothbrush Holder
Nu Bamboo Toothbrush Holder
This bamboo and steel toothbrush holder will bring a natural vibe to your bathroom decor. It's durable, chic and eco-friendly, as bamboo is a sustainable material. To clean, simply wipe it with a damp cloth. Pair it with Nu's other bamboo and steel accessories to complete the look.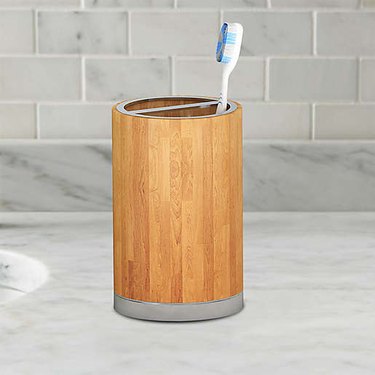 The Best Design-Forward Toothbrush Holder
mDesign DecorativeToothbrush and Toothpaste Stand
Who says toothbrush holders can't be fashionable? Check out this modern rose gold beauty from mDesign. It can hold up to four toothbrushes and a larger item like toothpaste. The holder has separators on the bottom to keep the toothbrushes in place. Made of durable BPA- and chlorine-free plastic, this holder can be cleaned with mild soap and water.