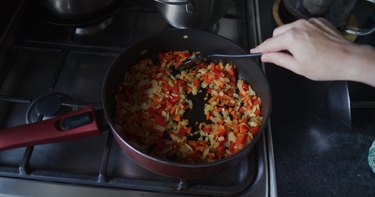 Sauté pans differ from frying pans or skillets in that they have straight sides rather than flared sides, and they're deeper and come with a lid. They're a convenient middle ground between frying pans or skillets that are too shallow for some purposes, and stockpots or Dutch ovens that are too big and cumbersome for some uses and limit your ability to stir and cook all your food directly on the bottom of the pan.
This helpful cookware is versatile enough to handle all sorts of cooking tasks, like searing, frying, braising, simmering, baking, roasting and—obviously—sautéing. But with so many widely varied products on the market, choosing the right sauté pan for your needs and preferences can be tricky.
What to Consider When Purchasing a Sauté Pan
​Material:​ Nonstick aluminum and more durable hard-anodized aluminum are generally the lowest-priced sauté pans. They're great at preventing food from sticking—even without adding much fat to the pan—and a breeze to clean. However, they're best suited to lighter cooking over low and medium heat, and they don't always do well with searing and browning. Also, they tend not to last as long as other materials.
Ceramic-coated sauté pans are another easy-to-clean nonstick material, sturdier and more durable than nonstick aluminum and hard-anodized aluminum. They handle higher heat and do better with higher-heat cooking techniques. They do cost more, though.
Stainless steel sauté pans are usually higher priced and not as reliably nonstick, but they handle higher heat and are better for tasks like searing and browning. They're also longer lasting. This material makes for good all-purpose cookware.
Enameled cast-iron is an excellent material for most cooking methods. It has high heat tolerance and holds the heat very well. This cookware can last a lifetime—and it's usually priced accordingly—if you protect it from cracks and chips in the enamel coating.
Sauté pans with a copper core are another option worth considering if you're a serious cook willing to pay top dollar for cookware. You get exceptional heat conduction and temperature control for more delicate cooking tasks because the material heats and cools quickly.
​Size:​ Sauté pans typically range from 3 to 5 quarts. The smaller ones are adequate if you cook for one or two, while mid-sized ones are better if you cook for a small family, and the larger ones are for people who cook for larger groups or who want a pan that can handle things like a large roast and shallow frying.
​Oven Safety:​ It's convenient to be able to move your sauté pan from the stovetop into the oven, usually to finish cooking after an initial browning. Different materials have different heat tolerance thresholds, and not all cookware (particularly nonstick aluminum) is oven-safe.
​Price:​ Sauté pans range from about $25 to several hundred dollars. The material is a significant factor in the price. While more expensive ones tend to last longer, be more versatile and have a higher-end appearance, you can certainly get a quality sauté pan at the lower end of the price range if you're shopping with a tight kitchenware budget.
These are the most important considerations to look at when choosing a sauté pan. Think about how you'll use yours, and it shouldn't be too hard to find the right cookware for your needs and preferences.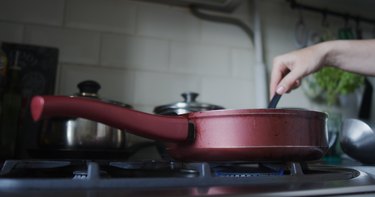 The Best Overall Sauté Pan
Rachael Ray Brights Hard-Anodized Nonstick Sauté Pan
This is a versatile, moderately priced sauté pan (though it's on the pricier side for its material). Unlike most sauté pans, this one is oval-shaped like many Dutch ovens. This, combined with its 5-quart capacity, means it can handle larger and longer cuts of meat, poultry and fish. It's made from nonstick hard-anodized aluminum, distributing heat well and cooking evenly, and the nonstick surface lives up to the name. The riveted rubber handle and helper handle are comfortable and don't get hot during use. Both the pan and shatter-resistant glass lid are dishwasher-safe and oven-safe up to 350 degrees Fahrenheit.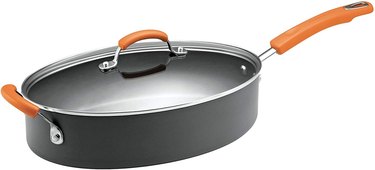 The Best Stainless Steel Sauté Pan
All-Clad Stainless Steel Tri-Ply Bonded Sauté Pan
If you're going to spend more for a stainless steel sauté pan, and a 3-quart product suffices, this is a great pick. It's a beautiful piece of cookware with a high-end look, but it's also very functional. Its 3-ply bonded construction means it heats quickly and reliably distributes the heat evenly. This sauté pan is oven- and broiler-safe up to an impressive 600 degrees Fahrenheit, and it's also compatible with induction cooktops. While the pan and lid are dishwasher-safe, it's recommended that you hand wash them to keep them looking great over their lifetime, which you can expect to last long with this durable, high-quality cookware.

The Best Nonstick Sauté Pan
Calphalon Classic Hard-Anodized Nonstick Sauté Pan
If you prefer a nonstick sauté pan, this one is as durable and reliable as they come. The performance is top-notch as far as even heating and cooking—you won't struggle with hot spots while using this pan—and the effectiveness of the double-layered, PFOA-free nonstick surface. At 5 quarts, it's big enough for anything you'd want to use it for, and its stainless steel handle stays cool during use on the stovetop. Also, this pan is oven-safe up to 450 degrees Fahrenheit (without the tempered glass lid, which is not oven-safe); that's 100 degrees higher than most oven-safe nonstick cookware.

The Best Ceramic Sauté Pan
Food52 x GreenPan Nonstick Sauté Pan
If the cooking and cleaning ease of nonstick is a priority for you, but you want something more durable and versatile than an aluminum sauté pan, here's a perfect option, created in partnership between GreenPan and Food52. At 4 quarts, it offers midsize capacity. The scratch-resistant surface can handle metal cooking utensils (never a good idea to use with nonstick aluminum cookware). This heavy-duty pan is oven-safe up to 600 degrees Fahrenheit, you can use it on an induction cooktop and it's dishwasher-safe. The pan features an attractive brass-finished stainless steel handle for a unique look, too.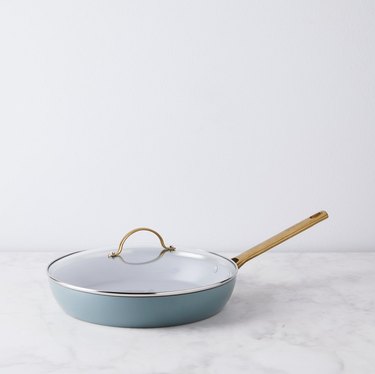 The Best Enameled Cast-Iron Sauté Pan
Le Creuset Signature Enameled Cast-Iron Deep Sauté Pan
Admittedly, this is about as much as you can spend on a sauté pan. But a high-quality enamel-coated cast-iron pan like this will last a lifetime, assuming it doesn't crack or chip in an important spot due to mishandling or a mishap. You can use this with great success for a wide range of cooking methods, it's oven- and broiler-safe up to 500 degrees Fahrenheit, it's compatible with induction cooktops and it provides unmatched heat retention. At 4.25 quarts, it's a midsize piece, but it's a bit deeper than standard sauté pans, making it great for slow cooking and other techniques. This cookware has the classic, elegant look that Le Creuset is known for, and the coating is stain-resistant and protected against fading. And because it's pre-seasoned, it's nonstick and ready to go right away. While it's dishwasher-safe, it's smarter to stick with hand washing to protect this investment cookware.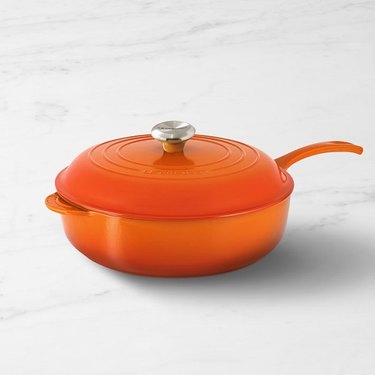 The Best Budget Sauté Pan
T-fal Specialty Nonstick Jumbo Cooker Sauté Pan
T-fal is well known for its very affordable, quality nonstick cookware. This hard-anodized piece is a great starter sauté pan, with a reliable nonstick coating and even heating. The Thermo-Spot indicator is another feature that makes it great for beginners; the ring around the 'T' in the center of the pan's interior turns solid red when the pan is properly preheated. The ergonomic handle with a thumb indent is comfortable to use and facilitates the handling of the pan and its contents. It's oven-safe up to 350 degrees Fahrenheit, even with the lid, and it's also dishwasher-safe. And, at 5 quarts, you're not sacrificing any size for the savings.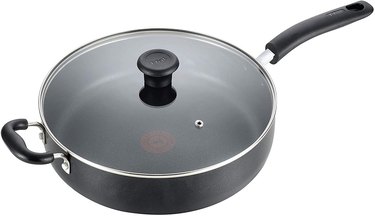 The Best High-End Sauté Pan
All-Clad Copper Core 5-Ply Bonded Sauté Pan
For a gorgeous, high-end product that delivers performance even surpassing its appearance, go with this sauté pan from All-Clad, a beloved name in upscale cookware. Its copper core provides superior heat conductivity and rapid heating and cooling, allowing for exceptional temperature control for more delicate foods and cooking techniques. Meanwhile, its stainless steel exterior means the pan is nonreactive (unlike bare copper cookware) and well protected. The piece is oven- and broiler-safe up to 600 degrees Fahrenheit, and it's also optimized for use on induction cooktops. With a 5-quart capacity, it's a full-sized sauté pan, and is notably sturdy and hefty. You can count on this pan to last.