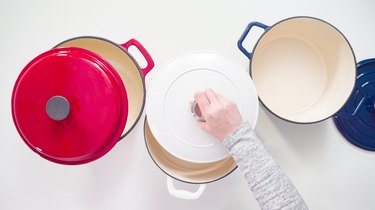 Given their ample size, sturdy construction and incredible versatility—they'll boil, simmer, braise, bake, roast, sear, deep fry and more—every home cook should have a Dutch oven. With nearly endless possibilities, like making stews and casseroles, roasting whole chickens, braising tough cuts of meat, cooking rice, baking bread, and on and on, your Dutch oven will quickly become an essential kitchen tool. It's the original multicooker, and it can replace a number of other cooking implements if you have minimal storage space or are just looking to cut back on kitchen clutter.
But with so many to choose from at such drastically different prices, it can be tough deciding which Dutch oven is best for your needs and preferences.
What to Consider When Purchasing a Dutch Oven
​Material:​ Dutch ovens come in several common materials. Enamel-coated cast-iron is widely considered the best, and so it tends to be a bit pricier. It's also heavy, with enameled cast-iron Dutch ovens often weighing about 11 to 15 pounds without food. Bare cast-iron is a traditional option, and it's good for camping. While it works well, it has special care and cleaning requirements that make it more inconvenient than other options (though most now come pre-seasoned, eliminating another inconvenience). Stainless steel Dutch ovens are lighter than cast-iron, but as a trade-off, they don't retain heat as well, making them less suited to some cooking tasks. Nonstick-coated aluminum is an even lighter, lower-cost option, though it also doesn't retain heat as well and it's less durable than alternatives. And there's ceramic—it's light and easy to clean, but more fragile than other materials. It's also prone to chips and cracks, which isn't ideal for a heavily used cooking tool.
​Size:​ Generally, a 5 to 6-quart Dutch oven is adequate for most home uses. They're available in smaller sizes—even 1 quart—if you only cook minimal quantities and don't have much storage space, but little ones are obviously limited. If you routinely cook for more than four or five people, go bigger with a 7-quart Dutch oven, or one that's even larger.
​Shape:​ Dutch ovens are either oval or round. The only practical difference is that oval-shaped Dutch ovens better accommodate whole chickens and other large cuts of meat and poultry. Of course, a big enough round one can also accommodate these foods. Also, note whether the sides are straight or slightly sloped. Again, either works well. However, Dutch ovens with sloping sides typically have a smaller base, which means less cooking surface for tasks like browning. On the other hand, food is less likely to get stuck in the corners with sloping sides.
​Price:​ As is pretty much always the case with cooking tools, prices for Dutch ovens range considerably. More budget-friendly, standard-size products tend to fall between $40 and $75, while high-end models retail up to several hundred dollars. If you want to spring for a more expensive Dutch oven, you can get a beautiful one that performs its many cooking tasks exceptionally well—but you can certainly get a great one at the lower end of the price range, too.
These considerations will help you settle on the right Dutch oven for you.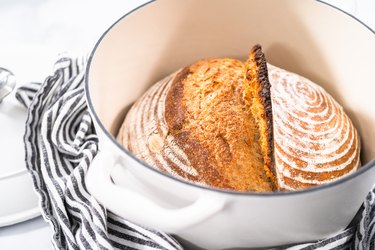 The Best Overall Dutch Oven
Lodge Enameled Cast-Iron Dutch Oven
Enamel-coated cast-iron is the gold standard for Dutch ovens, offering the exceptional heat retention of cast-iron and the much easier care and cleanup of enamel, as well as its nonreactive properties (remember, bare cast-iron is reactive). Lodge is the oldest American manufacturer of cast-iron cookware—at it since 1896—and one of the most trusted brands for it. Their enameled cast-iron Dutch oven works like a charm and is available at a great price point for its category. And at 6 quarts, this one has enough capacity to cook fairly large batches.
This Dutch oven heats up relatively quickly, reliably holds the heat and cooks food evenly, has a tight-fitting lid for superior moisture and heat retention during cooking, and it's oven-safe up to 500 degrees Fahrenheit. Weighing in at nearly 15 pounds, it's on the heavy side, but its large, secure handles facilitate maneuvering. This item is dishwasher safe (though the manufacturer recommends hand washing to reduce the risk of chips in the enamel), and it comes in an extensive array of exterior colors, too.
​Manufacturer:​ Lodge
​Material:​ Enameled cast-iron
​Size:​ 6-qt.
​Weight:​ 14.88 lbs.
The Best Enameled Dutch Oven
Le Creuset Signature Round Dutch Oven
If you're willing to shell out for one of the pricier enamel-coated cast-iron Dutch ovens on the market, turn to Le Creuset. It's one of the best-known and most-loved manufacturers of high-end cookware. This elegant product cooks wonderfully no matter which task you use it for or what type of food you prepare in it. It retains and distributes heat as well as any Dutch oven out there, cooking evenly without any hot spots.
Thanks to its vitrified porcelain enamel coating, cleanup is easy with this Dutch oven, and it resists stains, scratches and chips particularly well. Like all Le Creuset cookware, it's built to last, and you can expect it to last for decades with proper care—as you would hope with its price tag. It has considerable heft, but also some of the roomiest, most comfortable handles you'll find on any Dutch oven. You also have a few dozen colors to choose from, so it's easy to find one you love the look of and that fits right in with your kitchen décor.
​Manufacturer:​ Le Creuset
​Material:​ Enameled cast-iron
​Size:​ 5.5-qt.
​Weight:​ 13.17 lbs.
The Best Cast-Iron Dutch Oven
Lodge Cast-Iron Dutch Oven
If you want a cast-iron Dutch oven, go with this one from Lodge, the most famous manufacturer of cast-iron skillets in the US. A bare cast-iron Dutch oven has more limited use than an enameled one, as its reactive surface makes it poorly suited to acidic foods. However, it's great for campers, as it can go right on a grill or campfire (which an enameled one cannot). And it's about as low-priced as Dutch ovens get, so it's not so scary taking it into the woods. It's also a good pick for people who like that distinct flavor imparted by cast-iron pots and pans.
Like most cast-iron cookware available today, this item is pre-seasoned with 100 percent vegetable oil. It does benefit from the increased seasoning that comes with use, though. The 5-quart version is highlighted here, as this is adequate for most at-home uses; it comes in a few other sizes too, including 7 quarts for those who need more cooking capacity. Remember that cast-iron cookware requires specialized care and cleaning.
​Manufacturer:​ Lodge
​Material:​ Cast-iron
​Size:​ 5-qt.
​Weight:​ 12.78 lbs.
The Best Nonstick Aluminum Dutch Oven
Caraway Ceramic Nonstick Aluminum Dutch Oven
If ease of cleanup is a priority for your Dutch oven, you'll love the Teflon-free ceramic nonstick coating on this product. While it won't hold heat quite like a cast-iron (bare or enameled) one will, this oven- and stovetop-safe aluminum-core Dutch oven is safe up to 550 degrees Fahrenheit and still does an excellent job holding heat, distributing it and cooking food evenly—and a bit more quickly than cast-iron. Also, if you don't like the heft of more traditional Dutch ovens, this one is a lightweight option at only 6 pounds. But you're not sacrificing size; the 6.5-quart capacity is on the large side, and its secure stainless steel handles are helpful for moving and maneuvering it.
​Manufacturer:​ Caraway
​Material:​ Aluminum core; nonstick ceramic coating
​Size:​ 6.5-qt.
​Weight:​ 6.1 lbs.