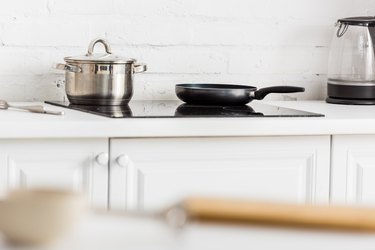 If you've had much experience with frying pans, you've probably found that many of them are great for certain uses, but not so hot for others. And you've undoubtedly been disappointed by nonstick promises along the way.
This is mostly because different cookware materials are better for different uses. Of course, the quality of the pan matters too. So, let's look at some of the best frying pans of various common materials. We'll stick to large frying pans (10 to 12 inches) here, but you can often buy smaller sizes of a frying pan you have your eye on or full sets.
What to Consider When Purchasing a Frying Pan
While you'll consider factors like size and price, these things are fairly self-explanatory (remember, it's better to use too big a pan than too small a pan, as crowded food partially steams, which can negatively affect the texture and prevent browning).
The main consideration when buying a frying pan is which material to get. There's no single frying pan that's perfect for every use. Serious cooks benefit from owning a few different types of cookware. Here are some general guidelines about common skillet materials:
​Nonstick Frying Pans:​ These are well-suited to lighter uses with foods that tend to stick (e.g. eggs, pancakes, fish), and they let you cook with little to no added fat. Usually made from aluminum, they tend to be cheaper, lightweight and easy to clean, but also less durable and not as long-lasting as other materials. They're not for use over high heat and not great for searing and browning.
​Stainless Steel Frying Pans:​ These are some of the best all-purpose cookware. They're great for heavier uses and higher heat—particularly searing. Also, they're oven safe for foods you brown on the stove and cook through in the oven, like thicker cuts of meat. Stainless steel is durable and it holds and distributes heat well. However, you need to coat the bottom with fat or nonstick spray, but foods may still stick (which can require some cleanup work).
​Cast-Iron Frying Pans:​ These are hefty, durable, long-lasting, and able to take high heat on the stove and in the oven. They hold heat well and are great for searing, deep-frying, baking certain foods and more. It takes a while to bring them up to heat, though, and for them to cool down. Most today come pre-seasoned, and they become increasingly more nonstick over time with use. These skillets require special care and cleaning, and because they're reactive, they're not for use with acidic foods. Campers like cast-iron because you can put it on a grill or campfire.
​Enameled Cast-Iron Frying Pans:​ These have most of the benefits of regular cast-iron, but they're easier to clean and care for, plus they're non-reactive. You also get more color choices, and they have a high-end look. However, unlike bare cast-iron, enamel-coated pans are susceptible to cracks and chips, and you can't put them on a grill or fire. These pans are great for many uses, but they tend to be pricier than most other materials.
​Carbon Steel Frying Pans:​ These have similar pros and cons to cast-iron skillets, but they're considerably thinner and lighter, they heat and cool quicker for more temperature control, and they also usually cost a little bit more. Like cast-iron, they're made from a carbon and steel alloy, but in a different ratio. These also need to be seasoned and have special care and cleaning needs, but again, most available today come pre-seasoned.
​Copper Frying Pans:​ These are among the most expensive, but for serious cooks, they're worth the investment. They have superior heat conductivity, heat and cool quickly, and are excellent for delicate uses calling for maximum temperature control, like cooking fish and other seafood, preparing sauces, melting sugar and making candy. Copper pans can go into the oven, but not at temperatures quite as high as stainless steel or cast-iron (most copper cookware manufacturers recommend a maximum oven temperature of 450 degrees Fahrenheit). Copper cookware is reactive, so it's not for use with acidic foods.
So, if you're only purchasing one type of pan at the moment, consider which material is best suited to the type of cooking you do most.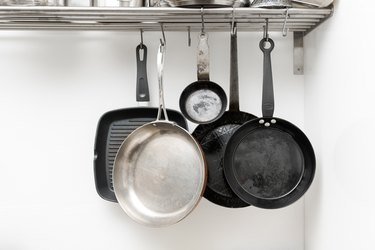 The Best Nonstick Frying Pan
Tramontina Professional Nonstick Restaurant Fry Pan
Between its high quality and low price, this 10-inch nonstick-coated aluminum frying pan is hard to pass up. It has more heft, durability, and a longer, sturdier handle (stainless steel) than you typically get with nonstick pans anywhere near this price point. This pan also heats and cooks evenly, which isn't always a given with budget-friendly nonstick cookware. It's compatible with electric, gas and ceramic glass stovetops (but not induction cooktops), and—unlike many nonstick frying pans—it's oven safe up to 500 degrees Fahrenheit. Plus, it's dishwasher safe. The nonstick coating isn't PFOA/Teflon, eliminating concerns about toxins being released into your food or kitchen atmosphere. And, as an added bonus, even at this low cost, it comes with a removable silicone hot handle cover.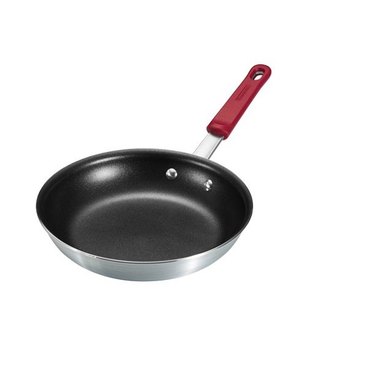 The Best Stainless Steel Frying Pan
All-Clad Tri-Ply Stainless Steel Fry Pan with Lid
This elegant, durable, professional-quality stainless steel frying pan looks and works great, justifying the price; the fact that it comes with a stainless steel lid helps, too. It's compatible with all stovetops, including induction cooktops, and it's oven and broiler safe up to 600 degrees Fahrenheit. The aluminum core and stainless steel coating heat and cook quite evenly. The well-flared sides make tossing, flipping and stirring easy, while the 12-inch diameter provides plenty of room in the pan (you can also buy a 14-inch version if you cook extra-large cuts or portions). There's a polished starburst pattern on the interior bottom that helps prevent sticking, too. It's easy to clean and dishwasher safe.

The Best Cast-Iron Frying Pan
Lodge 12-Inch Cast-Iron Skillet
Lodge is the oldest and most famous manufacturer of cast-iron cookware in the U.S., known for high-quality, long-lasting products at affordable prices. Weighing 6.5 pounds, this pan isn't exactly light, but it's not particularly heavy for this material either. And, at 12 inches, it's big enough for any standard uses. It comes pre-seasoned with all-natural vegetable oil, and includes a convenient silicone cover for the handle (which can get hot). The sloped sides facilitate thorough stirring, which isn't always easy with cast-iron pans. The ample helper handle also assists with carrying and moving the hefty pan around.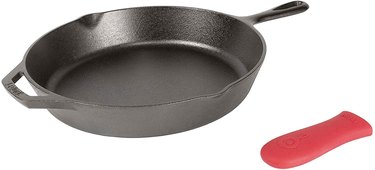 The Best Enameled Cast-Iron Frying Pan
Le Creuset Enameled Signature Iron Handle Skillet
If you're willing to pay more for a high-end frying pan, this versatile 10.25-inch pan is a great pick. It offers all the benefits of enameled cast-iron from one of the most beloved names in upscale cookware. With effective nonstick capabilities, it's pleasant to work with, and it's even dishwasher safe (though it's preferable to hand wash enameled cookware to reduce the risk of cracks and chips). One particularly nice feature is the relatively wide, deep pour spouts on the sides, which help prevent the dribbling you commonly get when pouring oil out of these types of pans. The short handle and roomy helper handle facilitate easy moving and maneuvering.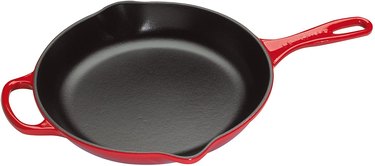 The Best Carbon Steel Frying Pan
Lodge Carbon Steel Skillet
Another from America's oldest, best-known manufacturer of cast-iron cookware, this 12-inch carbon steel alternative is an excellent piece of cookware. It has a similar performance to Lodge's cast-iron skillets, but it's much thinner and weighs about half as much at around 3.5 pounds. Count on it to heat faster but still hold and distribute the heat very well. It's also safe for use on any heat source other than a microwave. The skillet comes pre-seasoned with vegetable oil, though its nonstick qualities benefit from continued use and seasoning. Like cast-iron, carbon steel cookware is susceptible to rust, so clean it without water or use water minimally and dry the pan thoroughly right away. This piece can last a lifetime with proper care.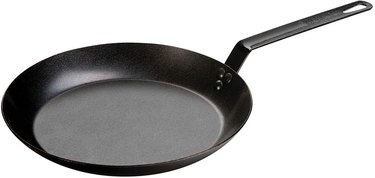 The Best Copper Frying Pan
Mauviel M'Heritage M250C Copper Frying Pan
For serious cooks, there's no replacement for copper pans when it comes to the more delicate procedures. Manufacturer Mauviel has been supplying professional French kitchens with copper cookware since 1830. This thick copper frying pan offers unrivaled heat conductivity and exceptional temperature responsiveness and control. At its price point, it's a significant investment, but this 10.2-inch frying pan has the quality and durability to last a lifetime—and be passed down to the next generation. It also has a gorgeous finish and upscale look that fits right in with any high-end kitchen (keep in mind that copper does need to be polished periodically to maintain its shine). You get amazing heat tolerance with this product too, which is oven safe up to 680 degrees Fahrenheit.