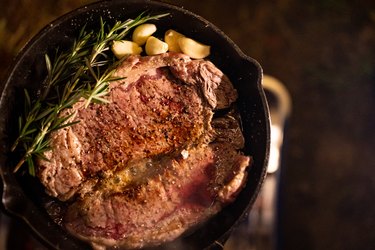 Cast-iron skillets are an essential kitchen item for any home cook. They hold heat so well, they develop an increasingly more effective nonstick surface over time, and they last a lifetime—provided you know how to clean and care for them. These versatile pans give you a beautiful sear and an even cook, and you can use them on the stovetop or the grill, and in the oven to roast or bake.
While the classic image of a cast-iron skillet is a heavy black pan that requires some upfront effort to season, today's selection is a bit more diverse. Cast-iron pans come in all shapes, sizes and weights—even lightweight—and most of the ones sold today are pre-seasoned. Also, enameled cast-iron cookware has introduced all sorts of fun colors.
What to Consider When Purchasing a Cast-Iron Skillet
​Size:​ Cast-iron skillets come in all the standard sizes, from 6 inches to 12 inches in diameter. You can get them bigger and smaller, but those outliers aren't too practical for home cooks. Consider how much food you generally prepare. It's usually better to use a skillet that's too big, as food partially steams in an overcrowded pan, which can prevent browning and negatively affect textures. But if the skillet is bigger than your burner, you may get uneven heating and cooking. Also, if you'll be baking in your cast-iron skillet, it's helpful to use the size (and depth) specified in the recipe for an accurate sense of the cooking time and, in some cases, to end up with even cooking and proper textures.
​Weight:​ We've managed to engineer cast-iron skillets that retain heat well but aren't quite as heavy as traditional ones. But if you're a traditionalist and like that classic heft, by all means, buy a heavy pan. Having lighter options is nice, though, for those who may have difficulty with heavier ones. A large cast-iron skillet can weigh 10 pounds or more, and if you add in food and a lid, the load can certainly be cumbersome for some people. If you are buying a heavier skillet, look for one with a relatively short handle and a U-shaped helper handle, as these make it more manageable.
​Bare or Enameled:​ Decide whether you want bare cast iron or enamel-coated cast iron. Enameled cast iron tends to cost more, it's more likely to crack or chip, it gradually loses its nonstick quality over time (rather than improving with use over time, as bare cast iron does), and it can't heat quite as high as bare cast iron—but it does get hot enough for any standard at-home uses. Some of the main benefits of enameled cast iron are that it protects the underlying material from rust, it's easier to clean and care for, it's a nonreactive surface so you can use it for acidic food you can't prepare in bare cast iron and it doesn't require seasoning. Oh, and you get more color options than black.
​Pre-Seasoned or Unseasoned:​ As mentioned, most cast-iron cookware sold today is pre-seasoned. If you enjoy the extra time and effort needed to season your skillet—perhaps as a bonding activity between the two of you—opt for an unseasoned piece. And some purists claim you get better results doing it yourself than with a factory-seasoned pan. But if you don't have strong feelings on the subject, a pre-seasoned cast-iron skillet is a convenient purchase. It's worth noting, however, that even pre-seasoned cast-iron cookware benefits from additional seasoning.
​Price:​ Cast-iron cookware has a reputation for being expensive. And it definitely can be. But today, there are plenty of affordable pieces that deliver the same quality and durability. While you can still spend a few hundred dollars on a single cast-iron skillet, more budget-friendly options in the lower double digits are readily available. If you want top-of-the-line cookware, you'll spend more, but don't think you have to spring for one of the most expensive cast-iron skillets to get a great piece of cookware that offers all the benefits of this sought-after material.
These considerations will help you hone in on the right cast-iron skillet for your needs and preferences.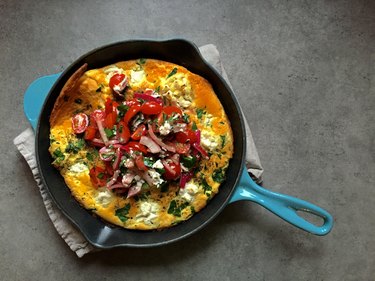 The Best Overall Cast-Iron Skillet
Lodge 12-Inch Cast Iron Skillet
Lodge is probably the best-known American manufacturer of cast-iron cookware. It's the oldest too, at it since 1896. With a reputation for high-quality cast-iron cookware at relatively low prices, the brand has long been a go-to for home and professional cooks. This large 12-inch pan offers all the benefits of a well-made cast-iron skillet and enough capacity for standard at-home uses at an affordable price. It weighs 6.5 pounds—not lightweight, but not unduly hefty, either. The somewhat low sloped sides facilitate stirring and other manipulation of your food, but it eliminates some depth you get with a standard Lodge model and many others, making this piece less than ideal for deep frying.
The skillet is conveniently pre-seasoned with 100 percent natural vegetable oil. It has a short handle and an ample helper handle for better maneuverability, and it comes with a red silicone hot handle cover. While many cast-iron skillets these days claim to have a stay-cool handle, keep in mind that no cast-iron handles actually stay cool indefinitely with continuing heat exposure. So, this handle cover is an accessory that's easy to appreciate.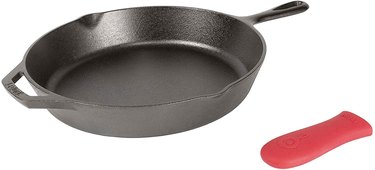 The Best Enameled Cast-Iron Skillet
Le Creuset Enameled Signature Iron Handle Skillet
If you want a high-end enameled cast-iron skillet, this is a great pick from a highly regarded name in cast-iron cookware. Thanks to the enamel coating, you get a lot more color options for the exterior; the interior is coated in black enamel. While most pre-seasoned cast-iron pieces can still use more seasoning after they leave the manufacturer, this one is notably nonstick from the first use. And this skillet is dishwasher safe, making cleaning and care so much easier than with other cast-iron products (especially those that aren't coated in enamel). The short handle and large helper handle are useful for moving the pan around, and the pour spouts are a bit wider and deeper than many others, helping to prevent dripping when pouring out oil.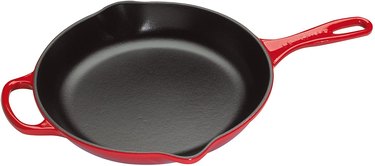 The Best Lightweight Cast-Iron Skillet
Lodge Blacklock Triple Seasoned Cast Iron Skillet
Lodge, the classic manufacturer of cast-iron cookware, makes this traditional-looking piece to remain competitive with newer-generation products that tend to be lighter. The 10.25-inch lightweight pan weighs in at only 4 pounds, 2 ounces; that's 1 pound, 6 ounces lighter than Lodge's standard cast-iron skillet of the same size. It may not sound like much, but it makes a significant difference. And the pan's performance—particularly where heat retention is concerned—doesn't suffer due to the lower mass. It's triple pre-seasoned to be ready for use right out of the box, and it's OK to clean it with a little soap and water if you need to, but make sure you dry it thoroughly right away.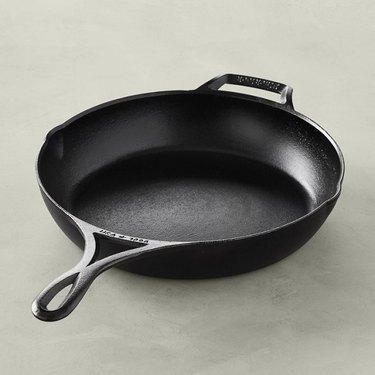 The Best Budget-Friendly Cast-Iron Skillet
Victoria 10-Inch Cast Iron Skillet
This is a high-performing piece of cookware at about as low a price point as you'll pay for a cast-iron skillet. At 10 inches in diameter and deep enough to deep fry in, you're not sacrificing size for savings, either. It's relatively lightweight, too, at only 4.8 pounds. The deep, wide pour spouts are a nice feature, preventing the dripping that's so common when pouring out oil from many cast-iron pans. The handle is on the longer side, which can be a hindrance with heavier pieces, but it's a helpful touch on a lightweight one like this. And even though it's a budget option, it still comes with the convenience of being pre-seasoned with 100 percent non-GMO flaxseed oil.
The Best Cast-Iron Skillet for Campers
Ozark Trail 4-Piece Cast Iron Skillet Set
Cast-iron cookware is a favored accessory for camping enthusiasts because it's great to use over a campfire or grill. But it can be heavy to carry, and not everyone's crazy about the idea of taking expensive items into the wild. This set is a great solution, being lightweight and very affordable, with three pieces of cookware at a lower price than many single quality pans. There's a 10-inch cast-iron skillet weighing only 4.5 pounds. Plus, there's a 6-inch cast-iron skillet and an 11-inch cast-iron grill pan with a detachable handle for easier portability and storage. All three pieces are pre-seasoned with natural plant oil.