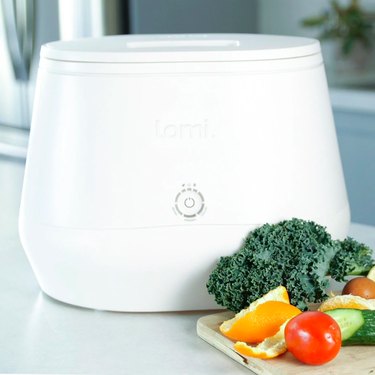 If you're familiar with traditional composting, you know that it's a slow process. It also takes up space in your yard and tends to smell bad. Even if you get a composting bin that keeps the worst odors at bay, the composting process still can take anywhere from four weeks to as much as a year. Fortunately, an electric composter (also known as a food recycler) solves some or even all of those problems.
The Advantages of Electric Composters
Nearly all electric composters use a three-part process of drying, grinding and cooling to make compost, which is highly effective and requires much less effort on your part. Electric composters offer several advantages over conventional composting methods:
‌They're fast:‌ Instead of taking weeks, most electric composters turn your food scraps into nutrient-rich compost in a matter of hours—often in half a day or less. Some slower-working models may take two weeks, but that's still much faster than traditional composting methods.
‌They're compact:‌ Electric composters usually have a pretty small footprint, typically taking up less than three square feet of space on your kitchen counter. Using an electric composter instead of a traditional compost pile can help you save space in your yard and keep it neat and clean.
‌They're versatile:‌ Electric composters aren't also known as food recyclers for nothing! They'll take pretty much anything—fruits, vegetables, meat, dairy, processed foods, egg shells and even some bones. Conversely, traditional compost piles or composting bins aren't as all-encompassing. Food recyclers are a great way to reduce food waste in your home.
‌They reduce or eliminate odors:‌ Electric composters largely eliminate odors using activated carbon filters. They also eliminate methane. While pure methane has no odor of its own, when combined with the sulfur compounds present in many of the foods you're probably composting, it can reek.
‌They eliminate methane:‌ Methane emissions also drive climate change. Compost piles and composting bins release methane into the atmosphere, which contributes to global warming. Electric composters, however, eliminate methane through their aeration process.
‌They reduce food waste:‌ Instead of throwing away food scraps that will eventually take up space in landfills (which are already overflowing), you can repurpose your food waste by turning it into fertilizer. The drying and grinding process of an electric composter already shrinks your food waste considerably, so even if you do end up occasionally throwing out a batch of compost, it makes a difference.
Whether you're experienced with composting or new to the concept, if you've got a home garden, investing in an electric composter can help your green thumb thrive. Have you botany new plants lately?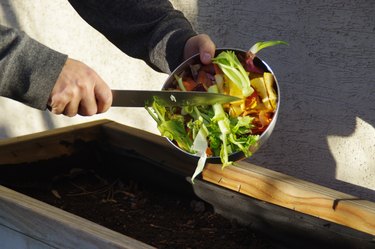 What to Consider When Purchasing an Electric Composter
‌Size:‌ While most electric composters are designed to be compact, if you plan on setting it on your kitchen countertop, how much space it takes up is worth considering. Many electric composters take up about as much space as an air fryer and have a footprint of less than 2.5 square feet, but some high-capacity models can be larger.
‌Amount of Time It Takes:‌ All electric composters will be considerably faster than a traditional compost pile or compost bin, but there is still some range in how quickly they work. Some models produce compost in as little as three hours, but some may take a couple of hours longer. A matter of hours likely won't affect your gardening plans, but keep in mind that some electric composters make noise while in operation, so being able to work quickly is a plus.
‌Capacity:‌ Most electric composters can process between 2 pounds and 5 pounds of food waste at a time, with an average of around 3 pounds. The ideal capacity mostly depends on how much food waste you produce and how much you want to compost at once.
‌Aeration System:‌ Look for an electric composter with an excellent aeration structure. It should provide sufficient room for your food scraps to turn and break down while releasing the gases.
‌Costs:‌ Electric food composters typically fall within the $300 to $700 price range, with some models even exceeding $700. More expensive doesn't necessarily mean better. Another thing to keep in mind is the potential cost of buying enzymes or additives, if needed.
With these considerations in mind, we've rounded up some of the best electric composters in 2022.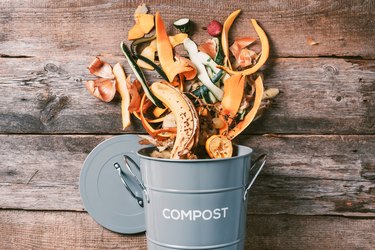 The Best Overall Electric Composter
The FoodCycler FC-50 is our top choice for its unbeatable mixture of convenience, versatility and value. Measuring just over 12 1/2 inches long, 11 inches wide and 14 1/5 inches tall, it takes up less than one square foot of your kitchen countertop. Despite its compact size, it boasts a 2-liter capacity (approximately 4.4 pounds) and cuts down the volume of food waste by up to 90%. It accepts all types of food waste, including meat, fish, eggs, dairy and bones so it will be easy to cut down on what goes into the trash.
It's also extremely easy to use. Simply pour in your food scraps, close the lid and press the power button—no enzymes or additives required. Plus, it's virtually odorless and noiseless, thanks to its carbon filter lid and quiet cycle. Its removable waste bucket and bucket lid are dishwasher-safe. Each composting cycle takes between 4 to 8 hours, so it may be a good idea to let it run overnight. Overall, the FoodCycler sets a high benchmark for its ease of use and affordability.
Other Great Electric Composters:
Pela Lomi Kitchen Composter
The Lomi kitchen composter uses new technology to not only break down food waste, but bioplastics as well. Whereas some electric composters mainly just dehydrate food waste, the Lomi composter offers several composting cycle lengths that create nutrient-rich compost.
The shortest cycle, called Eco-Express Mode, takes just four hours and reduces waste volume by up to 80%. It's perfect for when you simply want to get rid of food waste quickly. The mid-length cycle, called Lomi-Approved Mode, takes 10 hours and breaks down Lomi-approved bioplastics. The longest cycle, called Grow Mode, takes approximately 20 to 24 hours and produces nutrient-rich compost that is ready for gardening.
The Lomi composter accepts all types of food waste, including fruits, vegetables, meat and dairy, as well as Lomi-approved biodegradable products and yard waste. It can hold up to 3 liters (6.6 pounds) of food waste at a time and measures 16 inches long, 13 inches wide and 12 inches tall—small enough to sit on your kitchen counter. It's made from recycled plastics and metal and the waste bucket is dishwasher-safe.
beyondGREEN Electric Tumbler Composter
Another excellent choice is the beyondGREEN electric composter. It's a bit larger than the FoodCycler model, measuring 19 inches long, 11 inches wide and 19 inches tall, but still occupies less than 1.5 square feet. It takes considerably longer to produce compost than the FoodCycler (two weeks), but still produces results much more quickly than a compost pile or traditional compost bin, which can take months. One benefit you get in exchange for the longer processing time is that it's very quiet. How? Its motor turns on for only 15 minutes. The rest of the time, the composter uses heat to cure your food waste and turn it into compost.
The beyondGREEN electric composter is also versatile in that you're not limited to using traditional composting scraps like fruits and vegetables; it also composts meat, dairy, pet waste, biodegradable bags and yard waste. It can process up to 5 pounds of food and pet waste per day. It's constructed from waterproof polypropylene (PP), so you can even leave it outside after the motor turns off. For home gardeners who want to speed up their composting process but don't need the extremely quick results of the FoodCycler, this is a great option.
NutriCycle by NAGUALEP Home Food Waste Recycler
One of the best things about the NutriCycle composter from Nagualep is how quickly it works: It boasts a processing time of just one to five hours, averaging three hours. Considering that the mid-level or sole cycles on some other composter models on this list take roughly twice as long, that's no small feat. You'd think such a fast-acting electric composter would be a little noisier, but it's not—its running sound ranges from 40-45 decibels, so it's about as quiet as a public library.
In addition to being quiet and efficient, the NutriCycle composter uses space effectively, as it takes up less than one square foot of counter space and stands less than 16 inches tall. Despite its compact size, its large composting capacity of 2 1/2 liters is enough to manage the daily food waste of up to six people, so it's a great option for mid-sized households. Its proprietary high-temperature drying method reduces food waste by 80% and effectively evaporates the moisture in the food scraps, keeping odors and insects at bay. The package includes the composter itself, two activated carbon filters, a dishwasher-safe inner food barrel and an instruction manual.