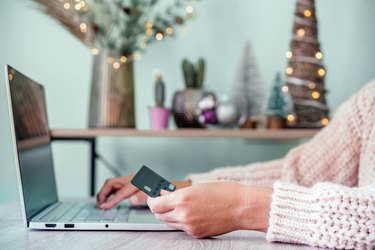 In true department store fashion, Nordstrom offers something for everyone. It's a one-stop shop for every person on your list, from your father-in-law, to your best friend and your beloved French bulldog. Nordstrom's impressive home section includes bath and bedding essentials, cookware, small appliances, electronics, home decor, pet accessories and more.
During the Black Friday sale, you can get many of these giftable items at a steep discount—up to 50% off. Here we've rounded up some of the best deals on home goods that you can score right now at Nordstrom. Act fast—the sale ends at midnight tonight.
1. 10-Inch & 12-Inch Hard Anodized Aluminum Nonstick Fry Pan Set by All-Clad
While they're not as Insta-worthy as the Our Place Always pan, the quality of All-Clad's nonstick fry pan set is leaps and bounds ahead of the competition. These hardworking, 10- and 12-inch pans have flat, stainless steel bases and curved edges, lending themselves to eggs, pancakes, scallops, grilled cheese and more. The set works across all heat sources and is oven safe up to 500° Farenheight. The three layers of nonstick coating are PFOA-free for added peace of mind. Both fry pans are dishwasher safe but hand-washing is recommended to extend the life of the nonstick coating. Thankfully, clean-up is a breeze and minimal scrubbing is required.
2. 2.5-Quart Stainless Steel Kettle by Viking
Best known for its luxury appliances, Viking also makes high-quality culinary products. This 2.5-quart stovetop kettle is as stylish as it is functional. Available in black and copper or rose gold, the stainless steel tea kettle features a tempered glass lid, a flip-up whistle and an ergonomic handle. The three-layer base has an aluminum core, bringing water to a boil in mere minutes using any heat source. Even the interior is made of surgical-grade stainless steel, so it's resistant to rust and easy to clean. Some purchasers have noted that the "stay-cool" handle is actually quite hot to the touch, so you might want to use a silicone or cotton handle cover for added safety.
3. 50s Retro Style Two-Slice Toaster by SMEG
SMEG appliances are statement pieces, and this retro-style toaster is no exception. Constructed out of powder-coated steel, the two slots are extra-wide to accommodate bagels, waffles and thick slices of toast. The stainless-steel crumb tray is removable for easy cleaning and there are six browning levels with three pre-set functions (reheat, defrost and bagel). It has 950 watts of power, as well as a built-in cord wrap to keep countertops clutter-free. To toast your treats, you simply push down on the chrome lever and they'll pop up automatically when the process is complete.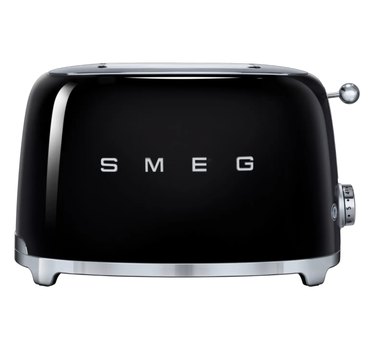 4. Chord Brass Incense Burner by Cinnamon Projects
Want to make your home look expensive? This Japanese-style incense burner is made from solid brass and touts a sculptural, minimalist design that's sure to impress. Measuring 6.5 inches long and 0.75 inches high, the channel prevents ash from scattering about. It comes in a "paper foil-stamped gift box" and would be a creative idea for a white elephant gift exchange. The incense sticks are not included with the burner, but Nordstrom sells those too for an additional $30.
5. Dream 4-Piece Mulberry Silk Set by Blissy
The benefits of a silk pillowcase are many: Smoother, less frizzy hair? Check. Moisturized locks that aren't as prone to breakage? Check. Fewer pillow creases on your face after a rough night? Check. Although it's a bit of a splurge, this 100% Mulberry silk pillowcase, sleep mask and scrunchie set is well worth the investment. It comes in three colorways (metallic silver, white or pink) and sizes standard or king. The set is machine washable but should be tumble-dried or hung up on a clothesline.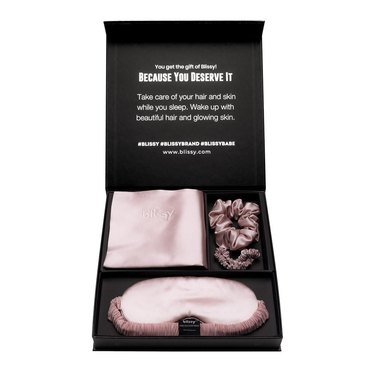 6. Original Puffy Blanket by RUMPL
Make cross-country flights more tolerable this holiday travel season by packing a compact blanket that folds into a small pouch. Measuring 52-by-75 inches, the blanket's quilting and insulation mimic a down comforter, minus the weightiness. It's made of 100% recycled polyester and is water- and stain-resistant if your seatmate accidentally spills their drink on you. The inner layer is a solid navy blue hue, while the outer layer is vibrant and multi-color with a zigzag motif.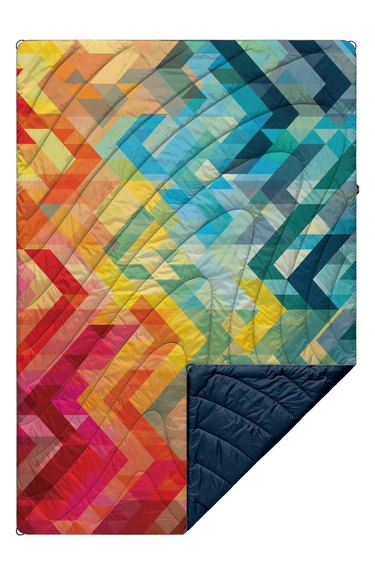 7. Disney x Society6 Sensational 6 20-Ounce Stainless Steel Travel Mug by Society6
If you've got a Disney lover on your holiday shopping list, this 20-ounce travel mug is guaranteed to make them smile. It's made from lightweight stainless steel and has two layers of insulation to retain hot or cold temperatures, depending on your beverage of choice. The travel mug measures 6 ½ inches high and 3 ½ inches in diameter, which fits the typical cup holder. Nordstrom collaborated with Society6 and artist Rhianna Marie Chan to create this whimsical design for the Disney Welcomes Mickey & Friends Pop-In Shop.