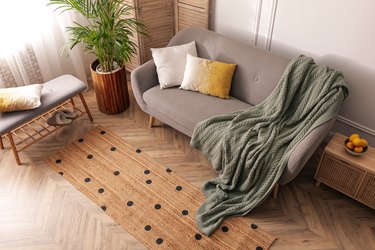 Have your pets taken ownership of every throw blanket in your living room? Does the decorative throw on your couch provide no warmth whatsoever? Are you still using a Snuggie that was purchased in 2008? If you answered "yes" to any of these questions, it's probably time to invest in a new throw blanket that's as stylish as it is cozy.
We scoured Amazon in search of the online marketplace's warmest throw blankets and found seven top-quality options that are all priced under $100. There's something for everyone on this list, whether you prefer your throws to be cable knit, chenille, sherpa, faux fur, wool or fleece. Now, grab a cup of tea, light a scented candle and imagine yourself wrapped up in one of these hygge-inducing throw blankets.
1. Longhui Bedding Chenille Cable Knit Sherpa Throw Blanket
Get the look of cable knit chenille with all the warmth and softness of sherpa with this double-sided throw blanket. Available in gray, ivory or navy, the blanket features a wave-like knit pattern. It comes in two sizes, 51-by-63 inches or 60-by-80 inches, so you can upgrade to a twin-sized bedspread if prefer an oversized fit. The blanket is machine-washable and resistant to pilling. Unlike traditional cable knit blankets, which can be porous and thin, this throw is ultra-plush and guaranteed to make you feel snug as a bug.
2. Ultra Soft Cozy Sherpa Throw Blanket
If your style leans boho, this sherpa throw blanket with four-inch tassels will blend seamlessly with your existing decor. It comes in nine muted colors, although not all of them are trimmed with tassels. You can choose from a 50-by-60-inch or a 60-by-80-inch blanket, which sells for $6 more. It's made from a polyester sherpa fabric and is lightweight, yet warm. It's machine-washable, non-shedding and super soft, making it a comfy addition to your bed or couch.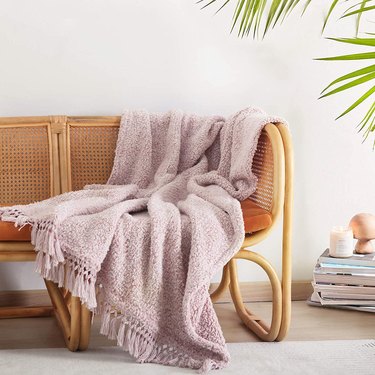 3. Kaffrey Luxury Chenille Chunky Knit Blanket
Chunky, hand-knit blankets are an Instagram staple, but most of them shed like crazy. This version is made from chenille, which is less likely to latch onto your clothes. It comes in eight eye-catching colors and measures 50-by-60 inches. The knit blanket can be washed on a gentle cycle in the washing machine but must be air-dried. While the blankets are manufactured in China, the small business that sells them is based in North Carolina and all customer service inquiries are handled by the U.S. team.
4. Decorative Extra Soft Faux Fur Throw Blanket
Lightweight but still warm, this faux fur blanket folds up easily and could be used in the car, at outdoor events or overnight stays. It comes in seven trendy colors and three sizes: Throw (50-by-60 inches), Twin (70-by-78 inches) and Queen (78-by-90 inches). The faux fur side is made of 100% polyester microfiber, while the back side is lined with velvety soft fleece. It's machine washable in cold water on a gentle cycle, but should be air-dried or tumble-dried on the lowest heat setting. Some purchasers have used the fluffy throw as a Christmas tree skirt or a backdrop for a newborn baby photoshoot.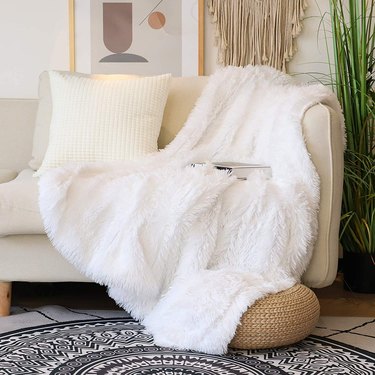 5. LOMAO Flannel Blanket with Pompom Fringe
Sharing throw blankets with your pets necessitates multiple trips through the wash each month. This 100% polyester microfiber blanket holds up to regular laundering, although it should be washed separately in cold water on a gentle cycle and tumble dried on low heat to extend its life. It's wrinkle- and fade-resistant and won't shed all over your bed or clothes. The pompom-trimmed blanket comes in 19 saturated colors, including mustard yellow, emerald green and burnt orange. There are four sizes to choose from, ranging from 40-by-50 inches to 90-by-90 inches. The front side of the blanket is smooth and soft, while the back side is warm and fuzzy. If your dog or cat is a blanket thief, you might want to buy two just to be safe.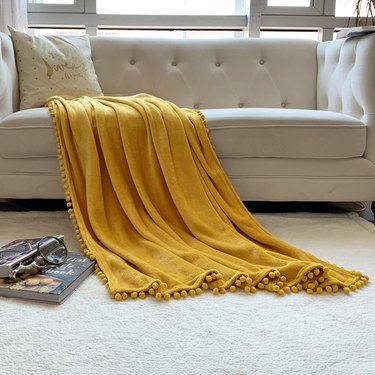 6. Pendleton Motor Robe with Carrier
Sustainable, biodegradable, odor-resistant, moisture-wicking, anti-microbial—these are just a few of wool's many attributes. While it doesn't come cheap, this hardy material can last for decades if properly cared for (although, in general, it requires very little maintenance). The Pendleton Motor Robe comes with a stylish leather carrier, allowing you to tote it around to your next picnic or outdoor movie screening. The 52-by-66-inch size is sold in seven variations of plaid, all of which are woven in the U.S. using 100% pure virgin wool. It makes for a great gift or an heirloom-quality piece the whole family will enjoy.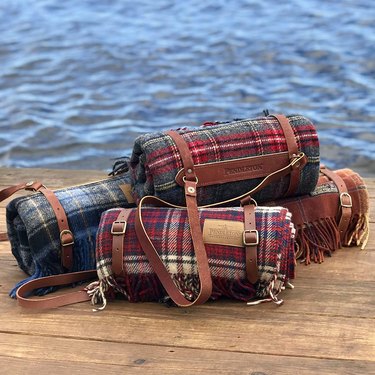 7. Bertte Luxury Decorative Velvet Pattern Fleece Blanket
This budget-friendly pick showcases a Scandinavian-inspired grid pattern, although it's also available in five solid colors. The plush material is 100% microfiber and machine washable on a gentle cycle with cold water. Measuring 50-by-60 inches, the blanket features double-needle stitches for durability and is fully reversible. Plus, it's resistant to ​​shedding, pilling, fading or wrinkling, so it will look good as new right out of the wash. It's not bulky, but still provides plenty of warmth and is silky soft to boot.