Thanksgiving and the holiday season are on the horizon, and for many households, that means a sprawling home-cooked meal with family and friends. It can require a ton of effort, especially when it comes to preparing the perfect turkey, ham or veggie roast as the savory centerpiece. And getting the turkey just right isn't always a guarantee. However, if you take your holiday cooking seriously and won't settle for anything less than outstanding, these five kitchen tools for the best Thanksgiving turkey (and three for the best meatless roasts) will give you superior results that you can replicate over and over again.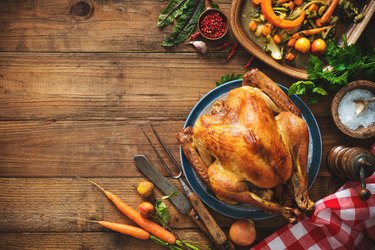 The Best Kitchen Tools for Turkey
The goal for roasting a mouthwatering turkey is to achieve slight crispiness on the skin, while keeping the rest of the turkey delectably moist. These kitchen tools will help you cook the turkey just right, help it retain moisture and flavor, and make serving easier.
1. Best Roasting Pan: Circulon Non-Stick Roasting Pan
One of the best things about this non-stick roasting pan is that it comes with a detachable, U-shaped grate that keeps the meat off the bottom of the pan, allowing you to fill the rest of the pan with vegetables, stock or other ingredients. It also features raised, easy-grip handles so you can take the pan out of the oven more safely and effortlessly. Made from heavy duty alloy steel, the roaster heats quickly and distributes heat evenly for consistent cooking. Measuring 13 inches wide and 17 inches long, it can hold a turkey up to 25 pounds. It's safe up to 450 degrees Fahrenheit and comes with a lifetime guarantee.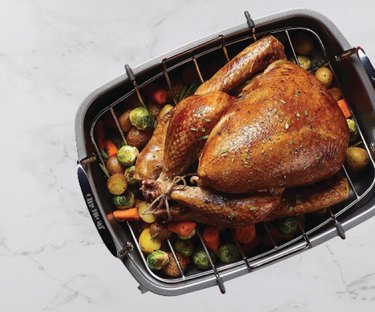 2. Best Meat Thermometer: Original MEATER Wireless Smart Meat Thermometer
Constantly taking your turkey or ham out of the oven to check its temperature can be a hassle, especially when you've got other foods and side dishes to prepare. Even worse, each time you open the oven, the temperature changes, leading to a less even roast and longer cook times. But it doesn't have to be that way.
This smart-tech meat thermometer eliminates extra trips to the oven by connecting to your smartphone. Via a free app available for iOS and Android on smartphones and tablets, you can easily monitor your turkey's internal temperature. The sleek and dishwasher-safe thermometer probe features dual sensors that can simultaneously monitor internal meat temperatures up to 212 degrees Fahrenheit and ambient (external) cooking temperatures up to 527 degrees Fahrenheit.
The app also boasts a guided cooking system that walks you through every step of the cooking process to guarantee perfect results. It also allows you to set up custom alerts based on temperature or time. You can even connect the thermometer to Alexa. If you've got an entire feast to prepare, this meat thermometer is a real game changer.
3. Best Oven Cooking Bags: Reynolds Kitchens Turkey-Size Oven Bags
These oven cooking bags are one of your secret weapons to retain moisture and flavor—and can even help you skip turkey basting. Each bag in the two-pack is disposable, made from plastic and oven-safe up to 400 degrees Fahrenheit. A single bag can fit a turkey up to 24 pounds. Simply place the bag in your roasting pan, slide the turkey and/or vegetables into the bag, close it with the Nylon tie that's included, and create several slits in the bag to allow some steam to escape. Once you're done cooking, cleanup is easy because the bag catches all of the mess and juices. Say goodbye to dry turkey or ham!
4. Best Turkey Baster: OXO Good Grips Angled Turkey Baster With Cleaning Brush
While cooking in an oven bag should eliminate the need for basting your turkey, if you choose to forgo using the bag, this turkey baster will do the trick—keeping your turkey flavorful and moist. Measuring 12 inches long, the tip is angled to easily get at hard-to-reach basting juices, while its flat foot keeps it from rolling and helps prevent drips. The siphon features easy-to-read markings in both standard and metric measurements, and the bulb and body are made of high heat-safe silicone and tritan (an impact-resistant, BPA-free plastic), so it's built to last. It also comes with a handy cleaning brush to clean the inside.
Tip
If you're not using an oven bag, baste your turkey with cooking juices approximately every 30 minutes.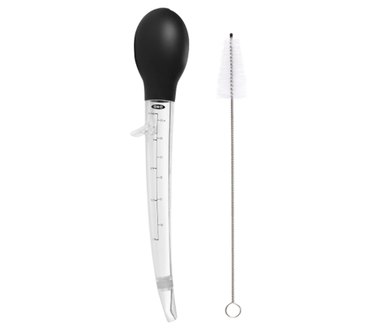 5. Best Electric Knife: Cuisinart 19-Inch Electric Fillet Knife
Once you've removed your turkey from the oven and allowed it to rest, you still have to carve it, which can be pretty tricky. Enter the Cuisinart 19-Inch Electric Fillet knife. It features a powerful motor and an 8-inch serrated blade (that's dishwasher-safe) to make short work of any meat slicing task. The ergonomic, non-slip handle is comfortable for both right- and left-handed users, while the one-touch on/off operation keeps things nice and simple. Equipped with a generous 5-foot electric cord, you might even be able to carve right at the table!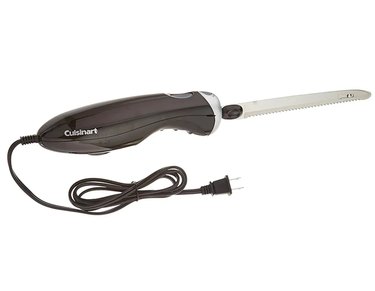 The Best Cookware for Vegan Roasts
If a vegan roast happens to be your Thanksgiving tradition, or if you're open to trying something new, these three pieces of cookware will give you superior results—moist, flavorful and not too tough. While many recipes call for wrapping the roast in aluminum foil and placing it in a regular roasting pan, Jones LeFae at Vegerarchy suggests using a clay cooking pot, covered ceramic dish or Dutch oven instead, and we have to agree. Here are our favorites for each type of cooking vessel.
1. Eurita Clay Cooking Pot by Reston Lloyd
Inspired by the Römertopf™ line of German clay cooking pots, the Eurita Clay Cooking Pot by Reston Lloyd is a nearly identical, yet less costly, option. Made from natural clay material sourced in Germany, this cooking pot can hold 4 quarts, which is enough for a store-bought vegan Tofurky® roast. During the cooking process, water evaporates to create a blanket of steam, while the lid is designed to allow some steam to escape, so your roast comes out moist, but not soggy. Safe up to 500 degrees Fahrenheit, the Eurita is one of the best ways to cook a meatless roast.
Tip
Wash the pot with water and baking soda (not soap) before using it for the first time. You should also avoid taking it from one temperature extreme to another. For example, don't take it straight from the oven and put it under cold water.
2. CorningWare French Stoneware Covered Casserole Dish
Another great cookware option for a veggie roast is this stoneware covered casserole dish from CorningWare. Safe for the oven, microwave and even freezer, it holds up to 4 quarts and measures 14 3/4 inches long and 6 1/2 inches tall. It comes with a 10-year warranty against breakage due to extreme temperatures.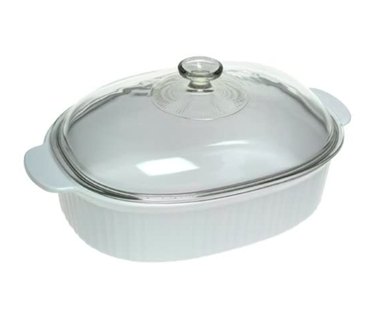 3. Amazon Basics 6-Quart Cast Iron Dutch Oven
Last but not least, a Dutch oven is one of the best ways to cook a vegan roast. This one from Amazon Basics holds up to 6 quarts and is made from cast iron that's safe up to 400 degrees Fahrenheit. It comes with a fitted lid and easy-grip handles for safe handling.