If you're looking for a savory take on Halloween, try this "eyeball" meatballs recipe. Meatballs are topped with cheese and sliced olives to create a wonderfully spooky main dish. Feel free to use ground chicken, turkey or beef, depending on your preference. Read on to learn how to make "eyeball" meatballs!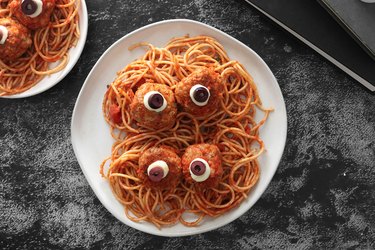 Things You'll Need
1 pound ground chicken, turkey or beef

1 egg

1/2 cup breadcrumbs

1/2 teaspoon onion powder

1/2 teaspoon garlic powder

1 teaspoon dried parsley

1 teaspoon dried oregano

1/2 teaspoon salt

1/4 teaspoon ground black pepper

1 stick string cheese

8 ounces spaghetti

24 ounces pasta sauce

Sliced black olives

Olive oil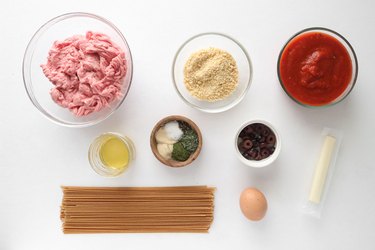 Step 1
In a pot, cook the spaghetti according to the package's directions. Drain, toss with olive oil to prevent sticking and set aside.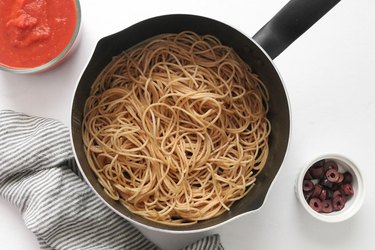 Step 2
Preheat the oven to 400°F. In a small bowl, lightly beat the egg.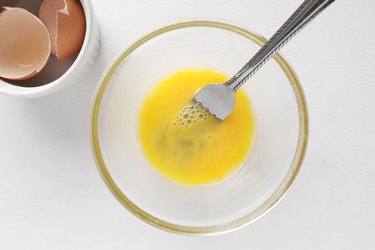 Step 3
In a large bowl, combine the ground meat, beaten egg, breadcrumbs and spices.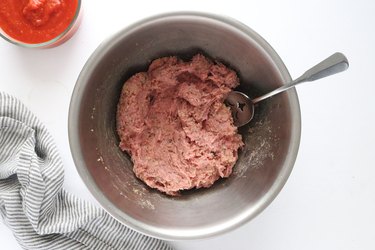 Step 4
Warm oil in a large skillet over medium-high heat. As the oil heats up, form the meat mixture into golf ball-sized balls. Add to the skillet.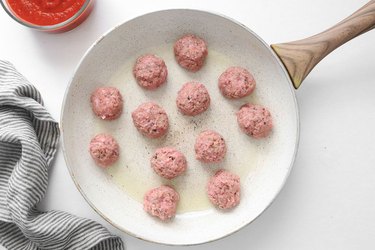 Tip
You'll likely need to cook the meatballs in batches.
Step 5
Cook the meatballs until brown, about 3 minutes on each side. The meatballs won't be fully cooked at this point; you'll finish cooking them in the oven.
Step 6
In a baking dish, combine the pasta sauce and meatballs. Toss the meatballs until coated, then bake for 5 to 8 minutes in the oven.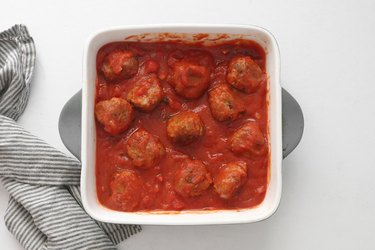 Step 7
While the meatballs are baking, slice the string cheese.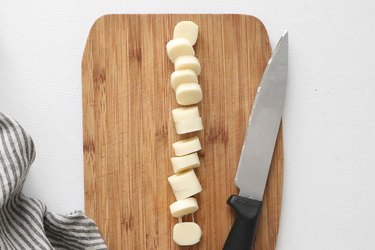 Step 8
Add a slice of string cheese to each meatball. Return to the oven for another 3 to 5 minutes, or until the cheese melts and spreads slightly.
Tip
The cheese might take more or less time to melt, depending on the brand. Start checking the cheese after a minute or so.
Step 9
Remove the meatballs from the oven. Add sliced olives on top of the cheese to create "eyeballs."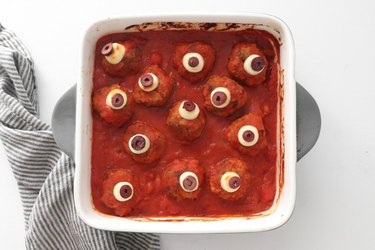 Step 10
Serve the meatballs and sauce on top of the spaghetti.