If you're looking for a savory take on a Halloween dinner, try this eyeball meatballs recipe. Meatballs are topped with cheese and sliced olives to create a wonderfully spooky main dish. Feel free to use ground beef, chicken or ground turkey, depending on your preference.
This is one of our favorite Halloween recipes, so read on to make these meatball eyeballs!
Shopping List:
1 pound ground beef, turkey or chicken
1 egg
1/2 cup breadcrumbs (Panko works great)
1/2 teaspoon onion powder
1/2 teaspoon garlic powder
1 teaspoon dried parsley
1 teaspoon dried oregano
1/2 teaspoon salt
1/4 teaspoon ground black pepper
1 stick string cheese
8 ounces spaghetti
24 ounces pasta sauce
Sliced black olives
Olive oil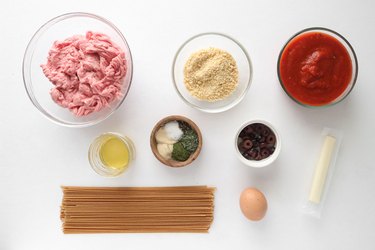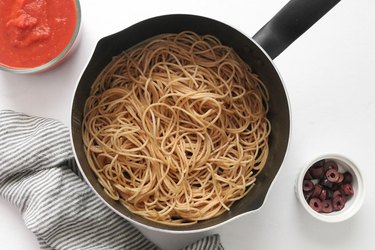 In a large pot, cook the spaghetti according to the package's directions. Drain, toss with olive oil to prevent sticking and set aside.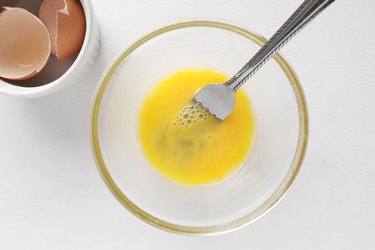 Preheat the oven to 400 degrees Fahrenheit. In a small bowl, lightly beat the egg.
3. Combine meatball ingredients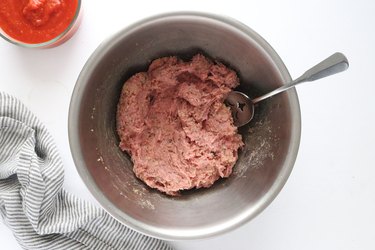 In a large mixing bowl, combine the ground meat, beaten egg, breadcrumbs and spices. You can use Italian seasoning as a replacement for the spices if needed.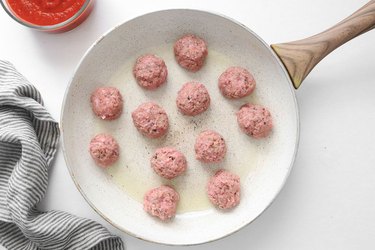 Warm the oil in a large skillet over medium-high heat. As the oil heats up, form the meat mixture into golf ball-sized balls. Add to the skillet.
Tip
You'll likely need to cook the meatballs in batches.
Cook the meatballs until brown, about three minutes on each side. The meatballs won't be fully cooked at this point; you'll finish cooking them in the oven.
Prepare the "Eyeball" Meatballs
1. Bake the meatballs with pasta sauce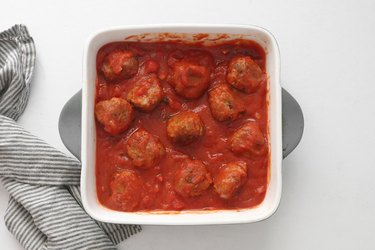 In a baking dish, combine the marinara sauce and meatballs. Toss the meatballs until coated, then bake for five to eight minutes in the oven.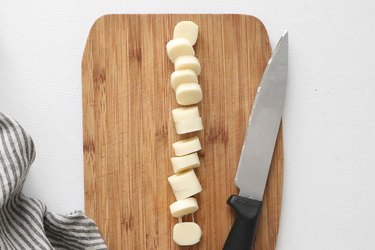 While the meatballs are baking, slice the string cheese. You can also use mozzarella slices.
3. Add string cheese to the meatballs
Add a slice of string cheese to each meatball. Return to the oven for another three to five minutes, or until the cheese melts and spreads slightly.
Tip
The cheese might take more or less time to melt, depending on the brand. Start checking the cheese after a minute or so.
4. Add sliced black olives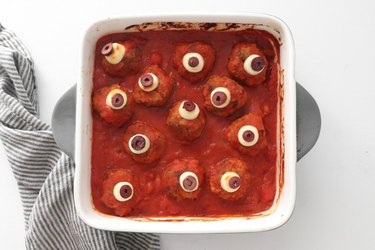 Remove the meatballs from the oven. Add black olive slices on top of each meatball to create your eyeballs. You can use green olives for an extra spooky look.
Serve Up Your Eyeball Meatballs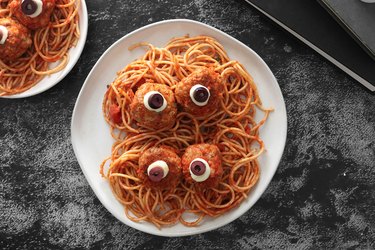 Serve the meatballs and sauce on top of the spaghetti. Bring this horrifically delicious dish to your next Halloween party. You'll earn shrieks of delight from all your guests as they see, for the first time, the fragrant eyeball meatballs staring back at them.