Up your creepy yard game for Halloween by recreating three of the most delightfully wicked sisters to grace a movie screen. Fans of the movie ​Hocus Pocus​ will immediately recognize the Sanderson Sisters on your front lawn when they see the green, red, and purple capes. Make your display even more eerie by adding a few props like a bubbling cauldron and some magical brooms made from branches. These ghostly figures are quick and inexpensive to create, and will startle even the most hardy of your friends and neighbors. Careful though — Winifred, Sarah and Mary just might put a spell on you and make you dance all night.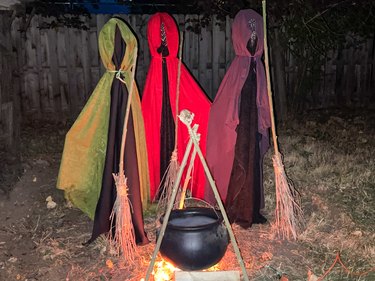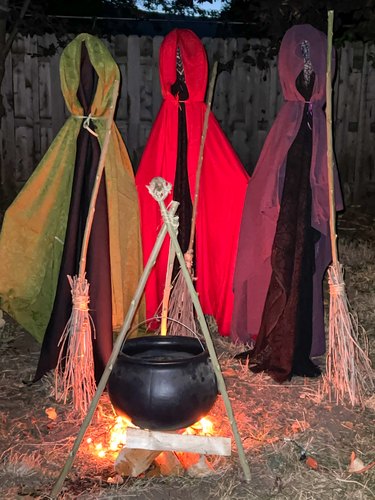 Things You'll Need
3 plastic grocery bags

3 old sheets or newspapers

3 fence posts

Tape

3 pieces of black fabric (3 yards or more)

Black yarn

Green, purple and red fabric (or tablecloths)

Green, purple and red ribbon

3 brooms
Tip
Check out your local thrift stores for fabric, sheets or tablecloths for this project. There are usually loads of options at very reasonable prices hanging around these stores. Another way to save some money when creating this project would be to use social media and check and see if anyone has some fabric or tablecloths you could borrow.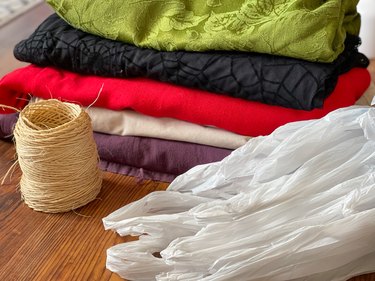 Step 1
Fill each grocery bag with bunched up old bedsheets or newspaper for the three heads.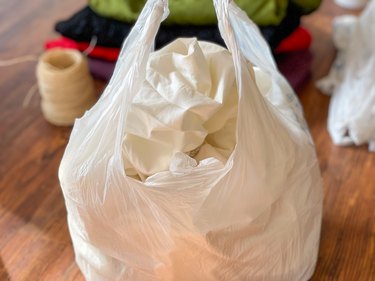 Step 2
Drive three fence posts into the ground where you'd like each of your witches to stand.
Step 3
Place the filled grocery bag upside down on top of the fence post and secure the bottom of the bag to the post with tape to create a head.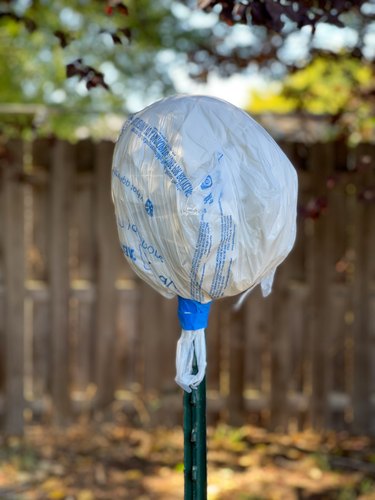 Step 4
Drape a black piece of fabric over the bag and tie a piece of yarn to create a neck. Then drape a green piece of fabric or a green tablecloth over the head to create a cape. Tie a green ribbon around the neck to keep it in place. Repeat this for the purple and red witch.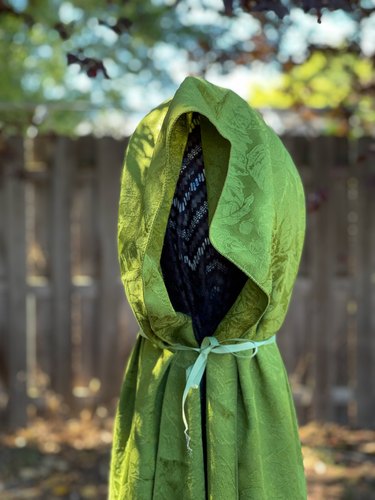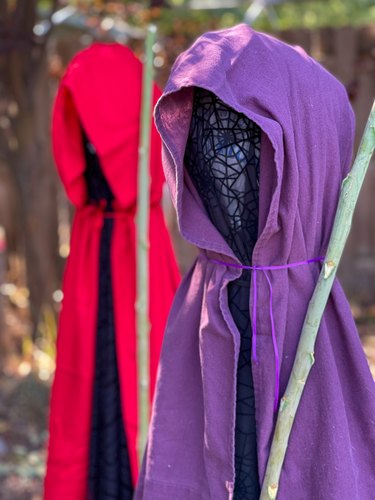 Step 5
To make your witches look like they are holding hands, clip the cloaks together with clothespins.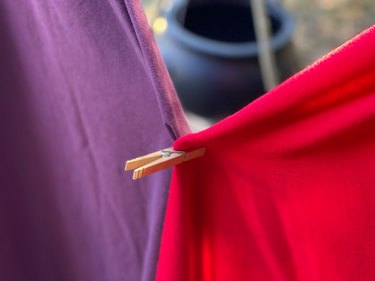 Step 6
Place some creepy props around your scary scene like whimsical brooms made from sticks and twine. A cauldron hanging from a tripod made from branches adorned with a small skull will add a ghostly ambiance. For an extra spooky touch, place orange lights and firewood under the cauldron bubbling with some fog made from dry ice or a fog machine.