Your grandma may have a knack for sewing, but we've rounded up some hilarious, sassy cross-stitch kits that would definitely leave her blushing or shaking her head. Cross-stitching is a popular hobby involving embroidery, in which X-shaped stitches are shaped to form a picture or a phrase. By counting the threads and making sure the fabric is placed evenly in each direction, stitchers can ensure it comes out seamlessly. Luckily, you can get to stitching in the click of a button with the help of these Etsy shops.
Prepare to laugh when you check out these 10 playful cross-stitch kits!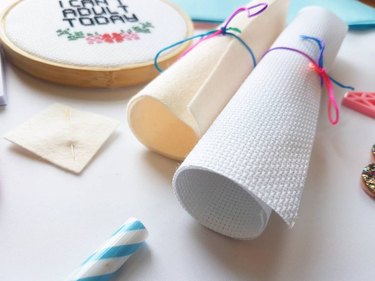 1. Zero Fox Given DIY Craft Kit
This Zero Fox Given DIY Craft Kit is not only adorable but also very relatable and simple to put together. Instead of using a curse word, this seller opted for a witty spin by incorporating a cute animal for the center image.
It's a charming keepsake to give, especially for that person who loves to keep it real. The presentation is very appealing; each kit is wrapped in tissue and tied with twine and includes a blank gift tag. The seller made it perfect for those who are learning the ropes, so it will be a fun project to take on. There are instructions provided, but in case you find yourself having trouble, there are also YouTube tutorials on how to nail cross-stitching.
The Zero Fox Given DIY Craft Kit is available on Etsy.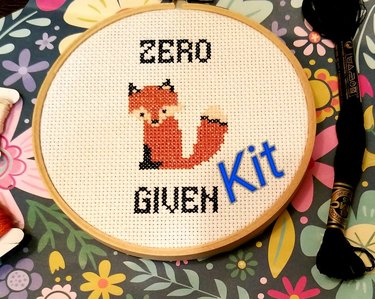 2. Custom Quote Flower Embroidery Kit
This kit sold on Etsy came with the quote, "I'm fine. It's fine. Everything is fine," but the perk of buying this kit is that you can customize what you want to say.
The lovely end result is a stunning 7-inch hand embroidery pattern with a wreath of flowers and a quote in the center. Another bonus is that the message is printed in the middle for you to stitch, meaning you can use it like a stencil so that you don't have to free-hand. It's coming from Canada, so be sure to account for shipping time if you're based in the United States or elsewhere. Of course, you can always speed it along!
The Custom Quote Flower Embroidery Kit is available on Etsy.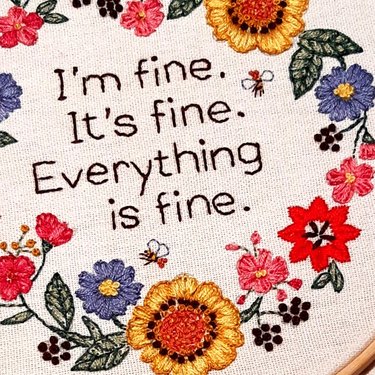 3. Bad *ss Adult Starter Cross-Stitch Kit
Feeling like you're on top of the world? This "bad *ss" cross-stitch kit sold on Etsy will give you all of the motivation to seize the day and maybe also decorate your home while you're at it.
It comes in a stylish box that will delight you when it arrives at your front door. Hang this pattern in your living room, bedroom or on any other wall. Buyers said it was perfect for beginners, so if you're new to the world of cross-stitching, this is a good pick since it comes with an embroidery hoop, colored threads and scissors. The seller notes that the repetitive nature of cross-stitching has many benefits, including giving people a chance to clear and restore their minds in a manner similar to meditation.
The Bad *ss Adult Starter Cross-Stitch Kit is available on Etsy.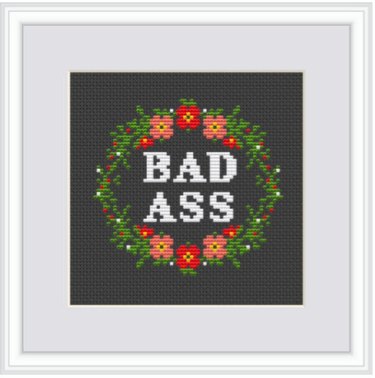 4. Maybe Swearing Will Help Cross-Stitch Kit
"Maybe swearing will help?" This cross-stitch kit pokes fun at those times when it feels so right to let a curse word slip. It happens to the best of us!
This best-selling product is packaged very neatly and nicely, according to reviewers, so before you know it, you'll be ready to get stitching, as each kit includes a needle as well as felt backing. It has an easy-to-follow pattern that will make the process a breeze. It's good for all levels, and even if you struggle with the technique at first, practice makes perfect. If all else fails, see its phrase!
The Maybe Swearing Will Help Cross-Stitch Kit is available on Etsy.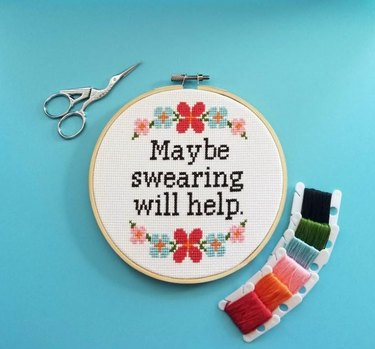 5. Not Today, Satan Cross-Stitch Kit
Having a tough time? Don't get discouraged — laugh it off with this cross-stitch kit. It's simple, cute and to the point. Furthermore, it has a good-vibes-only aura.
One novice said it only took a day to finish, which means you can have something funny and nifty to show off in just 24 hours if you put your mind to it. It comes with beginners' tips, a stitching guide and a tutorial with felt to make your finished hoop look neat and polished.
The Not Today, Satan Cross-Stitch Kit is available on Etsy.
6. Cactus Cross-Stitch Kit
If you live in the desert or love cacti, this "don't be a prick" cross-stitch kit might be your favorite. Each kit contains high-quality supplies, including DMC thread and an embroidery hoop.
Each kit is also wrapped to perfection in pretty tissue paper, which makes it a lovely gift for a friend or coworker with a sense of humor. We can all use some positivity, even if it's sprinkled in sass, right? The fabric is soft, and the chart is easy to follow, providing all of the makings for a favorite new hobby.
The Cactus Cross-Stitch Kit is available on Etsy.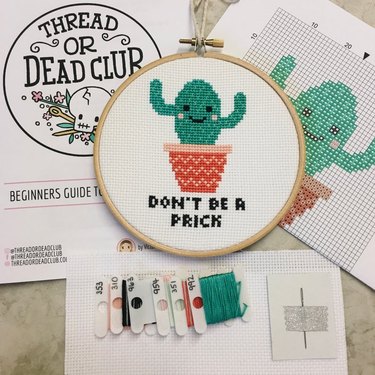 7. Can't Adult Cross-Stitch Kit
Grandma knows a thing or two about adulting. In fact, she's got the hang of it like no one else, but maybe we're not quite there yet, even if we try to be.
This "I Can't Adult Today" cross-stitch kit says it all. This kit is suitable for all levels, whether you're just starting out or a total pro. It's Etsy's pick, meaning Etsy even found it to be a great choice. With an instruction booklet and all supplies included aside from Hi Tack glue (which you will need), you might just want to grab a cup of tea or piece of cake, as the seller advises, and stitch on!
The Can't Adult Cross-Stitch Kit is available on Etsy.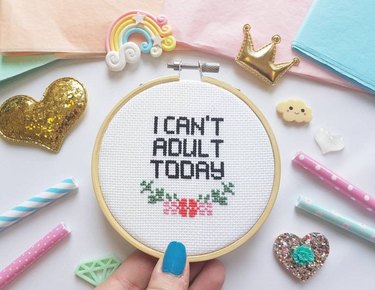 8. Anxiety Cross-Stitch Kit
How do you stay fit? "Crippling anxiety is my cardio," says this hilarious cross-stitch kit. Because it's a longer phrase, it may take a bit more time to wrap up.
The process can be complicated for some, but fortunately, the cloth comes in the frame with the center marked, and you'll also have step-by-step instructions to follow. This small detail makes it much easier to keep everything looking symmetrical when writing out the words. You can add a colorful floral design as well to give it a nice border and match the hues to the space where you will display it.
The Anxiety Cross-Stitch Kit is available on Etsy.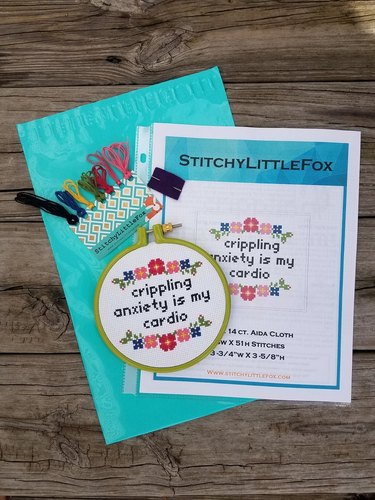 9. Bless This Mess DIY Cross-Stitch Kit
Can we get an amen! The Bless This Mess DIY Cross-Stitch kit might just get grandma to reconsider since it's going in a positive direction, and at least that's a start.
The package comes with aida cloth, embroidery thread, wooden hoop, needle, instructions and cross-stitch pattern. Many reviewers say the directions are very clear, so it's safe to assume you'll be content with the way it comes out. It's a fitting housewarming present or something thoughtful to give away over the holidays for decor. The finished product is timeless, chic and can go in any room.
The Bless This Mess DIY Cross-Stitch Kit is available on Etsy.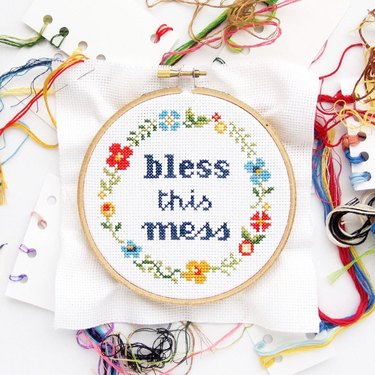 It's 5:00 somewhere. "Don't come in if you didn't bring gin" is a mantra many of us can share. This darling cross-stitch kit features a bright-yellow lemon on a larger piece of aida fabric.
You'll get a gold-plated needle, a color stitched image of the finished project to follow, a color chart, an introduction to cross-stitching and more. It has a gorgeous design that most people will fawn over, and each kit also comes with a handwritten note in case you are giving it away. The final result will look stunning in your kitchen or bedroom.
The Gin Cross-Stich Kit is available on Etsy.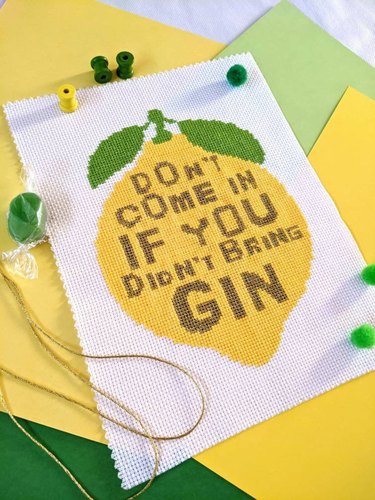 You may not yet be a fan of cross-stitching, but these simple kits will have you whistling another tune in no time, and luckily, they are not ​too​ controversial to upset our beloved grandmas.