Things You'll Need
Paper plates

Spoon

2 tablespoons shortening

5 teaspoons cornstarch

1 teaspoon flour

Petroleum jelly

Food coloring

Colored pigment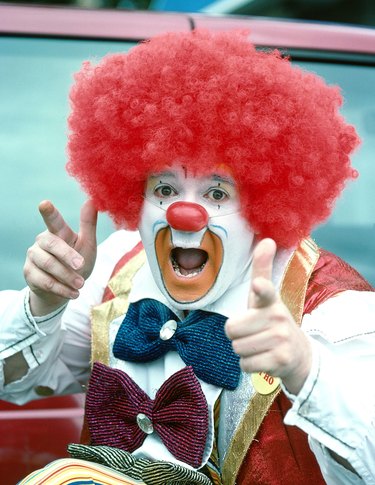 Every clown needs a silly face to complete his costume. He paints on a big smile, eyebrows and uses a big red nose. Grease makeup achieves this look but can be costly at times. Using a few home ingredients to create your own colors of grease paint will save you time and money.
Step 1
Scoop out 2 even tbsp. of shortening onto a paper plate. Use more plates and ingredients to make more than one color paint.
Step 2
Mix in 5 tsp. of cornstarch until it's blended. Add in 1 tsp. of flour and mix it up more. Add a dab or two of petroleum jelly and stir it around on the plate.
Step 3
Add a few drops of food coloring or powdered pigment and mix once more. Mix colors to create brighter and bolder shades.
Step 4
Apply the makeup with your fingers. Wash your hands and spoon to prevent any staining.