There are few things better than homemade baked goods, and these soft pretzels are no exception. What's more, baking soft pretzels at home is a surprisingly easy feat. It's an excellent way to get your pretzel fix while customizing the size and shape. Make traditional knotted pretzels or turn them into buns, twists or rings.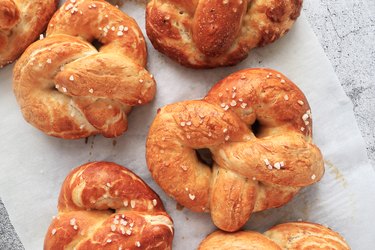 Things You'll Need
2 cups warm water

1 packet active dry yeast (1/4 ounce)

4 to 4 1/2 cups all-purpose flour

4 tablespoons olive oil

3 tablespoons sugar

1 teaspoon salt

1/4 cup baking soda

1 large egg

Coarse salt, spices or melted butter (for topping)

Mustard or melted cheese (for dipping)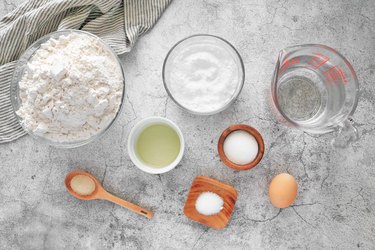 Step 1
Add 2 cups of warm water to a large bowl. Sprinkle in the yeast and let it sit for 3 minutes or until it looks puffy.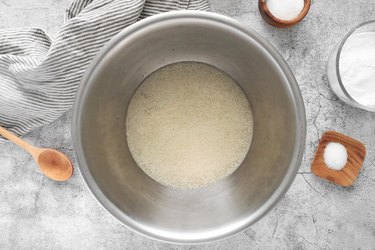 Tip
Make sure the water is warm, not hot. Hot water will kill the yeast, and the dough won't rise.
Step 2
Add 2 cups of flour and the oil, sugar and salt. Mix well with a large spoon and then add the remaining 2 cups of flour. Continue mixing.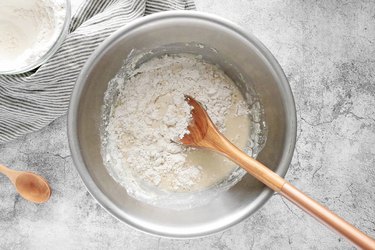 Step 3
Eventually, the dough will become thick, and you will need to use your hands. You can transfer the dough to a lightly floured surface to knead it. If the dough is too sticky, slowly add more flour. Continue kneading the dough until it feels smooth yet tacky.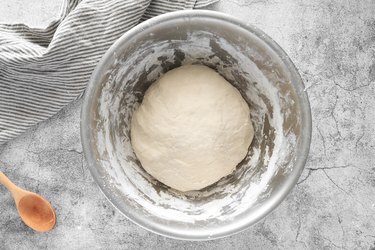 Step 4
Lightly grease a large bowl. Add the dough and cover the bowl with a damp dish cloth. Let the dough sit in a warm spot for about 1 hour; it should double in size. Gently punch the dough to deflate it.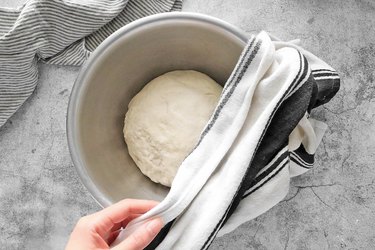 Step 5
Form the dough into 10 to 12 equal-sized balls, each about 3 inches wide. On a lightly floured surface, roll the dough into an 18-inch rope. You'll likely need to alternate between rolling and pulling.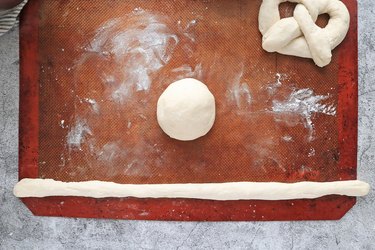 Tip
These instructions are for small pretzels with a traditional knot shape. Feel free to make your pretzels larger or smaller. You can also mold them into braids, twists, buns, rings or even hearts.
Step 6
Form the rope into a U shape. Place one end on top of the other, forming a crisscross.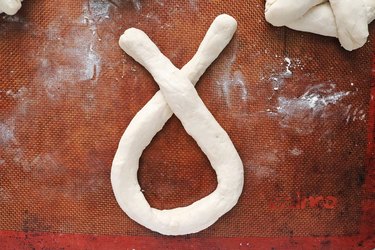 Step 7
Cross the ends once more to create a twist.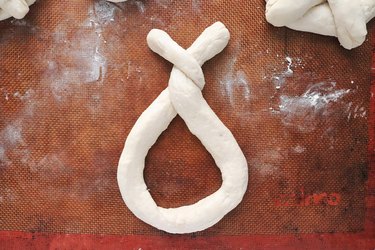 Step 8
Bring the ends to the bottom of the U, essentially folding down the top half. Press down lightly to secure the shape.
Step 9
Line a metal baking sheet with a silicone baking mat or lightly greased parchment paper. Place the pretzel on the sheet and then form the remaining pretzels.
Let the pretzels sit until they puff up slightly, about 15 to 20 minutes.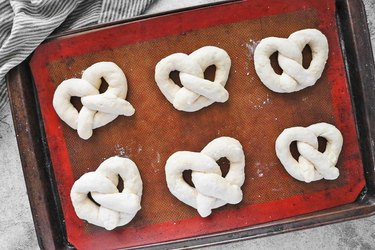 Tip
Depending on the size of your baking sheets and pretzels, you may need more than one sheet. You can also bake the pretzels in batches.
Step 10
Preheat the oven to 450°F. In a large stainless steel pot, bring 8 cups of water to a boil. Add 1/4 cup baking soda. Mix to dissolve and then reduce to a simmer.
Carefully drop a pretzel into the baking soda bath for 20 seconds. You can also use a slotted spatula to submerge each pretzel. After 20 seconds, remove the pretzel with a slotted spatula and let excess water drip off. Place it on the baking sheet and repeat with the remaining pretzels.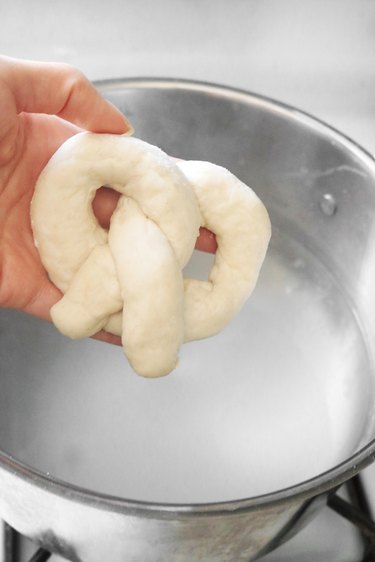 Step 11
If you haven't already, whisk the egg. Liberally brush the egg onto each pretzel. Add coarse salt or any other spices you'd like.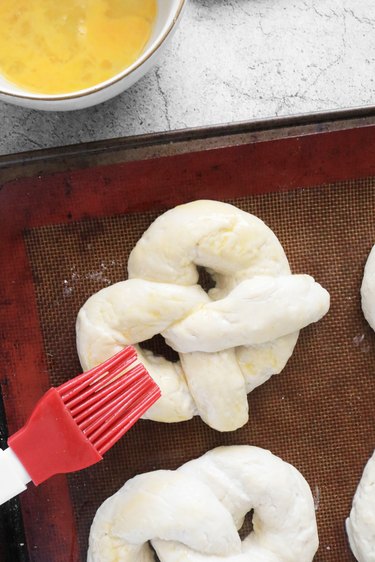 Step 12
Bake for 12 to 15 minutes or until the pretzels are golden brown. You may need to rotate your baking sheet once halfway to ensure even baking.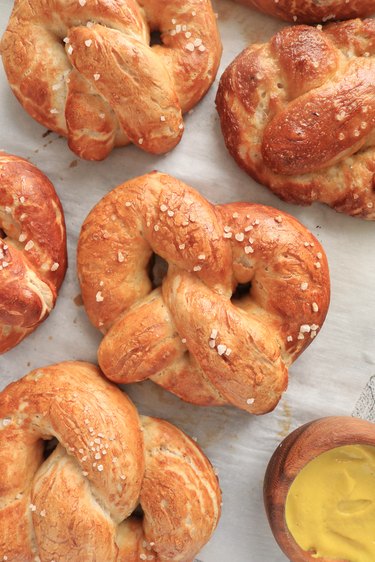 If you'd like, brush your pretzels with melted butter and sprinkle on additional toppings. Serve warm with mustard, melted cheese or your favorite dip.