There's something life-affirming about gardens and gardening, and a bouquet of cut flowers can bring a sense of sunshine into even the gloomiest room. Colorful sweet treats are also a famously effective mood enhancer, so it makes sense that that bright, flower- or garden-themed arrangements of baked goods are extra cheerful. If you're celebrating a special occasion, these fun and whimsical treats are sure to please.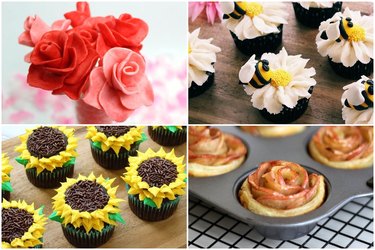 Very few blossoms look more cheerful than sunflowers, with their oversized heads of golden yellow and their dark centers. They're surprisingly easy to replicate as sunflower cupcakes, even if you aren't super-confident in your icing-piping skills. The seedy center couldn't be simpler. Melt some chocolate, spread it over some Oreo Thins, and then top them with chocolate sprinkles to represent the seed head. "Glue" these to the top of each cupcake with a dab of icing, and then use yellow and green decorator's icing for the petals and leaves.
2. Tootsie Roll Rose Bouquet
Roses are always a welcome token of your affection, and so is chocolate. So what could be better than a bouquet of chocolate roses? To make them you'll just need lollipop sticks, strawberries, melted chocolate and some Tootsie Rolls. Start by trimming the berries, mounting them on sticks, and dipping them in the chocolate. To make the petals, soften the Tootsie rolls for a few seconds in the microwave. Leave some whole, cut others in half, and some in thirds, then roll them into balls and flatten them with a rolling pin. Fold these flattened Tootsie Roll ovals around the strawberry centers to make petals, starting with the smallest and working up to the largest pieces.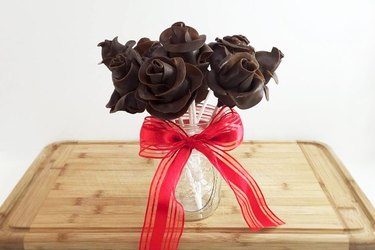 3. Bumble Bee and Flower Cupcakes
For a cheerfully summery treat that's equally delightful for adults or kids, try these bumblebee and flower cupcakes. Start with your favorite cupcake recipe, and trim their domes flat. Use white decorator's icing and a petal tip (shaped like a narrow teardrop) to pipe daisy-like petals in a ring around the top. For the pollen-filled center of the blossom, make small puddles with yellow candy melts and drop round yellow sprinkles on top. Transfer these to the center of the flowers with a knife tip, once they're cool, and finish the cupcakes with bees made of yellow and black fondant.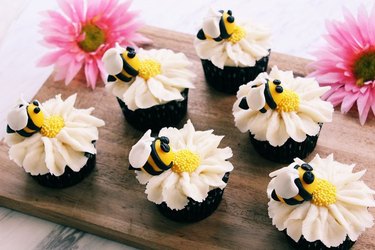 4. Blooming Flower Apple Pie
Traditional apple pies are the gold standard for home style comfort-food desserts, and for good reason. They're tasty, they go with almost any meal, and they're well within the home baker's skill set. One thing they ​aren't​, as a rule, is social media photo-worthy. That's why single-serving apple pies in rose shapes have been such a hit over the past few years. Most recipes require a fairly complex assembly process, but this simplified blooming flower apple pie recipe couldn't be easier.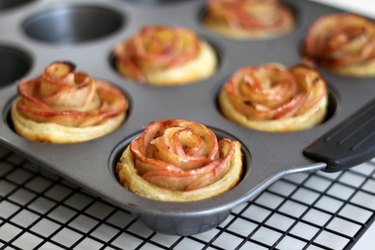 5. Starburst Rose Bouquet
Some people are fond of saying that life is better when you stop to smell the roses along your way. Sometimes it's also nice to ​eat​ the roses, which is why there are so many ways to make them from candy. Professional chocolatiers use fondant, gum paste or modeling chocolate to make flowers, but this Starburst rose bouquet in realistic pinks and reds requires only treat sticks, a microwave and Starburst candy. Just soften the candies in your microwave for a few seconds and press them flat to make petals, then bend 6 to 9 petals around the stick to make each beautiful rose.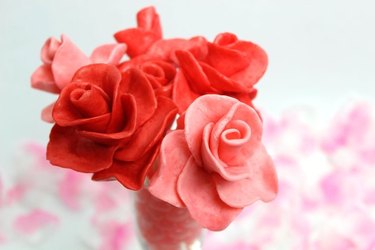 6. Vegetable Garden Cupcakes
Part of what makes cupcakes so much fun is that they're just the right size to decorate in whimsical, colorful ways. For example, these vegetable garden cupcakes are the perfect way to celebrate the arrival of spring and gardening season. Start by dipping the tops of your freshly-iced cupcakes into pulverized whole Oreo cookies, which make a surprisingly realistic "soil." Then mold baby carrots from orange Starburst candies, and make carrot tops and sprouting seedlings from green Laffy Taffy. Insert these into the soil atop your cupcakes for a charmingly realistic garden treat.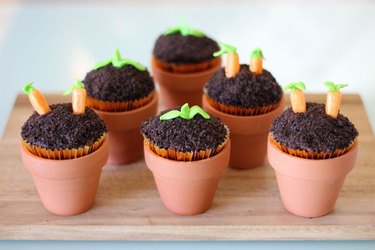 Gardeners love slow-growing, low-maintenance succulents for filling spaces between other landscaping features, or as a tightly clustered display in a single pot. With a batch of buttercream and a piping bag, you can turn a batch of your favorite cupcakes into an equally beautiful display of cupcake succulents. Pack the finished cupcakes closely into a rimmed baking sheet, to replicate the look of a small bed of succulents. Then pipe out your designs onto parchment using multiple greens for the succulents themselves, and vivid colors for the blossoms. Once the icing sets, transfer your designs to the tops of the cupcakes.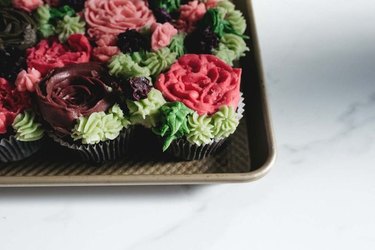 If you really want to make a show-stopping presentation or centerpiece with cupcakes, try this impressive rose cupcake bouquet. The base is a large Styrofoam ball, wrapped in green tissue and set into a planter. Pin empty cupcake cups to the base using toothpicks, to plan the arrangement of your bouquet, then pipe the roses onto your cupcakes with pink or red icing. One at a time, replace those empty cupcake holders with your real cupcakes, and then finish by making tissue-paper greenery to fill the spaces in between.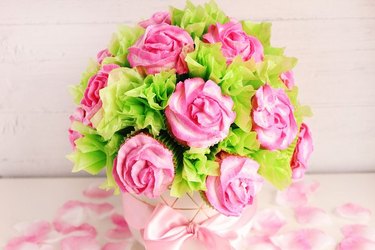 It's a funny thing, but even people who find bugs in general to be icky and repulsive seem to have a soft spot for ladybugs. There's just something irresistibly cheerful about their bright colors and gently rounded shape. As it happens, that shape and color are easy to replicate in these pretty and charming ladybug cupcakes. The design is made by simply rolling and cutting red and black fondant and transferring the shapes to your cupcakes, so you don't even need to have any piping skills to make these work.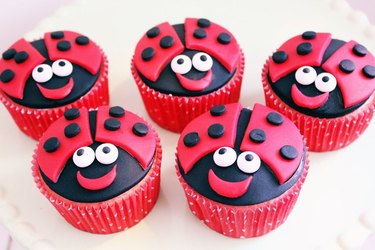 When you have a special occasion to celebrate, a bouquet of flowers is never a bad idea. Cookies are always welcome, too. So why not a bouquet of cookies? It looks striking, and couldn't be easier. Start by mixing up a batch of sugar cookie dough, then use blossom-shaped cutters to cut them out. Insert wooden skewers for stems, while the cookies are still warm, then ice them in pretty whites and pinks once they're cool. Complete the resemblance to a bouquet by adding real or artificial greenery and blossoms, then wrap with a ribbon or florist's paper.