Want to impress your Valentine this year? Make him or her a bouquet of chocolate-covered strawberries, disguised as roses with petals made from Tootsie Rolls! They're surprisingly simple to make, delicious, and a great project to do with friends.
Things You'll Need
Fresh strawberries

Dipping chocolate

Lollipop sticks

Small Tootsie Rolls, 7 for each rose

Kitchen shears

Plastic wrap

Rolling pen

Pint size mason jar
Step 1: Wash strawberries
Wash and dry the strawberries.
Step 2: Prepare the Chocolate
Chop several squares of dipping chocolate and place the chips in a deep container or small juice glass, depending on how many chocolate strawberry roses you will make.
Melt the chocolate in the microwave for 20 seconds. Stir and microwave for additional 20 seconds at a time until the chocolate is completely melted, thin and smooth. Do not overheat.
Step 3: Dip the Strawberries
Dip the lollipop stick into the chocolate and then insert it into the base of the strawberry. Hold for a few seconds to let the chocolate set in the cold strawberry.
Dip the strawberry into the chocolate to completely cover the berry, sealing it to the stick. Tap the stick on the side of the glass and let the excess chocolate drip off.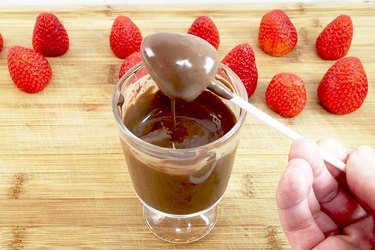 Stand the chocolate covered strawberry stick into an inverted colander to dry.
Tip
A piece of styrofoam works as a stand as well. Be sure to distribute the weight evenly so it won't tip over.
Step 4: Prepare the Tootsie Rolls
Warm two Tootsie Rolls in the microwave for 10 seconds.
Cut one Tootsie into three pieces. Roll each piece into a ball and place them on a piece of plastic wrap. Cut the second Tootsie into two pieces, roll them into balls, and place on the plastic wrap.
Mash each ball with your thumb.
Cover with another sheet of plastic wrap and roll the Tootsies with a rolling pen until they are thin, flat and petal shaped.
Step 5: Form the Rose
Choose one of the smaller petal shapes and roll it into a spiral.
Place this rolled spiral at the top of a chocolate covered strawberry and hold it into this position.
Place a second small petal around the center spiral and press the edges to seal it to the chocolate covered strawberry.
Position the last small petal opposite the first petal, overlap the sides and press to seal.
Add the next size petals, each one wrapping around the center.
Curl the petals back slightly with your fingers as you go.
Warm four Tootsie rolls, cut one into two pieces and leave the other three their full size. Roll into balls, smash, and roll into petals. Add the smaller petals to the rose first and then use the full size petals as the final three petals of the rose.
When you are finished with each rose, place it in the refrigerator to set.