Of all the miniature rose-shaped pies roaming around the internet, this recipe combines the simplest method with the tastiest results. And the trick to turning a regular apple pie into a miniaturized version that looks like a rose is simpler than you might think.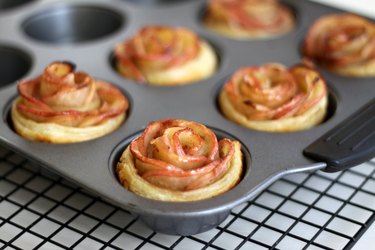 This recipe makes 6 individual mini apple pies.
Things You'll Need
4 gala apples

Juice of 1 lemon

2 tablespoons butter

1 teaspoon cinnamon

2 tablespoons brown sugar

2 tablespoons strawberry jam

1 sheet puff pastry, thawed

Optional: Apple corer, pastry brush, and mandoline slicer (while not mandatory, it's helpful to have these!)

Step 1: Core and Slice Apples
You'll need apple slices that are pliable enough to bend, so cooking them for just one minute will help. Core the apples then slice them in a half-moon shape, about 1/16th of an inch thick. To keep them from browning, squeeze the lemon juice into a medium sized sauce pan and place each stack of apple slices in the juice. Gently move them around to coat.
Once all the apples are sliced, add enough water to just cover the slices. Cover with a lid and simmer for about 60 seconds, or until you see the apple slices start to become translucent.
Tip
Sprinkle an extra half a teaspoon of cinnamon into the pan as you boil the apples. It'll start infusing the apples with flavor.
Step 2: Combine the Jam and Cinnamon Mixture
Using a microwave-safe dish, heat the butter, cinnamon, brown sugar and jam for about 25 to 30 seconds in the microwave. Stir until a paste forms.
Tip
The strawberry jam brings out the red in the "roses'" edges.
Step 3: Prepare the Dough
Use a rolling pin to flatten out the puff pastry, and then cut into six long strips.
Step 4: Add the Apples
Brush a layer of the cinnamon mixture onto one strip of dough, then position about 10 of the soft apple slices so they overlap slightly on the edges. Apply another layer of cinnamon mixture on top.
Step 5: Roll up
Carefully holding the apple slices in place, roll up your strip. Place the rolled-up strip in a muffin pan, and then start on the next apple.
Tip
Each rose takes a couple of minutes to assemble but puff pastry works best when it's cool, so store your muffin pan in the fridge in between.
Step 6: Bake for 25 Minutes
Once the pan of rose-shaped pies is ready, bake at 400 degrees Fahrenheit for about 25 minutes. The pastry should be flakey and cooked through. Everyone will be impressed with your mini rose-shaped apple pies... and no one will ever guess how easy these are to make!