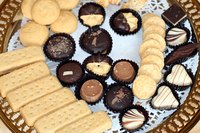 Cookies trays provide an attractive way to display dessert. They also make great, and relatively inexpensive, gifts — one batch of several varieties of cookies are enough to make at least three trays. Cookie trays come in many different sizes. Trays with homemade cookies are best because most commercial cookies are recognizable as store bought and make your tray less personal. But, if pressed for time, use one or two store bought cookie types with your homemade cookies.
Things You'll Need
Tray or plate
Cellophane or plastic wrap
Variety of cookies
Select a tray or plate based on how big you'd like to make the cookie tray. Pick a standard plate size for a smaller cookie tray or purchase a larger plate if you want a bigger cookie tray. Opt for a patterned tray or a plate with a picture for a more festive look.
Lay a piece of cellophane or plastic wrap under the plate. Ensure that the material is wide and long enough to gather and tie several inches above the tray. Tape or overlap two pieces of cellophane or plastic wrap together if necessary.
Choose four to five varieties of cookies for your tray. Select a mix of colors, shapes and textures. Sugar cookies decorated with icing or colored sugar help add color variety to your tray, while cookie cutters help create different shapes during the baking process.
Arrange the largest cookie variety on the outer rim of the tray, overlapping each slightly in order to fit more cookies on the tray.
Create another circle on the inside edge of the first cookie circle. Use the second-largest cookie variety. Continue to create circles, working toward the plate's center, until all of the cookie varieties are used.
Stack several flat cookies together in the center of the circle if you have an open space. Add small pieces of candy, such as mini candy canes or chocolate kisses, throughout the tray, if needed to add color.
Gather the cellophane or plastic wrap above the tray. Twist the wrap loosely to secure the cookies. Tighten enough so the cookies stay in place, but not enough that the plastic wrap squishes icing.
Tie a ribbon around the cellophane twist to keep it in place. Double knot the tie to ensure that it will not open. Curl the ribbon ends, if desired.